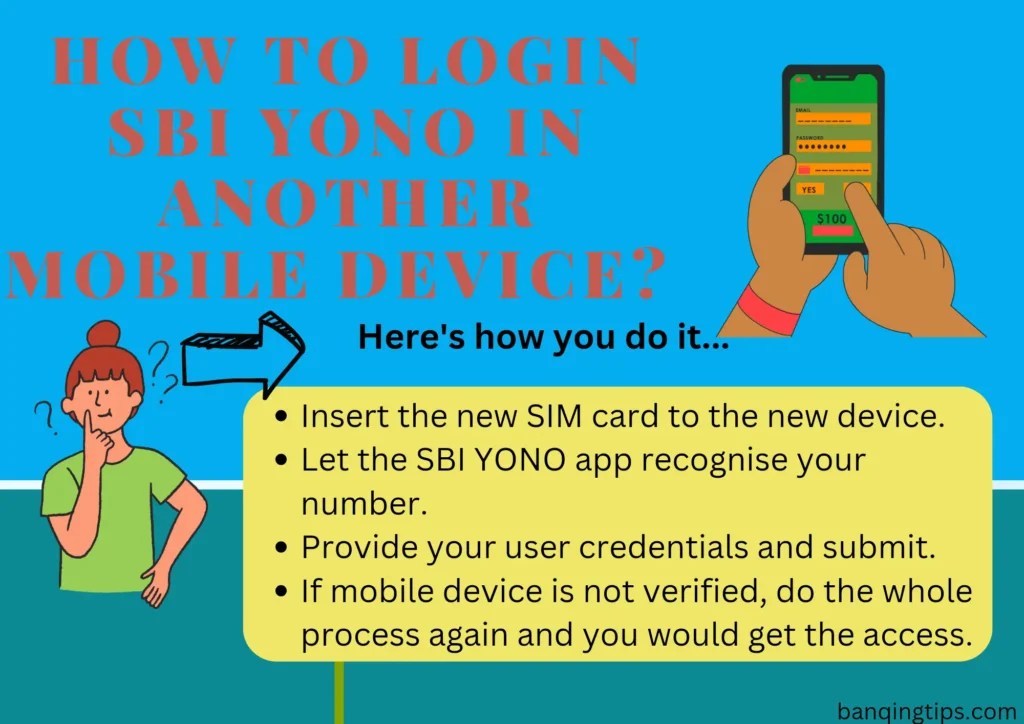 When we switch from our old phone to a new one, we can easily reload and update all the apps that we used before.
Most of it is quite easy to do. Just going to the app store, installing it, and punching in the user ID and password might be the way.
But when we come to a financial app such as SBI YONO, things are not how they are. Slightly different from the rest of it.
How to login SBI YONO on Another Mobile?
When we want to get access to SBI YONO on a new phone, just installing and giving passwords might not do the trick.
In short, we are going to let you know an easy way to get started. But before we do that, let us find out what the basics are that we need to have beforehand.
What do you need to have?
| Sl No | What you need to have |
| --- | --- |
| 1 | You need to have a login ID |
| 2 | If you remember your login password, that's great. |
| 3 | Good network connectivity |
| 4 | The account-linked SIM card should be on the phone. |
Going forward with the above-mentioned details, put the SIM card into your SIM card slot 1, preferably slot 1. Here's what you need to do. 
Steps to Register the New Phone.
Insert the SIM card into SIM card slot 1.
Restart your system.
Install the SBI YONO app.
Open it, let the system detect your mobile number, and proceed.
Go for registration.
Hit the login ID and password. The referral code is not mandatory. [Referral code number is usually the contact number of SBI dealing staff.]
Click and accept the terms and conditions, and you are set to go.
The system will prompt you to set up MPIN. Do it, and the process is completed.
Now you will be able to access SBI YONO. Every time you access SBI YONO, the system will prompt you to provide either an MPIN or a login ID and password. The system will now stop asking you to register.
If you cannot remember your user ID and password, It would not work.
You have to reset the login password before going to the YONO app. To do that, you have two options.
Option 1
Option 2
Do it on your own
Visit your SBI home branch
If you have an ATM card or remember your profile password,
You can reset it on your own.
If you do not have both, seek advice from your bank.
Resetting the login password is quite simple. Go to the SBI's Official website to reset it.
After everything is set, go to the SBI YONO app and proceed accordingly, as mentioned before.
To learn more about SBI YONO troubleshooting, go to the link.