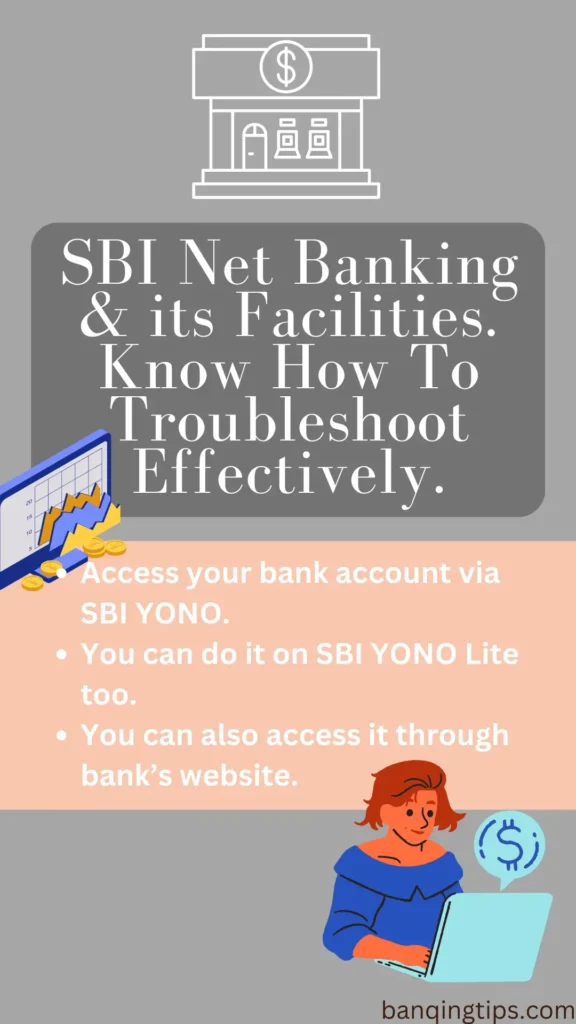 The State Bank of India, the largest commercial bank in India, has a variety of products at its disposal.
One such product is YONO (You only need one), an application-based internet banking service, especially for smartphones that operate on Android as well as iOS.
Although you can use it on their website for simplicity and ease of use, SBI has come up with application-based Internet banking at your fingertips.
The YONO login website is https://onlinesbi.com.
Common problems do arise while registering or using it. Where people normally tend to get frustrated sometimes. especially when someone needs to get a fund transfer instantly.
So, in this article, we will discuss the common issues and troubleshooting of SBI Online Banking, both for retail and corporate INB.
Now, let's try to understand some of the basics about SBI Netbanking. How does it function, and what are its benefits to consumers?
What are SBI YONO, YONO lite, and INB?
Some of you might think it's a different product from SBI. But actually, all of them are just the same.
The difference is what you can do with each one of them. For retail users, it's called RINB, and for corporate users, it's CINB.
Basically, all of them are just SBI Internet Banking facilities given to their customers. YONO Lite has a limited number of transactions available. While YONO is a fully loaded form of application. Literally, you can do all sorts of financial transactions with it.
And this Internet banking is known as INB, for short. Once you have a login ID and password, all three of them can be accessed, and it's up to you to decide which one suits you best and use it accordingly.
What's in it for you?
Using Internet banking is an alternative to visiting brick-and-mortar branches. When you have YONO in hand, the problem of going to the bank goes away.
Literally, you can do all kinds of financial transactions over SBI YONO and net banking. It's available 24/7.
Starting from intra-bank fund transfers to inter-bank fund transfers. Here's a list of things that you can do with SBI Net Banking.
Self- and third-party fund transfers.
Fund transfer through NEFT, RTGS, IMPS, etc.
Chequebook requests and related services.
ATM services include card limit setting, card hotlisting/blocking, new requests, etc.
Mobile number update.
Foreign currency transaction.
Purchase of a demand draft.
Demat account services.
Income Tax Filing.
Checking of the CIBIL Score.
Online purchases through the YONO platform, where you can get good discounts on Myntra, Amazon, Flipkart, etc.
Opening of PPF accounts, savings accounts, and fixed deposit accounts.
Investment in a mutual fund, general insurance, and life insurance on the YONO platform.
Personal loans such as home loans, Xpress Credit loans, Car loans, and Education loans are available.
Can avail of loans against FD too.
We have not included all but whatever you can think of related to a financial transaction, it can be done through SBI Internet banking.
Who can use it?
In fact, anyone can use it including a person with a disability such as dumb or deft. A minor account holder can also use it but with limited transactions.
SBI has a range of products for personal (RINB) use as well as for business purposes (CINB). This means both savings and the current account holder can use the product.
Personal Internet banking is termed as YONO, YONO lite and INB. For the current account, there are 6 variants under CINB, these are
Corporate Khata (Single User)
Corporate Khata Plus (Multiple User)
Saral (Single User)
Vyapaar (Multiple User)
Vistaar (Multiple User)
For the mobile platform, SBI has YONO Business.
Khata
It's a single-user corporate Internet banking-CINB that has only viewing rights. With this, you can only view your account balance and transaction.
It can not be upgraded to Vyappar or Vistaar.
Khata Plus
It's an upgradation of Khata and it is for multiple users. An add-on facility is that you can link a number of accounts that you maintain in different branches of SBI.
It has only view rights just as Khata but Khata Plus can be upgraded to Vyapaar or Vistaar.
Saral
This product is designed especially for Proprietorship concerns where there should be a single user. It's just the same as personal Internet banking-RINB.
Fund transfer to own SBI account is capped at a maximum ₹2 Crore per day. Transfer to other than own account is capped at maximum ₹20 lacs per day.
Vyapaar
Vyapaar corporate internet banking is for multiple users. Normally provided to Ltd. companies and partnership firms where there is a board member and account mandate is joint account operation.
The transaction limit per day is ₹50 lacs.
Vistaar
Top of the hierarchy is Vistaar Corporate Internet Banking where the transaction limit is unlimited. Corporate giants are given this product for their transaction needs.
What are the conditions to use SBI Internet Banking?
The condition for using SBI Internet banking is that
Your account should be fully KYC-compliant.
You have to accept the terms and conditions of using it. Read meticulously the terms and condition as many valuable points are given there which is worth knowing.
Registration
For registration of retail INB, you have 2 options
Registration by visiting your home branch.
Registration by using your ATM card.
So, if you do not have an active ATM card linked to your account, you have got to visit the branch and get it done.
For corporate INB you have to visit your home branch anyways to complete registration.
SBI YONO and its troubleshooting
If you forget your password, you can reset it on your own by logging in to their website. Go to forget password link and you will get 3 options to proceed. These are password reset by visiting your home branch, using your ATM card and providing your profile password.
If you do not have an ATM card and you do not remember your profile password then there is no option but to visit your branch to get it done.
If you can not remember your user ID. Go to their official website. Go to forget password link and select recover your username. Provide the details such as your account number and CIF number. The system will guide you till you get your username. A message will also send it to your registered mobile number.
If you forget your profile password, you can reset it either by the questionnaire you keep while setting your profile password for the first time.
If you do not remember it, you have to select reset profile password through your branch.
If the YONO application prompts the device to be saved for another user, what you can do is either delete all the data of the app through your mobile settings or uninstall and reinstall the YONO app.
If you forget your 6 digits MPIN, log in with your user ID and password and reset for MPIN newly. There is nothing like a user ID and a password is better than using MPIN or vice versa. It depends on how you use it. So use wisely.
Services for online FD account opening will be between 8 AM to 8 PM. If you do it after 8 PM it will be affected the day after it.
Failed transactions or disputed transactions can be compliant through the YONO app where you can see the "Get in touch" menu. Or go to the official website you will find 2 options for raising complaints. You can choose either "Customer complaint form" or "Customer request and complaint form new".
Or you can just call up helpline number 1800-11-1101 and raise your issue.
Takeaways