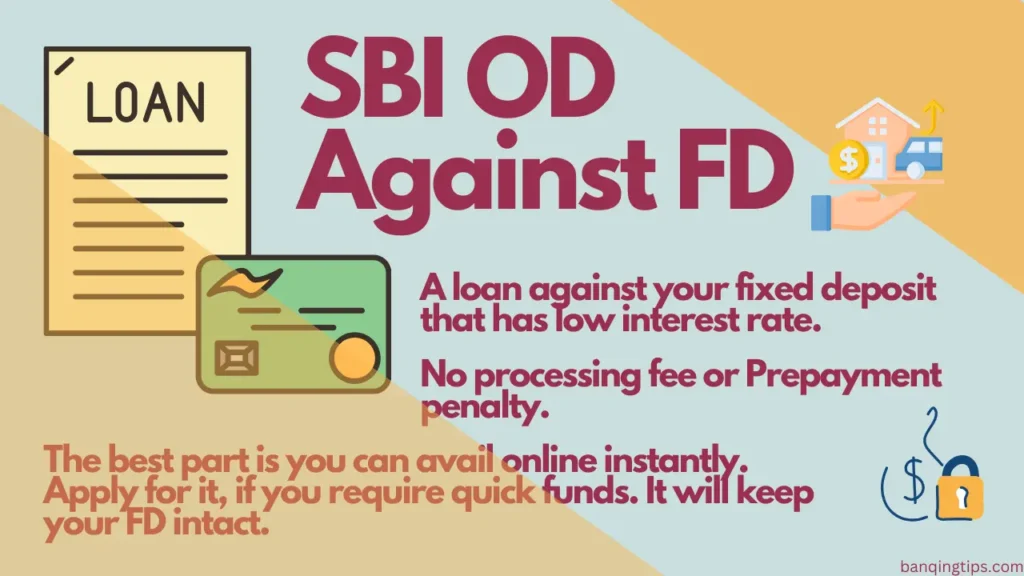 SBI OD against FD is an easy way to get quick funds against your Fixed Deposits.
Get an overdraft loan against your fixed deposits (FDs) at any bank in India.
The interest rate on these loans is lower than that offered by banks for other types of loans.
It's mainly because its rate is linked to the FD rate, which is normally 1 percent above the FD rate.
An overdraft loan is a type of loan that runs for a shorter period of time. If it's given against your stock then you may need to renew it every year or so. OD loans can be given against your salary too which is a super short period of the loan.
For business purpose overdraft loan is quite common. Banks usually set a limit on your stock and business income. We have seen most banks provide this facility against FDs and other forms of securities too.
Loans against Fixed Deposits come under 2 types. One is a Demand Loan which is just a normal personal loan where you have to liquidate it in 2 to 3 years. You may go for EMI payment or bullet payment-Pay up at the end of the loan tenure.
The other is Overdraft Loans which are basically running accounts with a limit to use. SBI and other big banks provide the facility to their customers. The loan is quite flexible in its repayment schedule and it is considered one of the best loans among secured loans.
Here's why it is considered best.
SBI OD Interest Rate is Lower Than Other Loans
Loan against FD has a lower interest rate than other loans. It is special because the interest rate is linked to the FD rate you have provided.
It's 1 percent above the FD rate. If your deposit rate is 5 percent per annum then your OD rate will be 6 percent per annum.
Every month there will be interest demand on the loan account, which you have to serve. the logic is that if you continue using the OD account it will keep on working as a normal account.
You Can Avail Loans Against Small Deposits
The facility can be availed against low amounts of FD say ₹.5000. Bank does not give a 100 percent limit against the FD. The eligible amount will be in the range of 90 to 95 percent of the face value of Fixed Deposits.
You can avail of this facility by visiting any branch of SBI. It is available for both new and existing customers. The limitation is that you need to open a fixed deposit account in that particular branch to avail of it.
Quick Funds For Emergency Needs
It is an excellent option for those who need money urgently and do not have sufficient cash with them. If you have an existing fixed deposit account, then you can avail of this facility by applying online.
That way, you keep your FD account intact and also get the funds instantly.
How To Apply for SBI OD Loans?
You can apply it online as well as offline. To apply offline you will need to undergo the following process.
| | |
| --- | --- |
| 1 | Produce your Fixed Deposit receipt/advice. |
| 2 | Make sure you have a valid ID and PAN card. |
| 3 | Go to your bank and get the Application Form for a loan against FD. |
| 4 | Fill it up and submit it to the concerned officer. |
| 5 | Your OD loan against FD will be processed in no time, and you will get the OD account which you can start using it right away. |
| 6 | You may apply for Chequebook and ATM for your OD account. |
If you want to apply online, then here's what you need to do.
| | |
| --- | --- |
| 1 | Open https://onlinesbi.com and login with your internet banking username and password. |
| 2 | Go to your account section. |
| 3 | Check your deposit account. |
| 4 | Select the FD account against which you intend to apply for OD. |
| 5 | Down below, you will see the button Avail Overdraft. |
| 6 | Click on it and proceed accordingly. |
| 7 | Your OD account will be generated instantly and you are ready to use it. |
| 8 | You can also open an FD account instantly and avail of the facility right away. |
An overdraft loan against a fixed deposit is one of the most user-friendly types of loan. Here banks are also secured as you have provided 100 percent security against the loan. You can pay your dues in any lump-sum amount.
The Downside of OD against FD is that like any other type of loan, there will always be an obligation until you pay the dues. But in this case, your obligation is cushioned by your fixed deposits.
In case the depositor dies, the outstanding loan amount will be adjusted from the FD and the rest amount will be given back to the deceased legal heir.
Irrespective of gender and age, all are eligible for the facility. If a pensioner wants to have a loan against FD, they may charge an even higher interest rate as we know that the OD interest rate is linked to FD rates and FD rates for senior citizen is higher than their counterparts.
It's worth mentioning that a minor cannot avail of the facility. If it's required it has to process against the name of the parents.