Have you ever found it difficult to know your Indian Bank CIF number? Worry not, we have got it covered everything about the CIF number. Also, we are going to discuss how to get the Indian Bank CIF number online as well as offline.
CIF stands for Customer Information File which is basically the database of an account holder. It can be anyone who holds a CIF. When you have a bank account CIF is the foundation of it.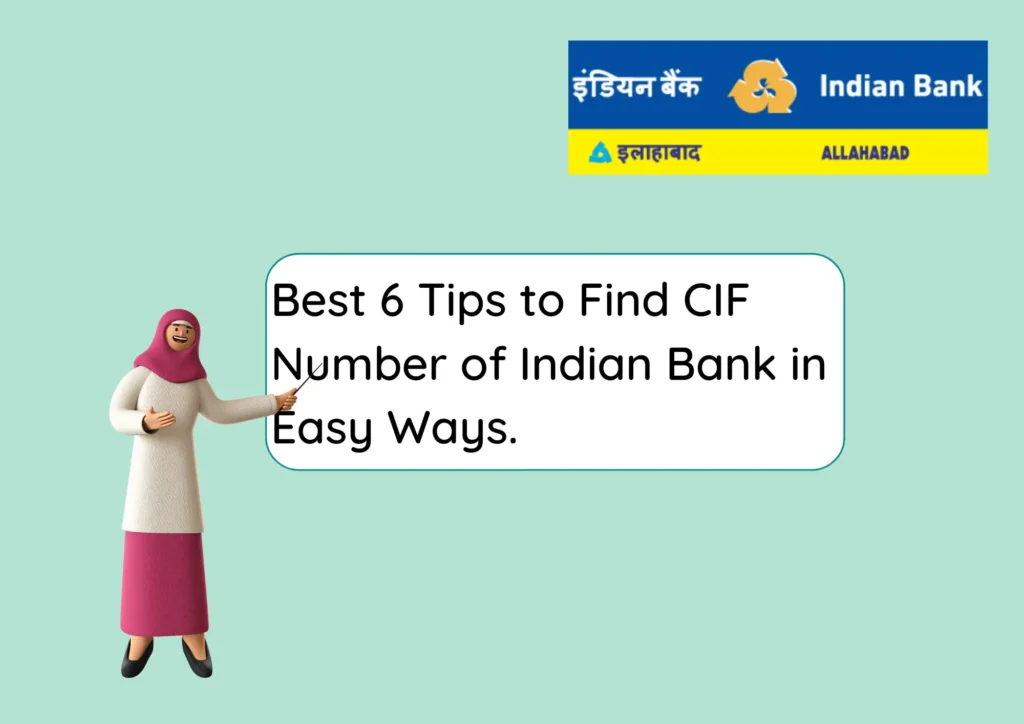 What is Indian Bank CIF number?
A CIF number in Indian Bank is the unique 9-digit number allotted to every account holder. A person who has a bank account has to have a CIF number by default. A bank account without a CIF is not possible as the personal details of an account holder are fed only at CIF.
You can have one CIF link to multiple bank accounts. For example, if you have a savings bank account, current account, loan account and fixed deposit account linked, it will be linked to only one CIF.
And vice versa is not true. That means you can't have multiple CIF.
Not only Indian Bank that has CIF numbers to maintain and organize their clients. Banks have these CIFs allotted to each account holder, be it a personal account or a non-personal account.
You may find CIF to be the mandatory requirement of having a bank account created.
There are several ways to get a CIF number. If you happen to know already, that's great. It means you follow your bank account quite diligently but if you don't know about your bank account CIF number.
You should try to see what's in it and should verify your details at once.
Fact
The Indian Bank is a Public Sector Bank established in 1907. In 2019, Allahaban bank was merged with Indian bank and it is at present the seventh largest bank in India. Headquartered in Chennai, the bank has over 100 million customers catering a range of banking products with there more than 5000 branches. The bank has over 39000 employees across the country.
An Important Customer Information File.
A CIF records all the personal details of a person who has a bank account. It can be your name, address, contact details, family details, income details or even your job profile. That means banks know what you are, what you do and how you earn your livelihood.
As such, a CIF becomes quite an important and delicate matter that concerns your existence as a bank account holder. If your annual income is wrongly fed into the banking system, it may trigger a false alarm to the regulatory authority.
If the name and resident address are wrongly fed, that also creates problems. You may not get any intimation or parcel from the bank.
Maintaining clean data becomes impertinent and if any deviation you notice, you should contact the bank immediately and help the bank rectify the error as soon as possible to avoid further complications.
That's the main reason why the Reserve Bank has mandated banks to follow certain KYC guidelines to make clean and reliable personal data for all account holders across the country.
Best 6 Tips to Find CIF Number of Indian Bank.
There are several ways you can get hold of your CIF number if you don't know about it already. This process can be online as well as offline. Some of the processes are as easy as a piece of cake. Let's find out how to get it right away.
1. How to Get Indian Bank CIF Number Online.
There is an easy way to get the CIF number on the bank's website. Follow the steps mentioned below and get it right away.
On your internet browser open the Indian Bank Know Your CIF page.
Provide the bank account in the box provided for it.
Enter your bank account registered mobile number.
Punch the Captcha and click the Send OTP button.
Authenticate with the OTP you get on your phone and click the Get CIF button.
An SMS will be delivered to your mobile with your CIF number.
2. A Traditional Way of Checking Your CIF Number.
We are referring to it as traditional ways because it's without the involvement of digital media. You may find a certain group of people who still enjoy visiting a bank and doing their financial tasks over the counter.
Just like that, checking a CIF number can be done manually too. Like getting a glimpse of your passbook, statement of account or visiting the bank.
How to Find Your Indian Bank CIF Number in your Passbook.
As and when you open a bank account in Indian Bank, you will get some account kit which can be a passbook, chequebook, or ATM. Or you may even get the passbook holder and ATM card holder too.
A passbook is a pocket-sized booklet that allows you to record your transaction as and when you feel the need for it. It also lets you operate your bank account smoothly when you don't have a cheque facility account.
A passbook contains all your basic personal data such as your name, account number, CIF number, and resident address. Also, the passbook contains important bank details such as your home branch, IFSC number, MICR code, bank's contact number and email address.
When you look at it closely, you may find the CIF number of Indian Bank quite close to your bank account number. It may be either on top of a bank account or below the bank account. Either way, it's easy to notice and you can get it instantly.
Visiting the Bank to get your Indian Bank CIF number.
Another way of getting your CIF number is by visiting the Bank. This process is suitable for those people who are uncomfortable using online services. Though online service is far better when we compare.
For making CIF enquiries at the bank branch, you need to produce your bank account number to the concerned staff. The staff will verify your credentials and provide you with the CIF number.
You can also request for account statement from the bank. Bank account statements normally contain account details along with the CIF number. Look at the area where your name and account number are depicted. You may find the CIF number too.
3. Get the CIF number of Indian Bank on Internet Banking.
This process is relatively easy. If you are a regular Internet banking user of Indian Bank, then it's a piece of cake for you. Or if you are new to online banking, here's how you get the CIF number.
Open the internet browser and open the bank internet banking website.
Use your user ID and Password to login to Net banking.
Under the menu, look for the My Account menu and choose Summary.
The next screen will display your account details with the CIF number on it.
4. The Tele-calling Service to get your Indian Bank CIF number.
The customer helpline toll-free number of Indian Bank is 1800 4250 0000. You may call up from your registered contact number and enquire about your CIF number.
While calling them, the employee on the other end of the line may ask you certain things related to your bank account. This enables them to verify your authenticity.
Once it's verified, your CIF number may be shared with you.
5. Find the Indian Bank CIF Number on your Chequebook.
A chequebook is a booklet containing a bundle of cheque leaves ranging from 10 leaves to 100 leaves. The first page of the chequebook usually contains account owner details such as name, address, account number, IFSC number, MICR code and branch code.
Besides all these details, you may also find the CIF number along with the above-mentioned personal details.
6. Additional Tips for getting the CIF number- Welcome Letter.
This one is for those who have just opened a bank account in the Indian Bank. As a welcome letter is issued to those customers who have been onboarded recently.
Those experienced customers who already have spent more than a year may not be able to trace the welcome letter, if you fall under the category of these customers, this process of recovering the CIF is not for you.
If you are new to Indian Bank, a welcome letter may give you the chance to get your CIF number.
Conclusion
A CIF number in Indian Bank is a 9-digit number that is assigned to your bank account. It holds all your details including your basic info such as your name, address, age, gender, marital status, job profile and income. Besides this basic information, your CIF has other information such as the account opening date, present status of KYC, last document updation date etc.
As such, the customer information file is very crucial for a bank as well as for a service user like us. There may be days when we need to know the CIF number. Especially when we want to register for Net banking, Mobile banking and bank account transfer between branches, it requires CIF.
Finding or tracking your CIF can be done in multiple ways. You can visit the bank website where they provide the webpage for getting your CIF number with OTP authentication. Other online means to get a CIF are through a bank's Internet banking and mobile banking.
You can also get your CIF through traditional ways. Such as checking your chequebook, passbook and account statement. The last resort is to visit the bank and enquire about it.