A Savings Bank Account is an account that manages your funds effectively. In this article, we have covered all the basic features of savings bank accounts of different banks in India. We suppose you can get a great deal out of it when in need.
Today a bank account plays a significant role in our daily lives. Their uses are enormous. In fact, without a bank account, your life would be financially crippled as you know, most of the transactions are now either account payee or electronic fund transfers.
These kinds of payments are not possible unless you have a bank account. For personal use, a savings bank account comes into play.
To open it you can choose any bank of your choice. Convenience is one thing that people usually consider when opening a new account.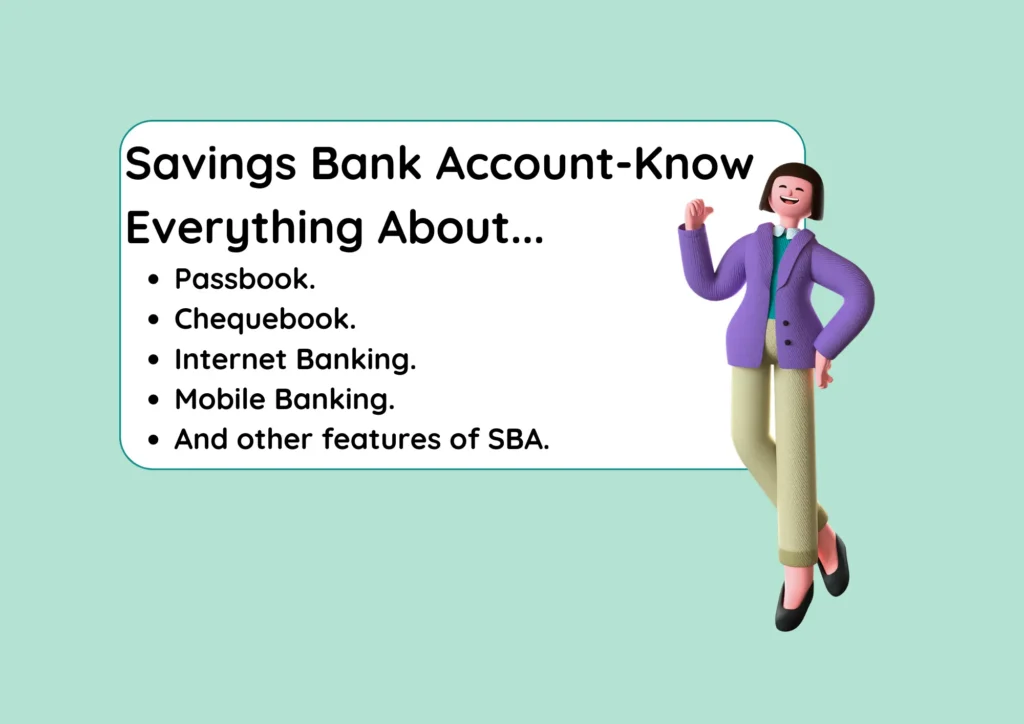 Savings Bank Account: Definition, Interest Rates and Benefits
A savings bank deposit account is an account that lets you deposit and withdraw cash in the bank. This enables you to keep money safely in the bank and in return bank gives you interest on your funds. There are different types of Savings Bank accounts. To understand its basic features we will briefly consider users' needs.
A regular savings bank account is the most common form of savings account available in banks. People of all categories can open this account with minimal paperwork. When we explore beyond a regular savings bank account, we see bank accounts that are meant for certain groups of people only.
Like for example, a savings bank account for salaried people. These accounts can be seen in banks as Salary Package Accounts. Popular banks in India are offering these facilities catering to different categories of salaried people.
Knowing the savings bank account rules and regulations is one of the most important parts when we open a bank account. These rules can be obtained from the bank as well as on the savings bank account opening form itself. We never have time to go through its details but it's better if we do. If not all, try to know a few important contract details.
What do you need to do when the account become inactive? How would you close a bank account? The charges and fees, and the do's and don'ts of using a savings bank account. These seem trivial but knowing these would give you an upper hand while handling the issues.
Popular savings bank accounts in India have the following interest rate as of now. Though the below data is specified for the salary category, the rates are the same with the regular savings bank accounts. We can see from the data that the savings bank account with the highest interest rate is RBL and IDFC bank is next to it.
| | |
| --- | --- |
| Popular Banks in India | Interest Rate Offered by the Bank in Per Annum |
| IDFC First Corporate Salary Account | 6 % |
| RBL Bank Executive Salary Account | 7 % |
| ICICI Bank Salary Account | 3.50 % |
| Axis Bank Prime Salary Account | 3.50 % |
| HDFC Bank Regular Salary Account | 3.50 % |
| Kotak Platina Salary Account | 3.50 % |
| SBI Corporate Salary Package | 2.70 % |
Savings Bank Account Rate
Other than salary accounts, you may find other types of savings bank accounts such as
Student Bank Accounts are usually savings bank accounts.
NRI Account.
Normal Savings Bank account.
Joint Savings Accounts.
Key Features and Benefits of a Savings Bank Account
The basic key features of a Savings Bank Account are numerous. The key function is fund management which includes saving your money, depositing and withdrawing funds. Here are some of the basic features of a Savings Bank Account-
Keeping Money in Your Account
A personal bank account is used to maintain your funds in the bank. It allows you to keep your money safely and securely. There are a number of ways you can deposit money in your bank account. You can deposit cash directly in the account or you can transfer funds from other bank accounts via account-to-account fund transfer which includes electronic fund transfer.
You can deposit funds via UPI payments such as G-pay, Phonepe, Bharat etc.
The Passbook and the Chequebook
An account passbook is a pocket-size booklet that allows you to maintain the transaction details. All sorts of transactions are printed or updated in a passbook. It can be cash deposits or withdrawals. Or transactions between other parties such as fund transfers between friends and family, salary credits, and loan EMI payments.
So, a passbook for a savings bank account is a record-keeping book that allows you to keep track of your financial matters.
The chequebook is given when opening a new bank account. There are savings bank accounts, one with a cheque facility and the other without a chequebook. Most of us prefer a bank account with a chequebook. It enables you to encash money from the account securely. While transferring funds with a cheque are more reliable source as it has its own payment rules.
The cheque payment comes under the Payment and Settlement Act as well as the NI Act 1988. These acts cover all other terms and conditions of issuing and payment of cheques that even strengthen its features.
Savings Bank Account with Internet Banking
Being a Savings Bank Account user, you may get the facility of online banking. All sorts of transactions and payments can be done online with net banking.
When you have a bank account, the accessibility of your account online is one of the main criteria that banks provide. In order to use the facility, you may have to either request your bank to activate Internet banking or do it on your own by following a few steps on the bank's website.
With online banking, everything related to financial matters can be managed effectively. It lets you control your account quite effectively as it is accessible throughout the year. Some of the common features of net banking can be summed as follows:
Internet Banking gives you access to your account 24/7 without holidays. So, you don't have to worry about late payments and sending money on holidays.
It lets you pay for online purchases across the globe.
Fund transfers of any kind are possible with Internet banking. It can be intra-bank (Within the same bank) and inter-bank (Within different banks). Inter-bank transactions may have to be RTGS-Real Time Gross Settlement, NEFT-National Electronic Fund Transfer, IMPS- Instant Money Payment Services Etc.
You can request numerous banking services such as- Applying for ATM online, Online Cheque requests, Setting standing instructions to internal and external accounts, settings future payments, downloading statements of accounts, getting interest certificates on both deposits and loan accounts etc.
You can also open a fixed account through Internet banking.
The Plastic Card Called ATM
One of the best features of a bank account is the ATM card. An ATM card is a plastic card that allows you to access your bank account. Banks provide various types of ATM cards which have different transaction limits. Some cards have higher transaction limits and some have lower limits.
The high variant cards such as SBI Platinum and Gold Cards have higher transaction limits than the regular cards which have only ₹40000 daily cash withdrawal limit.
Some of the high variant cards offered by different banks in India are as under-
Bank
Card
Transaction limit (Cash Withdrawal)
HDFC Bank Ltd.
Platinum Debit Card
₹ 1 lakh
Axis Bank Ltd.
Burgundy Debit Card
Priority Debit Card
Prestige Debit Card
Delight Debit Card
Value Plus Debit Card
₹ 3 lakhs
₹ 1 lakh
₹ 1 lakh
₹ 1 lakh
₹ 1 lakh
State Bank of India
Platinum Debit Card
Wealth Card
₹ 1 lakh
Bank of India
Visa Business Debit Card
Visa Signature Debit Card
₹ 1 lakh
Punjab National Bank
Platinum & Gold Cards
₹ 1 lakh
Union Bank
Business Platinum & Signature Cards
₹ 1 lakh
ICICI
Expression Debit Card
Gemstone Collection Debit Card
₹ 1 lakh- Domestic uses
₹ 2 lakh- International uses
Bank of Baroda
Visa Vyapaar DI Debit Card
₹ 2 lakh
UCO Bank
Bank does have high variant cards such as Platinum Card but the cash transaction limit is set low compared to other banks.
₹ 50000
Central Bank of India
Platinum Card
₹ 1 lakh
Other than these cards, all other ATM debit cards are standard cards with a daily cash withdrawal limit set between ₹15000 to ₹50000.
Mobile Banking
In today's world, technology plays a major role in our daily lives. The same goes for the banking industry. Today personal banking can be done sitting from home. You can transact or wire money from any corner of the world anywhere. It's just a few clicks away.
The world seems so small because of the technological advancement in the late decades. Since the year 2000, the smartphone has so much developed that this small gadget has more to offer than we can use. Sending money we used to visit the bank and hand out either hard cash or a cheque but today just open the app, put in some data and confirm. There you go.
Mobile banking is the revolution of the banking industry and it is expected multiple new services are more to come. Here are some of the things that you can do with your mobile banking.
Transfer of funds anywhere throughout the years.
Utility bills payment such as grocery bills, electricity bills, Internet connectivity bills, Mobile recharge, etc.
Open accounts such as fixed deposit accounts and other accounts such as PPF accounts.
Cash withdrawal at POS and ATMs. Digital payment without an ATM card is possible. For example- YONO cash.
Close accounts online. This work especially for FD account closure.
You can request an additional chequebook, renewal of your ATM card and setting of future payments including SI-Standing Instruction.
Online loans are available for both personal loans as well as for business loans under proprietary concerns. Pre-Approved personal loans and Pre-Approved business loans are the kinds of loans banks offer.
How to Open a Bank Account: Step-by-Step Guide
Opening a bank account does not have to be difficult. On the same note, following the guidelines in respect of account opening given by the bank does not have to be difficult.
The basic needs that you have to fulfil can be your KYC details and what income you have. For a regular person, it's not a problem at all. You provide your details and the bank gives you a bank account. Just a simple transaction, you know.
Some complications are there when you are looking for certain specific things when opening an account. For example, if you are looking for opening an account for a disabled person, the bank may ask you to provide documents such as a doctor's certificate and other related papers. Without them, you can't have a bank account.
Politically exposed persons, trusts and bank accounts of inmates are considered risk-prone liabilities. Banks usually put stringent measures to open these sorts of bank accounts.
These are some of the facts one needs to be aware of. With that keeping in mind, now let's get back to the bank account opening process. You know, in order to open a bank account, make sure you have these papers with you.
A valid Identification Card and
PAN Card
A valid ID card can be any one of the lists given under the Reserve Bank's KYC Guidelines. When you are ready with your papers, you can opt for either an online account opening or visiting the bank.
Online Account Opening
The good news is that you can open a bank account online at your convenience. The sort of thing that is quite flexible and reliable. Almost all banks have the facility of online account opening. For starters, SBI has Insta Bank Account. It can be opened within a few minutes.
Likewise, every bank has this option. Be it a regular savings bank account or a salary account. It is possible that you can do it from home or from your office.
The process of doing it is more or less the same in every bank. There will be a few pages you have to respond to. With a few clicks, your eKYC will be done and a bank account will be generated.
Initial Step
When you initiate the opening of a bank account system would welcome you and give you directions on what and what not to be done. These include asking you to get ready for the whole journey. Bank may even ask you to keep a blank sheet of paper along with your ID and PAN card.
Personal Details
Continue with the page, and fill out the personal details. It is the foundation of account creation. Keep in mind that the KYC details you are putting in the system are precise and correct. Any mistake you make will be reflected later on or even may lead to rejection.
Select the type of account you intend to open, select the services you would want to have and provide the nomination details. When all is done, you will be directed to a page where your eKYC will be scheduled.
Video KYC
Bank does eKYC mostly with video calls. The whole process can be done in the same sitting or you can choose your own time to complete the eKYC verification. Preferably doing it on the lots is better. Over video calls, your signature, ID and PAN card will be verified and after satisfactory verification, the bank would allow you to proceed further.
When all is done you would get the account number over your registered mobile number as well as on your email. Once you get the account number, go to the bank and get your passbook.
Opening A Bank Account at Branch
When you have chosen the bank to open an account. Visit them with your KYC documents. Ask the concerned staff about the savings bank account form. Fill it up properly and let them verify. In order to avoid future complications, make sure you provide proper details of yours.
Things To Consider When Opening An Account
Make sure your personal details are precise and correct.
Endorse KYC documents is for opening a bank account. Sign on each paper mentioning the purpose of it.
What facilities you are getting with the new bank account? Also, understand the terms of maintaining a bank account with them.
Know various bank charges on bank accounts. It could be ATM charges, cash deposit and withdrawal charges, fund transfers fees and account maintenance charges.
The savings bank account minimum balance is the balance that you need to maintain else the bank will penalise you. Some banks do not have minimum balance requirements and some do. SBI savings bank account is with MABs.
Lastly, know how much you are getting back when keeping money with them. The interest rate should be preferably moderate. Though higher interest rates would give you better returns you need to understand why the rates are high and that also on the regular savings bank accounts. Know that high rates come with high risks.
Provide account mandate as per your need. It will let you how you operate your bank account.
Provide nomination to your bank account. These will ease your near ones in the event of your death.
Submit the filled-up application form to the bank. Let them verify all your papers and your bank account will be opened within a few minutes.
Zero Balance Savings Bank account
A zero-balance account is a bank account that does not require maintenance of certain balances that otherwise does. You can say it in simple terms as a zero balance account. The salary package account of SBI is one of them. You may also see, the salary accounts of most of the banks in India are usually zero-balance salary accounts.
These types of accounts have better services and offers than regular savings bank accounts. As a user, you may get multiple benefits such as discounted transaction charges and fees. Even some of the fees are totally waived to users.
Other than salary accounts you can find limited zero-balance accounts such as Jan Dhan Yojana, SBI Tiny and Basic savings bank accounts. But, the uses of these accounts are limited in nature. For example, you can do only 4 transactions in a month. You can withdraw funds only up to a certain limit, also, your bank account balance can't go beyond ₹ 1 lakh.
Joint Savings Bank Account
Yes, it's possible to have a savings bank account in joint names. You can open a joint savings bank account with your spouse. The process of opening it is the same as a single account, but here, you have to submit both your and your spouse's documents.
The online account opening is not possible as of now. We have not seen any bank provide the facility online. If you are looking for a joint account, you have to visit your banks and complete the formalities.
Preferably bank may ask for the presence of both of you when activating the joint account. The only thing that concerns you would be the operation of the account. For that, you have to mandate the bank as per your choice.