When you have a bank account at Canara Bank, you get a whole range of banking services. Normal banking services such as deposits and loans of various kinds are as usual as other banks. The online banking of Canara Bank is worth using if you are a customer of the bank. To avail of various online services you may need to know your Customer ID.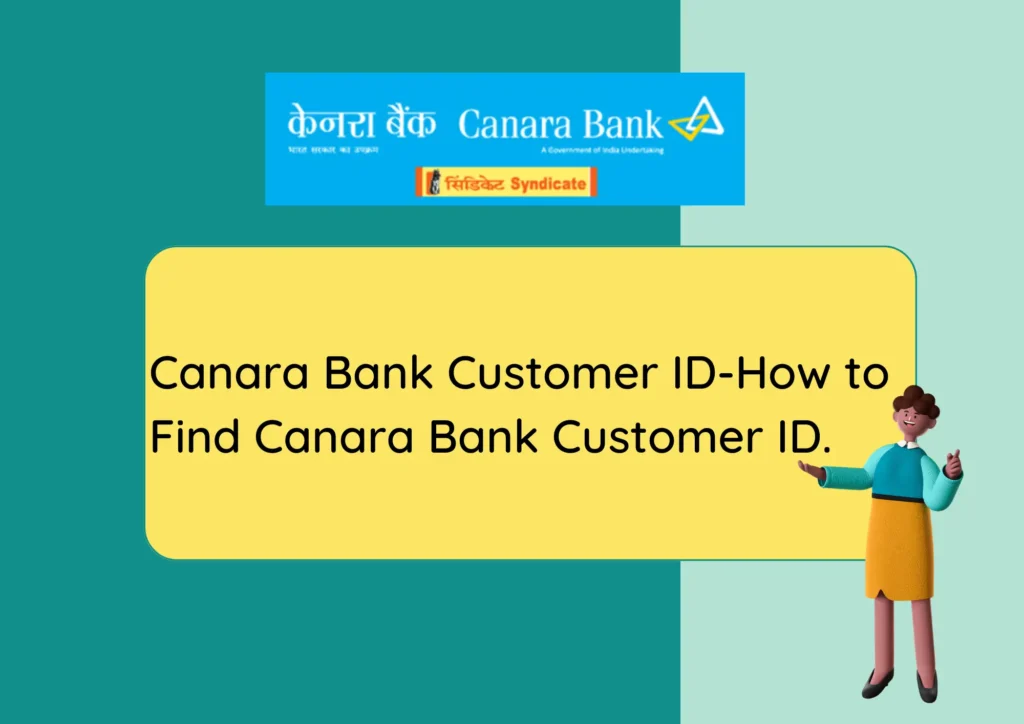 What is Customer ID in Canara Bank?
A Customer ID of Canara Bank is the identification number allotted to you when you open a bank account. Whether you have a savings bank account or a business current account. It does not matter. You need to have a customer ID number for any type of account.
Like any other bank, the customer ID is the backbone of your bank account. Some banks name it CIF-short for Customer Information File. It holds all your personal and financial details.
Valuable data such as your name, address, date of birth, gender, marital status, job profile, and financial status are digitally stored in the customer ID.
It's basically the building block of your bank account. When you want to update or make certain changes in the account, or when you want to apply for a chequebook, ATM and other services, you have to quote the customer ID.
In order to gain access to your bank account customer ID is required and sometimes, you know, we don't have a clue how and where can we get this Customer ID. Yet, it's quite easy to get.
This page will let you know exactly how to get the customer ID of Canara Bank effortlessly without any hurdles.
How To Get Customer ID in Canara Bank.
The bank has given multiple options to know about your customer ID. In fact, it's already with you if you happen to have a bank account in Canara Bank.
The easiest way to find Canara bank customer ID is with the bank passbook. You may also find it on your chequebook, welcome letters, internet banking or mobile banking and so on.
Let's see what you should look for to know exactly what your bank's customer ID is.
Find Customer ID in Canara Bank Passbook.
A passbook is a pocket-sized booklet that lets you record your financial transactions. It's a kind of accounting book where there are both debit and credit entries along with the running balance.
It enables you to tap the inflow and outflow of funds in your account and lets you manage your funds in an effective way.
A passbook contains your basic information along with the bank details of that specific branch. You may see your basic info such as your name, address, bank account number, account opening date etc.
Other details such as branch name, branch code, IFSC number and MICR number can also be seen.
Just look below the printed address, you may find your customer ID number.
So, finding a customer ID in the Canara Bank passbook is quite easy. All you need is to pull out your passbook, have a look at it and on the first page you will find your customer ID just below the address details.
Check the Chequebook For Canara Bank Customer ID.
A chequebook is another way to get your customer ID. Usually, all banks issue cheques with the first page printed with customers' basic details.
The chequebook issued by the Canara Bank is also just the same as the other banks do. You may find your customer ID written on it.
You may also see your basic information on the first page of the chequebook along with the customer ID.
How to get Canara Bank Customer ID with Internet Banking.
Internet banking is the type of banking you do online. Ever since the internet connectivity in India has been improved, the use of Internet banking by the account holder has increased many folds.
If you happen to enjoy using the net banking services of Canara Bank, you may find your customer ID quite easily. Here's what you can do.
Open the internet browser and open Canara Bank's internet banking page. It works both on computers as well as on smartphones.
Use the login credentials to access your bank account. Login credentials are usually your username or user ID and login password.
Provide these credentials, enter the captcha on the specific box as provided by the bank and confirm.
Go to the Internet Banking profile which is available on the main page.
Download or view the account statement, your customer ID can be seen on it.
A customer ID can be the same as an Internet banking user ID, but it is not always true. Though customer ID is required when registering or activating Canara Bank net banking, you have to set your own username. In case, if you are having trouble remembering it, you may use the Forgot User ID link provided by the bank.
Find Your Canara Bank Customer ID on Welcome Letter.
A welcome letter is a letter given to you or delivered to you when you were onboarded at the bank. Usually, a welcome letter is delivered to you by mail. It enables verification of the residence you have provided as a KYC. In the event of the non-delivery of this letter, the bank may ask to look into your address details or even may put a hold on your bank account while you reconfirm them.
So, in a welcome letter, you may find your basic bank account details such as your name and address. Customer ID is another detail you may get on the welcome letter.
Canara Bank Customer ID in Welcome Kit Account.
A welcome Kit account is a kind of savings bank account that has already pre-printed chequebook, ATM and account number in the deactivated mode. When you approach the bank for a savings bank account, they activate this Kit and hand you over the package.
The welcome kit will include your bank Account Number, Customer ID, ATM card, and Chequebook all at once.
This sort of bank account is quite popular but the chequebook and the ATM card provided to you would not be personalised cheque and ATM. It means your name will not be embossed on them.
Otherwise, you can get your Customer ID in the toolkit of a Welcome Kit account.
Contact Customer Care and Enquire about Customer ID.
Sometimes, Customer Care for any organisation or company is great. There are days when we are unable to use internet connectivity. Also, unable to visit the bank. That's the moment we think of services that can be done without going or using any other modes.
When you have a similar situation, you can call Canara Bank's Customer Care and enquire about your needs. In short, you can call them and follow this-
You can contact on bank's customer care toll-free number 1800 425 0018. You must call them from your registered mobile number only.
When you start the conversation with the customer care executive, he may ask you certain details about yourself to confirm your authenticity. Stick to it and reply as required.
Usually, they ask for your name, date of birth, or even the last transaction you have done on your bank account.
When the customer care executive verifies you, he will forward the SMS that contains your Customer ID to the registered mobile number.
When everything that we have listed above is not working for you, visiting the bank will be the last option. If you happen to stay nearby the bank that's great else you have to bear the cost of visiting the bank.
Now, since you don't have a passbook or chequebook with you. If you have an ATM card, you can request the bank through it. But, you have to carry the necessary documents such as your Identity Card or even a PAN card is better.
Bank may ask you to write an application or fill up certain forms, do it and submit it to them along with your KYC and your customer ID will be shared with you.
Conclusion
Customer ID is one of the most crucial identification numbers for having a bank account in Canara Bank. A number of services are linked to it. When in need, you may find customer ID in Canara Bank in many ways. Account passbook, chequebook, welcome letter and calling the customer care helpline are some of the easy ways of getting your customer ID.
Apart from these, online Internet banking and mobile banking are other means to get it. It's easy to get and if you are still unable to do it, it is advisable to meet the concerned staff for making things right.