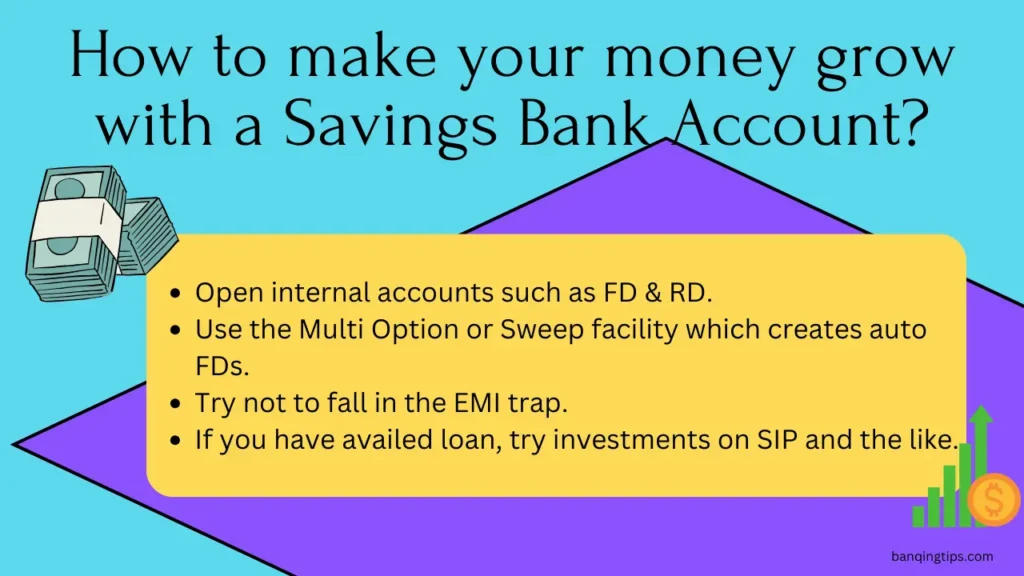 You may be wondering if there's anything you can do to make your money grow with a savings bank account.
There is! You can make better choices. Read this article to learn more.
Interest rates on savings accounts vary by bank, so you should always compare rates before opening an account.
Some banks offer higher rates for customers who maintain high-variant bank accounts.
On the other hand, the bank provides a system to earn FD rates on savings Bank accounts with the help of multi-option deposits or an auto-sweep facility.
MOD is quite useful to those who have a regular inflow of money in their Bank account. The excess amount keeps on converting to fixed deposits.
When in need, these FDs will break out in a last-in-first-out manner. It means that whenever you have less balance in your savings Bank account, the FD that was created recently will only break out.
The older FDs will remain intact, earning better interest than the SB rate.
You may also consider setting up other avenues to earn more through a Savings Bank account. Here is a list of things that you can do to make your account balance grow rapidly.
| Sl No. | What Can You Do With Your Savings Bank Account? |
| --- | --- |
| 1 | Open Fixed Deposits whenever you have idle funds in your savings bank account. Your intentions should toward money retention. |
| 2 | For a regular source of income, you can choose to open another internal account, such as a Recurring Deposit account, that allows you to save a few bucks on a monthly basis. |
| 3 | Use the social security schemes such as PMSBY, PMJJBY, or APY. These are low-cost insurance plans that can give you a life cover of ₹2 lakhs. |
| 4 | PAI- (Personal Accidental Insurance) plans, which come at a low-cost premium of ₹100, ₹200, ₹500, and ₹1000 are a good option. |
| 5 | Set the auto-sweep facility to create auto FD whenever you have excess funds in your savings bank account. Multi Option Deposit (MOD) and auto-sweep are the same. |
| 6 | If you have taken out big loans, try to have a plan B to recover the interest payout on home loans or any sort of loan. It can be done via mutual fund investments such as SIPs or in lump-sums. |
| 7 | Pay up loan EMIs without fail and stay away from EMI penalties and other charges. |
| 8 | Use the facility of auto conversion of matured RD into FD. |
| 9 | Do not use services that are useless to you. |
| 10 | Avoid financial transactions that cost you more. Look for alternatives. Online banking transactions are usually charge-free, or if charged, it would be nominal. |
So, these are some of the tips that you can actually leverage to earn more with your savings bank account. With this basic knowledge, you could make your future safer.
There are other alternatives to wealth creation. You may also explore investing in stocks and shares.
Mutual funds and various life policies are out there that give attractive returns. Some of the ideas that are discussed below may help grow your personal finances.
Checking account and savings Bank account
Set up an automatic transfer from your checking account into your savings account.
If you have a checking account at a bank, you can set up an automatic transfer from that account to your savings account.
This will help you avoid paying fees when transferring money between accounts. It also helps you build up a larger savings balance.
Invest in mutual funds or ETFs
Mutual funds and exchange-traded funds (ETFs) are both ways to invest in stocks and bonds. They offer diversification, so you won't lose too much if one stock goes down.
They also provide tax advantages because you pay taxes only on dividends and capital gains, not on the original investment price.
SIPs are one of the best ways to expose yourself to stocks and bonds. It may guide you in building a large corpus from scratch.
Start saving for retirement
If you're looking to start investing for retirement, consider opening an online savings account with SBI, ICICI, HDFC Bank, etc.
It offers competitive rates and no minimum balance requirements. Plus, you can open an account without a credit card.
Life insurance and Mutual funds are the main investment options that you have. Get a good plan and secure your post-retirement expenses.
Retirement Annuity plans are something to watch out for. This will help you build a huge corpus when you reach 60 years of age.
SIPs will also serve their purpose if you choose the right product.
Pay off high-interest debt like student loans
One of the easiest ways to make money with a savings account is by paying off high-interest debt.
Student loans, business loans, and personal loans have been some of the biggest financial burdens for young people.
These loans also bear higher interest rates. If you have taken out these kinds of loans, think of a way to pay down the outstanding amount.
It would really give you a push toward your saving plans.
Save money for big purchases
If you're looking to save money for a major purchase, such as a car or home, consider using an online bank instead of a brick-and-mortar bank.
Online banks offer higher rates than traditional banks, so you might be able to earn more interest on the same amount of money.
This thing is visible only in certain countries. Countries like India do not have any variations. But there may be better offers on online platforms.
Loan interest rates at discounted rates are mostly seen in online mode.