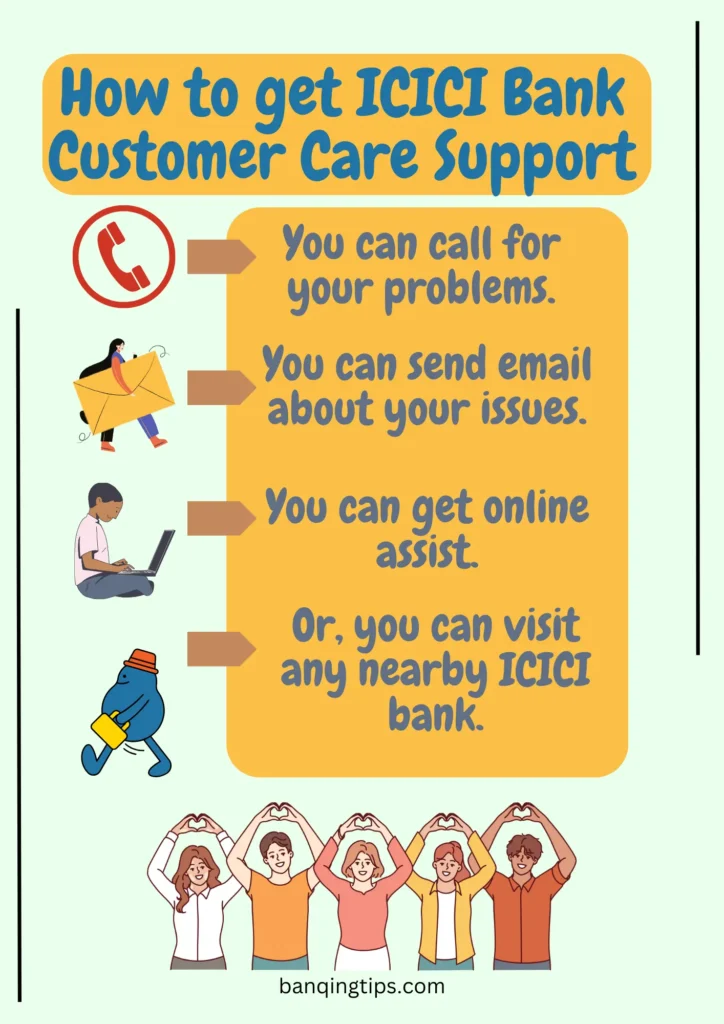 ICICI Bank Customer Care contacts are sometimes quite useful when you need urgent banking support.
Inquiries about any banking-related matters can be made, and if you have bank account problems, they could give you a hand in resolving the issue.
With its corporate office at Bandra Kurla Complex, Mumbai, the bank serves more than 52 million customers worldwide.
Its history goes back to 1994, when the bank was incorporated into the ICICI Foundation.
To know more about ICICI Bank, you can read this post, where you can see the number of customers along with its total branches and ATMs.
Apart from transaction dispute redressal, there are several other services that can be availed of with the help of ICICI customer care contacts.
To request a chequebook, ATM card, or Credit card-related query, you can access this link to raise a service request.
ICICI Customer Care Helpline Number is 1800-1080. If you are domestic customer tracvelling abroad, you can call on +91-22-33667777
In this post, we are going to see how to use ICICI customer care support effectively. What sort of services can be expected with it?
Here are some of the ways you can contact the bank:
1
You can directly raise a complaint or a service request on the bank's official website.
2
A telephone contact center is another easy way to raise a complaint or any service request. As per the bank website, the Customer Care contact numbers are 1800-1080 and +91-22-33667777.
3
You may visit any nearby ICICI branch to address your bank account-related issues.
4
You can also write a letter about your concern to this address: ICICI Bank Limited, ICICI Phone Banking Center.
ICICI Bank Tower. 7th floor. Survey No. 115/27, Plot No. 12. Nanakramguda, Serilingampally. Hyderabad – 500032.
5
To report suspicious emails or any form of suspicious electronic media, you can send an email to antiphishing@iciibank.com. You can also call the customer care number to report the same.
These are some of the ways you can contact ICICI Bank officials for problem resolution.
ICICI Bank Customer Care Number
The ICICI Bank customer care number is 1800-1080. If you are a domestic customer travelling abroad, you may call the dedicated helpline number at +91-22-3366777.
With these helpline numbers, you can use a number of services. These customer care services may include:
Service requests such as ATM PIN generation, Blocking of ATM cards, Change of address, Chequebook request, Stop Cheque payment, and Bank account transfer to your preferred ICICI branch.
You can report a suspicious transaction or an unauthorized transaction on your bank account by calling the helpline numbers.
You can inquire about your bank account charges and fees, the delivery status of your ATM card or chequebook, and most importantly, remittance-related queries.
One of the most helpful services is the redressal of disputed transactions. If you happen to face an online or offline transaction that has occurred out of an ATM transaction, UPI transaction, net banking transaction, or other transaction, you may call these numbers to raise a complaint and get it resolved.
How to Report Suspicious Activity of ICICI Bank Account?
A suspicious transaction is one that has not been done by you. This financial transaction may or may not be fraudulent.
These could be emails with unsolicited links that have the potential to compromise your financial information. You may also get an SMS of a similar nature. Even if you notice any online platform that is a spoofed ICICI Bank website, you should report it.
Being a suspicious activity, you have got to report it to the concerned authority to be on the safe side.
Whether you have a bank account at ICICI Bank or not, you can report this sort of transaction by mailing it to the dedicated email address antiphishing@icicibank.com
How to Make an Unauthorized Transaction Complaint?
Unauthorized transactions are those transactions which are done without your consent. This particular transaction entry could be ATM card fraud, online banking fraud, UPI fraud, etc.
If such a thing occurs, you can raise a complaint either by visiting a bank, from the bank's website, or through the bank's customer care helpline numbers.
Complaint at Branch: If you prefer to make a complaint at the branch, you can seek advice from the dealing staff. They would lodge a complaint against the unauthorized transaction.
Online Compliant: You can also seek assistance in making a complaint online. To raise a complaint online, use the online complaint link here.
Telecalling Complaint: This is one of the easiest ways to handle unauthorized transactions. You get your complaint registered over a telephonic conversation. Call the above-mentioned customer care helpline numbers, and your issue will be addressed accordingly.
The above-mentioned ways of making complaints are highly effective, and if you happen to be in a bad situation where your bank account is at stake, you can take appropriate measures to safeguard yourself.
Specific ICICI Bank Customer Care Numbers
For general ICICI customer care, the number 1800-1080 can be used. There are certain other contact numbers that deal with a specific product. You may refer to the chart below:
ICICI Customer Care Number for Internet Banking
1800 2662
ICICI Customer Care Number for Credit Cards
1800 200 3344
ICICI Customer Care Support Number
1800 1080
ICICI Customer Care for Prepaid Cards
1800 2662
ICICI Customer Care for Reporting Unauthorized Transactions
18002660199
ICICI Customer Care Reviews
The ICICI Customer Care Support Team is one of the best service providers. We have tested it with a few queries. Resolution of easy tasks, such as normal banking-related queries, is responded to quickly with solutions. Although you may face problems sometimes because it also depends on the type of complaint that you are having.
Particularly, complaints related to fraud and unauthorized transactions usually take time to settle. It may or may not favour you when settled. There is a different channel to handle this particular issue.
Otherwise, we found the ICICI customer care team to be quite reliable and helpful when you are unable to visit the bank.