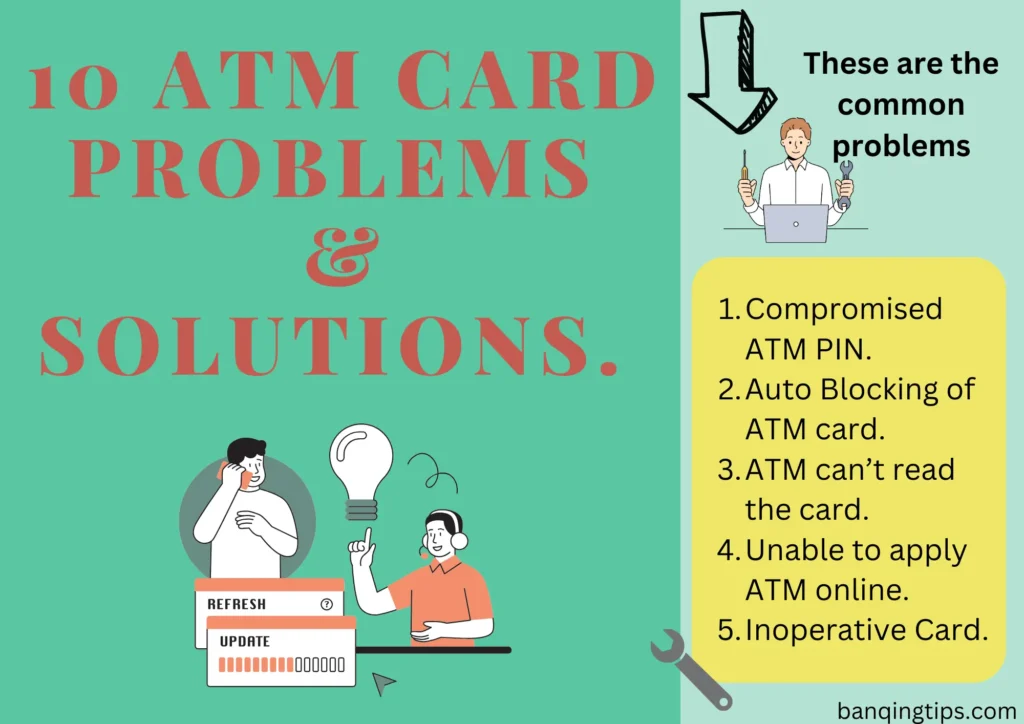 The 10 most common ATM card problems and solutions are here for easy troubleshooting. Learn how to handle the card effectively.
ATM cards have been around for decades, but they still have some issues. Find out what these are and how to avoid them!
ATM cards have been around since the 1970s, but there are still some things that can cause problems when using an ATM card. 
Here are some examples of common problems and solutions.
1. Compromised ATM PIN
If your debit card has a PIN number, then it's possible that someone will steal your PIN number and use it to make fraudulent purchases with your account.
This is called "card skimming." It happens when thieves install devices at ATMs that capture your debit card data as you enter your PIN code.
They then sell the data to criminals, who use it to make unauthorized charges against your bank account.
What you have to do is be careful when doing ATM transactions.
2. ATM Card gets Hacked
There are several ways that your debit card PIN code can be stolen. One way is through malware installed on your computer. Another way is by using an ATM skimmer device.
A third way is by stealing your wallet or purse while you are using your debit card. Thieves also sometimes place fake ATMs near real ones so that they can watch people enter their PIN numbers.
You may want to read this article to avoid unwanted ATM card scams and frauds.
3. Auto Blocking of ATM Card
The bank has this smart AI that detects suspected access or attempts to access ATM cards by miscreants. If such a thing occurs and fraudsters try to access it multiple times with the wrong PIN, the card gets blocked automatically as a fail-safe mechanism.
If such a thing occurs, you may have to contact your bank and request that they unblock the card. Then you may continue using the card.
4. ATM Card Reading Problem
It's a common issue we normally get across. There may be several reasons for the card-reading problem. It happens when your card is old. Another reason is that, if an ATM is unable to read your card, check if it's an EMV card or not.
If it's not an EMV card, then there is a fair chance that there will be a card-reading problem, as the Reserve Bank has already mandated banks install ATMs that are meant only for EMV cards.
5. Inability to Apply ATM card online
Under normal circumstances, You should be able to apply for a fresh ATM card on the bank's official website or through Internet banking. But sometimes, it does not work.
The reason may be mainly because of your account status. It means that when you do not operate your account for years, it may become dormant or inoperative. Such an account does not allow you to apply for ATMs online.
Another reason could be your bank account may need KYC updates. Visit the bank and find out when was the last time you updated your KYC. Submit all your documents, it will work the next day.
6. Expired ATM card
Your ATM card has an expiry date. It's written on the front side of the card. Make sure it is still valid and active.
When the card is expired, if your bank account details such as address and KYC are updated as per the bank's norm, the bank sends a new card without your intervention.
On the other hand, if it's not. Then, you have to apply for a new ATM card.
7. Inoperative ATM Card
If that's the case you are in, you have to let your bank check the bank account status. Most probably, it will be because of the non-operation of the bank account for more than 2 years.
Here's the thing, Banks count your bank account as being operative when you visit the bank and induce a few transactions over the counter and perform other banking-related services such as requesting fund transfers, opening new internal accounts and so on.
8. Damaged ATM Card
It's quite common to get your ATM card damaged due to wear and tear of repetitive use. As we keep the ATM card on our wallet, sometimes it gets bent which ultimately lead to card reading problem.
If the damage is severe, you have to apply for a new ATM card for smooth functioning.
9. The ATM Card Related Frauds
One of the main issues consumers face all over the world. ATM card frauds are occurring at an alarming rate.
Since the ATM card usually has a transaction limit of up to a certain amount, the maximum disputed amount could be around ₹1 lakh.
But for consumers of middle-class families, it's a big issue. Usually, ATM card frauds happen in a number of ways. It could be with social engineering methods, it could also be with card skimming, cloning, or SMS or emails embedded with malicious links.
You can protect yourself from these scammers just by knowing a few basics on how to use the ATM card without compromising your credentials. For this, you have to stick to the bank's user guidelines on ATM cards.
10. ATM Card Activation Problems
When you have opened a new bank account in any bank. You may get a new ATM card along with other kits such as a passbook and a chequebook.
Activation of a new card is a simple process. All you need is a registered mobile number. The problem arises when you don't get the Green PIN.
A Green PIN is a default PIN bank sends to your registered mobile number. This PIN needs to be changed to a new permanent PIN at the ATM.
For not getting a Green PIN, let your bank recheck the mobile number registration on your bank account. Or, you can request the bank to initiate green PIN generation from their end.
Conclusion
We have mentioned only a few of the common ATM card problems. There are dozens of other issues that can create unwanted problems.
The best solution is to use your ATM card as per bank instructions. Some of the problems can be resolved quite easily. But some of them might be the real deal.
You may also find your ATM card stopped working because of a problem with the machine itself. Whatever the problem is, there's always a way to fix it.
Contact your bank immediately and tell them about the issue so that they can fix it as soon as possible.
It's quite simple to handle all these issues. One has to have a few basics of using an ATM card, that's all. One should know things such as card skimming, card hacking, phishing, and vishing, which are the tools used by fraudsters. If you know what are these and how they happen then probably there is no risk at all.