Recently for weeks many of us face issues while accessing SBI YONO. Frankly, it is quite annoying too. When we are urgently in need of fund transfer and things are not going as we planned. It is frustrating and there is no way to express the feelings that we have, you know?
There's always a way in which we turn blind sometimes. But on the bright side, it can be fixed.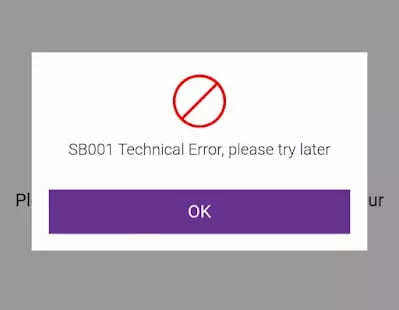 Today we are going to discuss a few technical glitches such as SB001 technical error or M001 while registering the SBI YONO app.
We even do not know what SB001 means. It's painful to know that system keeps on asking to try later after some time. And that sometimes feels like forever… 
SIM binding, why it's required? 
The YONO problem arises since the bank initiated a running programme for security protocol. As frauds are at their peak, getting fixed and mended in the current software is much needed.
SBI introduce verification of each user through SIM binding with the YONO app where a message is pinged from the end user only from the RMN(registered mobile number) to get access to the SBI YONO app.
If all goes well, it would work just perfectly fine. But many of us were not able to access our YONO prompting us to many pop-ups for which we even do not have a clue.
How to avoid
You can avoid this thing to occur with a few tips. If you are aware of it then there should be no problem at all.
SIM binding requires sending a message from your RMN to the SBI server and the system automatically confirms if your mobile number matches otherwise there will be a mismatch and the process would not be able to complete. So, here we suggest a few tips which are worth knowing it. 
| | |
| --- | --- |
| 1 | Make sure your mobile number can send messages. It's noticed that some user's mobile number is not having an SMS facility. Either maybe because of wrong SIM settings or else. This can be resolved through a SIM provider.  |
| 2 | Make sure you are installing the latest version of YONO applications.  |
| 3 | Make sure you give all the permission while installing the SBI YONO application on your phone.  |
| 4 | Make sure your device has a precise time, date and location.  |
| 5 | And last but not least, check whether your internet connectivity is okay or not.  |
It should work if the above points are complied with. If not, try to reinstall the app on another phone and try. Reinstallation solves a maximum of software problems.
Already have INB but are unable to access YONO?
When you are an existing user who has access to Internet banking, there should not be any problem getting through SIM binding process. 
All you need is to select the SIM card number which your YONO or INB has linked. A few users had some issues which can be troubleshot with the above points. 
It happened rarely and it's seen users who had faced the issues did not have the option to login. The only option available with them is for new registration which of course is out of the question.
It might be due to faulty installation so it's recommended to reinstall the app properly and give all the permission system prompts. It might work. Or try it out from a different mobile handset.
Alternatives
You always do have the alternatives of using SBI internet banking. If YONO is not working, you might be able to use YONO lite version.
It's seen that YONO lite version is working perfectly fine when the YONO app does not.
About Registration
If you do not have INB or YONO yet. You can register through the INB interface or by visiting the branch.
With an ATM card, the process for INB registration can be done easily from its official website. It can get registered instantly without even visiting the branch.
If you do not have an active ATM card, then you definitely need to meet a bank official to get it done.
Bank official says it is a temporary technical glitch that will resolve soon. If such an error occurs, SB001 technical error or M005 error, the advice is to reinstall the app and restart. Make sure you delete the app cache and cookies before you restart.