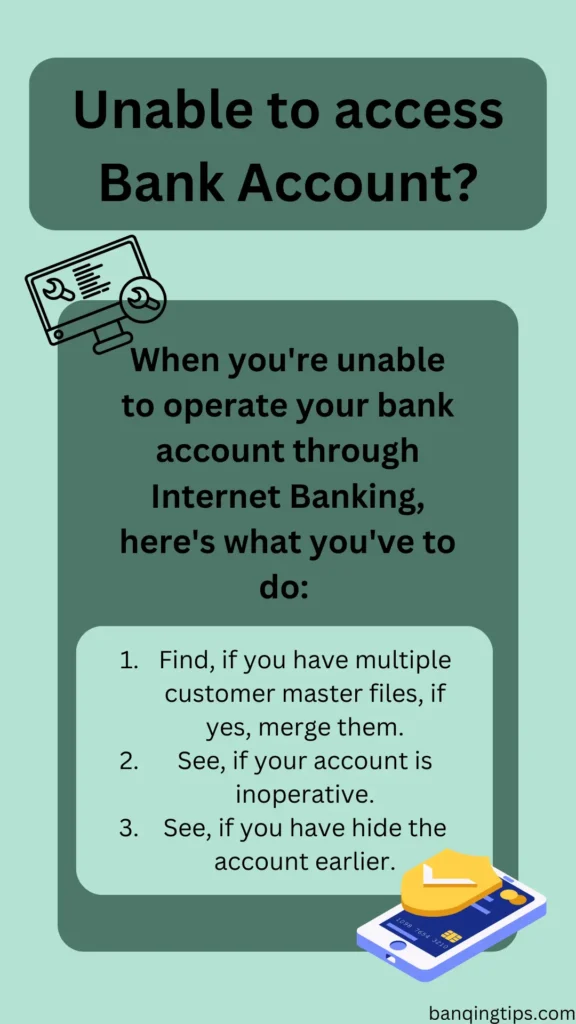 We all agree that Internet Banking gives us an upper hand while maintaining a bank account. It allows you to control your bank account more efficiently. Yes, it also saves you precious time and energy.
Needless to say, the power it gives you to handle all your personal banking-related queries. In fact, if you have an active Internet Banking Service, you might not even need to visit your bank at all.
But once in a while, you may have to visit, as there are certain things that you are required to comply with. This compliance is possible only in your presence. For instance, if you want to update your photo, signature, address change, or certain other changes in your bank account.
Banks may ask for your presence, which is a must. They do not entertain such transactions in your absence.
Today, we are covering a topic that most of us face during the normal course of banking transactions. It happens something like this:
You are not able to see or transact on all the bank accounts in your Internet Banking. It's true; some of us might have multiple savings bank accounts.
Or may have multiple bank accounts for different schemes. But some of them are unable to transact.
These days, it's quite normal to have multiple bank accounts in your name. For specific reasons, you can have.
Some of us might use these accounts separately. Such as one account for salary purposes and the other for miscellaneous purposes.
And if these accounts are not visible in your Internet Banking service, here's what you need to do:
Check whether you have given a proper transaction rights to each account. If not, transaction on these bank accounts may not work. You can only view the transaction without the rights.
Understanding the Concept of Having Multiple Accounts.
Normally, by having a savings bank account, all your financial needs can be met. A Savings Bank account is sufficient to handle all your needs if you don't have a business establishment. Otherwise, you may need to have a current account.
So, to open multiple Savings accounts, all of them have to be opened through a single customer master file. The State Bank of India and other similar banks have a CIF, which stands for Customer Information File. PNB Bank and other similar banks have Customer IDs as their customer master files.
As long as your savings bank accounts are linked to a single customer master file, you won't have any issues. The problem arises when consumers have multiple CIFs or Customer IDs.
In this case, although you have activated Internet Banking by using any one of the accounts, the other savings bank account will not be visible in Netbanking at all.
To address the issue, you have to visit the bank and request them to merge those CIFs into a single CIF. In banking terminology, they sometimes refer to it as the de-duplication of CIFs.
Having Multiple Savings Bank Accounts with Active Internet Banking
Scenario 1: When you have multiple bank accounts linked with a CIF or a Customer ID, you can access and transact on all your bank accounts without any problem.
In such a case, what you need to check is whether these accounts have transaction rights or not. If not, either you get the rights online or request the bank to set the proper rights. That's all.
Scenario 2: When you have a single CIF and multiple Internet banking IDs, there could be one possibility. Under normal circumstances, if we consider every other detail as normal, you may have two different accounts with different CIFs or Customer IDs.
Now what could happen is that your bank finds out that the CIFs belong to a single person and merges those CIFs into one. But, those multiple Internet Banking user IDs are left untouched.
This may lead to the cessation of both Internet banking and mobile banking. In order to reactivate them, you have to choose one of them and approach the bank. As per the Reserve Bank's recent guidelines, banks were advised to make all those multiple ID users a single user.
Having Multiple Bank Accounts with Different Schemes.
This is another case we need to see. Having multiple savings bank accounts is another thing; there are also instances when you have multiple bank accounts for different products and schemes.
You can have a savings bank account with recurring deposits, a fixed deposit account, or a current account. Apart from these, you can even have an overdraft account, which is technically a loan account that can be used as a current account for business purposes.
When these accounts are opened under a single customer master file, you won't have any issues. The problem arises when you have multiple customer files. In the case of SBI, it means an account is opened with different CIFs, whereas in other banks, the customer has multiple Customer IDs.
At present, opening a new account with multiple customer files is nearly impossible, as the bank account opening process has been upgraded ever since the Core Banking Solution was put in place. The system always detects the existing customer beforehand.
How do I make all the bank accounts accessible under a single Internet Banking ID?
The problem of inaccessibility of certain bank accounts under the same Internet banking ID is mainly because of the above-mentioned issues.
Either you have multiple CIFs or Customer IDs. Or you have put the particular account in hidden mode. Or, it could also be because you have multiple Internet Banking user IDs or usernames. All of these can be resolved with the help of expertise.
To solve the problem of multiple CIFs or Customer IDs: Contact your bank and request that they merge all the CIFs, or Customer IDs, into single CIFs. But what matters is that you have to select a CIF that will remain intact.
The reason why you should choose the CIF or Customer ID is that the one CIF or Customer ID where your Internet Banking is active has to be preserved, and the other customer file has to be merged with the chosen CIF or Customer ID.
If not done, there may be complications later on while performing the Internet Banking transaction.
To Solve the Problem of Hidden Accounts: In certain cases, the user of Internet banking hides the bank account for security purposes. And sometimes, the user forgets that the account was put on hidden mode, and later on, it seems as if there is a problem with the Internet banking service.
To solve this issue, all you have to do is see if there is any account in hidden mode. If there is, click on the unhide button, and the bank accounts will be visible and accessible once again.
When you Have multiple Internet Banking User IDs: This problem occurs with bank accounts that were opened before Core Banking was implemented. It never happens to the new account; rather, it happens to old accounts.
To solve the problem, you have to stop using one of the user IDs. Your bank will handle the correction process. Though your CIFs or Customer IDs must have been merged, Internet banking user IDs have not been rectified yet.
Inform the bank; they will just run a few programs, and your issue will be settled within a few days.
When you don't have transaction rights: Either you set the transaction rights online or request the bank to set the transaction rights on your bank account.
As soon as you get these rights, the next time you login to your system, you can easily transact on those accounts that were not functional before.
Before we conclude the session, you have got to see these amazing books on Amazon. These books might help you understand how your money works.
Conclusion
Internet Banking gives us the freedom to explore the financial market in much better ways. Not only is it secure, but it also saves you precious time and energy. You can do all sorts of banking transactions from your home or office, or from anywhere and anytime.
When you are unable to transact your bank accounts with Internet banking, you have to find out the problem behind it. It could be a minor issue, such as improper transaction rights. This problem can be resolved easily.
It could also be a chronic problem, such as having multiple CIFs or Customer IDs. If that's the case, you have to contact the bank and let them resolve your issue professionally.