PNB One is a mobile banking application from Punjab National Bank. The application allows you to access your bank account 24/7 throughout the year. The bank provides all major banking transactions on this single platform.
As we all know, Internet Banking plays a major role in our daily lives. Using it saves us valuable time and allows us to focus on other constructive tasks.
Today, we are covering the basics of PNB One. If you have a bank account at Punjab National Bank and are looking for the registration process for PNB One or Internet Banking, Read this article; it might save you time. You may also be able to activate PNB One at your convenience.
How to Register PNB One
One can easily register for the PNB One service with the PNB mobile application. In order to complete the process, here's what you have to do:
Step 1: Download the PNB One app on your phone, install it, and give it the proper rights.
Step 2: Click on the New User button.
Step 3: Enter your bank account number and select the appropriate option. You can select activation of only mobile banking or both mobile banking and internet banking together.
Step 4: An OTP (One-time password) will be delivered to your registered mobile number. Enter the OTP and proceed further.
Step 5: Choose the registration options as per your requirements and proceed.
Registration Using Debit Card
Registration Without a Debit Card
Registration Using Aadhaar OTP
Step 6: As per your chosen registration process, you may have to provide the following details to complete the transaction:
In case, if you have selected Registration using a Debit card, you have to provide the card number and PIN number.
If it's Registration without a Debit card, you must provide your account number and answer security questions.
Registration Using Aadhaar OTP requires your bank account number along with the Aadhaar number. Aadhaar OTP will authenticate the process.
Step 7: Now, the system will prompt you to set the login ID and transaction password along with the TPIN (Transaction PIN). Set these IDs and passwords, and hit the submit button.
Step 8: You will get the successful registration message. Login to PNB One with the user credential you have just created. Now, set the MPIN, and the whole process is completed with the setting of the MPIN.
You can login using the login ID and password or just by typing the MPIN and access your bank account anytime, from anywhere.
Earlier there was no option to register PNB internet banking without Debit card. Now you can do so by answering some of the security questions the system prompts.
Features and benefits of PNB One
PNB One offers a range of services that will eventually let you operate your bank account efficiently. One can get a number of benefits by using the PNB One mobile application. Almost all your financial needs can be performed through this app.
It's worth knowing the basic features of PNB One. Read on. Here are some of the key features you can get when you register for PNB One:
| | |
| --- | --- |
| Account Access | Whether you want to check your bank account balance or transfer funds, PNB One will meet all your needs. The service is accessible 24/7 throughout the year from your mobile phone. |
| Fund Transfers | PNB One allows you to transfer funds seamlessly. You don't need to visit the bank to send money. The application will let you send money at your convenience, including on holidays. |
| Bill Payments | PNB One enables you to pay all kinds of bills. These include utility bills, credit card bills, electric bills, etc. For bill payments, you don't have to visit the vendor. You can pay them when it's due at home. |
| Mobile and DTH Recharge | You can recharge both prepaid and postpaid mobile connections, anytime at your convenience. This includes any monthly subscription, such as Netflix, DTH recharge, or Amazon Prime. You can do so quite easily. The system is quick, easy, and hassle-free. |
| Insurance and Investment | PNB One allows you to manage your investment portfolio. From buying mutual funds to life and health policies. You may even renew the existing policies with ease. The AI of the application will also help you decide the best funds to invest in. |
These are some of the key features of PNB One. Whether you have a busy work schedule, are a traveller, or simply someone who values convenience, PNB One is there to simplify your personal banking experience.
By using the service, you may find all your banking needs in one application.
Transaction Limits of PNB One
Transaction limits are the amounts that you can transact for specific purposes. There is a limit on how much you can send money with PNB One. Likewise, there is also a limit on how much you can transfer funds via UPI.
Below are the transaction limits for various types of transactions.
| | |
| --- | --- |
| Type of Transaction | Limit of Transaction |
| Overall Limit | ₹10 lakhs |
| IMPS | ₹2 lakhs |
| Quick transactions between PNB accounts | ₹10000 |
| Third-Party Transfer | ₹10 lakhs |
| NEFT and RTGS | ₹10 lakhs |
| Term Deposit | ₹9999999 |
| UPI Transfer | ₹50000 |
| Mobile and DTH Recharge | ₹50000 |
| Bill Payments | ₹50000 |
How to reset PNB One Password Online
It is usual when using PNB One or any other banking or non-banking service online. We may forget the login credentials at some point in time.
What if you are unable to gain access to PNB One? Worry not, there is a way to reset the PNB One login password on your own.
You don't need to visit the bank in order to reset the login password. But, you should know that an ATM card is required to reset the password online. Here's how you can reset the PNB One password:
Step 1: Go to the PNB One homepage and click on the Trouble Sign In link displayed on the site.
Step 2: You may find the Forgot Password link on the next page; click on it and proceed.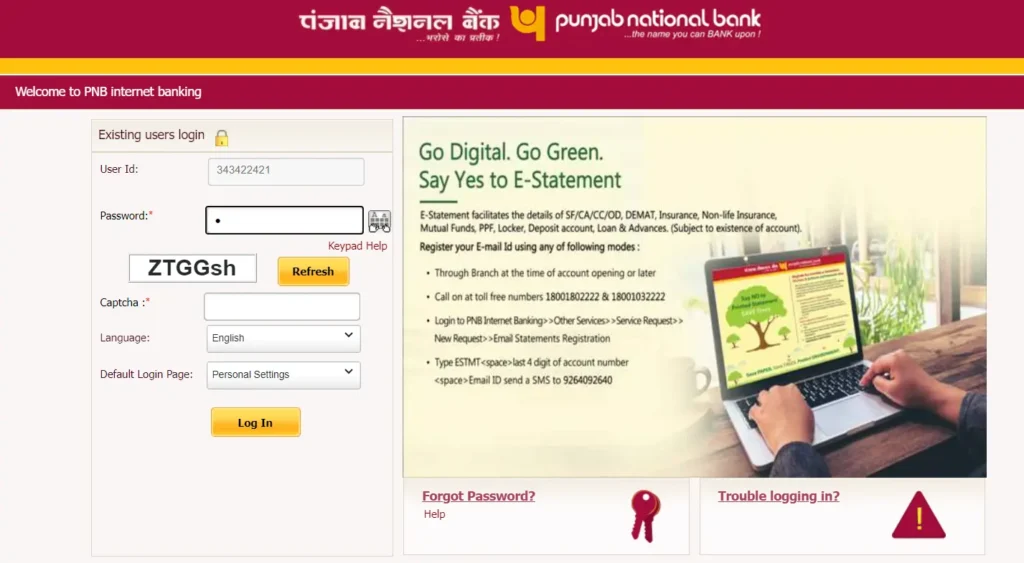 Step 3: Enter the user ID and proceed further.
Step 4: The system will prompt you to provide your bank account number, linked debit card along with ATM PIN. Provide the details and hit the submit button.
Step 5: On the next screen, you will be asked to set the new passwords- both transaction password and login password. Set them right away and complete the online password reset process.
You can replace Transaction Password with TPIN, the service was updated recently and it would really simplify and ease your transactions- both financial and non-financial transactions.
Exploring the PNB One mobile banking interface
When we go through the application interface, we get to know that the bank provides a bunch of services with the PNB One application. They have tried to provide all sorts of banking transactions under this application.
Let's take a closer look at some of the key features and services offered by PNB One:
Fund Transfer: You can send money with this application to anyone. That's one of its basic features that allows you to handle your banking transactions.
UPI Payments: Presently, UPI payments are everywhere. Whether you buy things at shopping malls or at any other outlet, UPI payments are preferred by most people.
PNB One handles those UPI payments efficiently.
Payment Via Contact Number: You can literally pay someone through his or her contact number. This works with UPI payments. The receiver has to have an active UPI ID linked to that mobile number in order to receive the funds.
Manage Beneficiaries: You can manage your beneficiaries with this application. You can add and delete beneficiaries as per your requirements.
Insurance: You can buy and renew insurance policies with the PNB One application.
Pre-Approved Personal Loans: As per the consumers' monthly income, the system generates eligible customers for online personal loans.
If you happen to be eligible for a PNB Pre-approved personal loan, you can get it without providing any documents.
The pre-approved personal loan processing is totally digital.
Pre-Qualified Credit Card: This is the same as the pre-approved personal loan. If you are eligible for the credit card, you may apply with the PNB One application.
Voice Assist: In case you are having difficulties operating the PNB One service, you may use the Voice Assist option.
Debit card: The debit card service is quite handy. This service lets you control your ATM card or Debit card. You can set a limit on card usage.
With PNB One, you can request a new ATM card too. Aside from this, you can block your card. You can also, set and change your ATM PIN.
Manage Billers: Manage your billers with this option. You can delete and add new billers as per your needs.
These are the essential features and services PNB One provides, the features are regularly enhanced to ensure a superior banking experience.
You can generate QR Code with PNB One application. QR Code enables you to receive funds without handing out your bank account details. If you want secrecy of your bank account its the best option in addition to Virtual Bank Account.
Troubleshooting common issues with PNB One
While PNB One strives to provide a smooth and hassle-free banking experience, there may be times when you encounter certain issues. Here are some common issues that users might face with PNB One and how to troubleshoot them:
1. App Crashes: If the PNB One app crashes or becomes unresponsive, try closing the app completely and relaunching it. If the problem persists, check for app updates and install them if available. You can also try clearing the app cache or reinstalling the app.
2. Login Issues: If you are unable to log in to PNB One, double-check your username and password to ensure they are entered correctly. If you have forgotten your password, you can use the "Forgot Password" option on the login screen to reset it.
3. Transaction Failures: If a transaction fails or is declined, make sure you have sufficient funds in your account and that you have entered the correct details. If the issue persists, contact PNB One customer support for assistance.
4. Slow Loading Times: If the app takes a long time to load or load times are inconsistent, check your internet connection. Slow or unstable internet can affect app performance. You can also try closing other apps running in the background to free up system resources.
5. Account Lockout: If you enter the wrong password multiple times, your account may get locked for security reasons. In such cases, you can login again the next day.
That's how you register and activate PNB One. Before we end this post, check out these books that can help you achieve your financial goals.
Conclusion
PNB One is designed in such a way that consumers are able to perform their banking transactions with ease. We have seen a number of reviews about the service. Some consumers complained about poor app user interfaces, and some complained about connectivity issues.
Overall, we have seen that the PNB One mobile application is quite decent and reliable. The service is secured with data encryption, and multiple layers of password protection give it more reliability.
So, with PNB One, you can do a range of banking transactions at your convenience. What we can say is, in the coming days, this application may be even better, as you can see Punjab National Bank now has PNB Metaverse too.