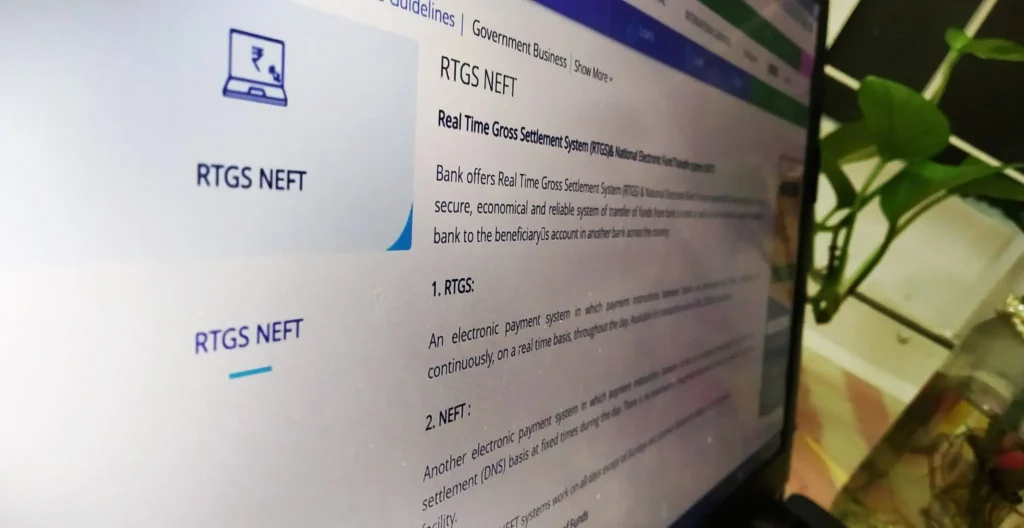 People often face the issue of accidentally sending money to the wrong account. If it's within the same bank, resolving the problem is straightforward and easy.
In such a case, your bank might be in a better position to help you out. But, if this same issue happens when you are paying to another bank account. Like faulty payments through NEFT or RTGS, how do you solve the problem? 
That's a little bit complicated, but you know? It's possible to reverse the transaction. If you have made the same mistake, here's what you need to do, in order to get your money back.
Let's begin with NEFT and RTGS. What are their terms and conditions?
NEFT (National Electronic Fund Transfer) 
It is an electronic fund transfer system handled by the Reserve Bank of India. Most of the banks have the licence to carry out the transaction in favour of the reserve bank.
A person can initiate a fund transfer from any bank. It can be used for personal as well as business transactions.
There is no limit to the amount you can transfer through NEFT. It can be as low as ₹100, and there is no maximum limit to the fund transfer.
The time schedule for NEFT is notified by RBI in the circular dated August 30, 2019, which states that NEFT will be available 24/7.
The transaction will be settled 48 times a day, every half an hour, throughout the day. 
And the beneficiary will get the funds within 2 hours of a transaction initiated by the sender.
It can be done by presenting a cheque to your banker which banks use to charge nominal fees or you can do it directly through your internet banking which is of course free of charge.
RTGS (Real Time Gross Settlement) 
In RTGS transactions, the settlement of funds occurs instantly on a one-to-one transaction basis. The amount of transaction would be ₹ 2 lakhs and above. No maximum amount has been capped, which means a person can transfer funds as per his requirement.
Transaction hours are from 7 AM to 6 PM on all working days, for fund settlement at RBI. If you transfer funds using RTGS after working hours, your transaction will be settled on the next working day.
Click here for the holiday list of RTGS.
The service charge for RTGS has been waived by RBI since July 2019. RBI allows banks to recover nominal service charges which should not go beyond the limit given under
For amounts between ₹ 2 lakhs to ₹ 5 lakhs, the service charge is capped maximum at ₹ 24.50 excluding of tax if any.
For amounts above ₹ 5 lakhs, the service charge is capped maximum at ₹ 49.50 excluding tax if any.
Coming back to the main issue, what if you have sent money to the wrong account?
Here's How To Reverse The Transaction.
That's a pretty tricky question. As you see in the RBI circular it is clearly mentioned that the transaction is final and irrevocable once it is settled.
There are certain things that are worth knowing when it comes to NEFT and RTGS.
Not like a normal transaction, while you pay, everything has to be tallied in order to make your transaction successful. What it means is the name of the beneficiary, and the account number have to be matched only then your transaction would get through it.
But here in the case of RTGS and NEFT, only the account number does matter. Whether the beneficiary names are given properly or not, if the account number is okay then the transaction will get through.
So, you have got to be very careful while initiating this kind of transaction. Once it is transferred to the wrong account, it may take days to get your fund refunded.
It is advisable to double-check all the details before hitting the final button.
Here's what you can do!
Seek advice from your banker if they can intervene and help you get your refund. The bank may take a few days, as it would take approval from the account holder to reverse the fund. 
The account holder has full rights to reject the refund transaction as it was not his fault. He may also say he will refund after some time if he is not in the position to approach his banker or if he does not have an online banking service.
You can write an application to the beneficiary bank through your banker, to get connected to the person you have wrongly credited the fund and settle between you and the other party.
However, your banker would have to indemnify your credential, so that, if any untoward things materialized your banker would take the fall.
It's quite a delicate situation to handle, it may waste your valuable time too. So, it is always advisable to double-check before confirming your transaction.
Details that are required for RTGS/NEFT.
You need to have an account in the bank. A chequebook or Internet banking is a must. Mobile number and your account should be fully KYC compliant.
Beneficiary details should be precise and proper.

Name of the beneficiary
IFSC (Indian Financial System Code) for the beneficiary bank. It's an 11-digit code.
Account number of the beneficiary.
Address details of the beneficiary.
Name of the bank and branch
How to Enquire about non-credit to the beneficiary account?
Normally if the transaction fails due to some circumstances, the fund is reversed within 2 hours of the transaction. If not happen, you may either approach your banker to see if there is any issue with the transaction.
Your banker might be able to resolve the issue. However, RBI has also given the customer contact centre, where you can mail your issue directly to their email or you can post mail to them.
For more details please visit here.
Also, read on How to put a stop to your lost cheque!
Where can you find UTR number?
UTR or Unique Transaction Reference number is a 22 alpha-numeric code generated for each and every transaction.
It is a unique identity of each transaction.
You may receive it on your registered mobile number as soon as the transaction is effected. It is also found in your statement of account.
So, NEFT and RTGS are quite handy tools for those who heavily rely on different banks for transactions either for personal purposes or for business. Overall, RBI has provided an enormous amount of service to the nation through this product.
Earlier when there was no electronic fund transfer system, a single transaction would take days to complete, now it is at our fingertips. It is up to you, how you get the benefit out of it.