Did you know that you can withdraw money from an ATM without using an ATM card? Surprisingly, you can do it if you have an account at the State Bank of India.
Here's how..
SBI YONO Cash enables you to withdraw cash at an ATM without using an ATM card. It's quite handy when you forget to carry an ATM card. It's amazing what technology can do. There's no boundary when it comes to technological innovations.
Just recently, the bank added another feature that enables you to withdraw money from an ATM without a card. It's called the YONO QR code.
Both YONO cash and QR codes can be seen on the ATM's main menu. Transaction limits are as below:
| | |
| --- | --- |
| 1 | YONO Case: Upto ₹20000 you can withdraw in a day. |
| 2 | YONO QR Code: Upto ₹4000 you can withdraw per transaction. |
State Bank of India has these facilities with SBIYONO- a mobile application that enables online banking. It's part and parcel of what SBI gives us as YONO which can be operated in two ways: either by logging in to the official website https://onlinesbi.sbi or by using the app.
The process is also quite simple. All you need to do is create your password or PIN to withdraw money through an ATM. 
A PIN number will have to be created through the YONO  app or from its website, and the other is a YONO cash verification number, which will be delivered to your registered mobile number. You are going to use these PIN numbers and cash transaction numbers instead of ATM cards to encash money from the ATM.
Without further ado, let me break it down for you. How it works.
Here's the process:
Step I
PIN generation at the SBI YONO site and app.
Log in to the official YONO website and scroll down to the end of the page. You will notice a link to YONO cash. Go on and click on the button.
When you click on YONO Cash, you will be guided to the next screen, where you can select any options.

Withdraw from ATM booth: You can withdraw a maximum of Rs 20000 per day.
From merchant POS (Point of Sale): A maximum of only Rs 2000 can be drawn from this option.
From Customer Service Point (CSP): If you choose this option, you will have to visit SBI's CSP and receive your money through them which is a maximum of Rs 10000.
So, for YONO cash at the ATM choose the first option, and the system will guide you to a screen that looks like this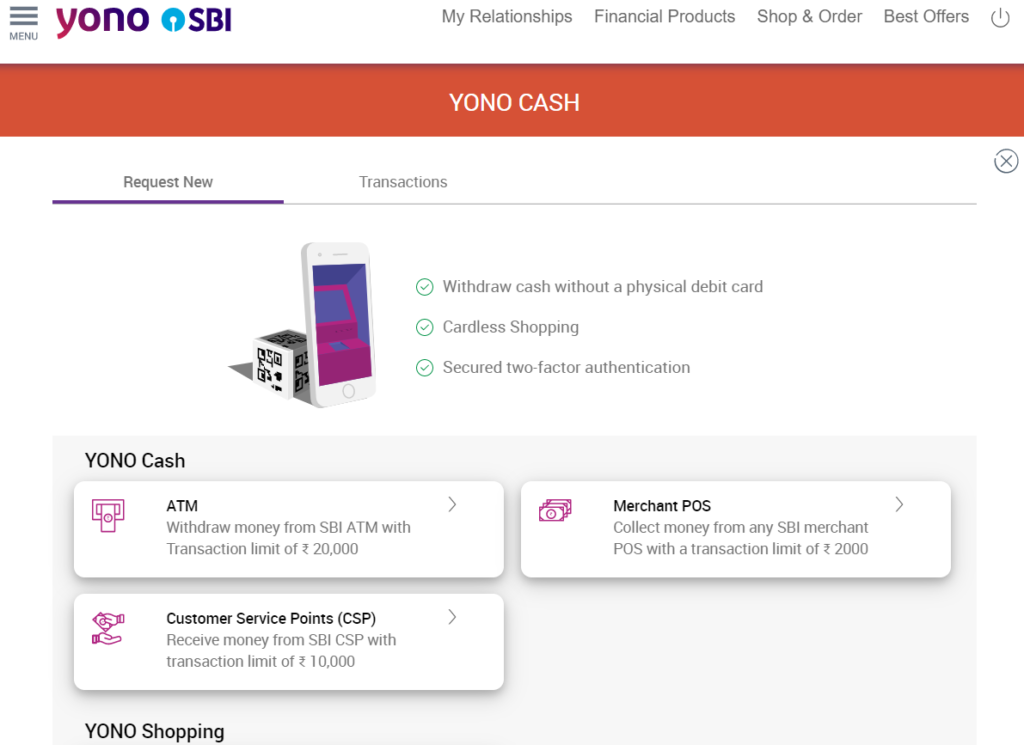 Fill in the amount you would like to withdraw. The minimum will be Rs 500, and click on the next button to go to the page where you will have to create a 6-digit PIN number. Note that the system permits only random numbers, not in successive order like 123456. 
This is the final step in creating and confirming your PIN. Put your PIN number (can be any number of your choice, but you have to remember it as it is required while withdrawing money from an ATM). After filling out the PIN, hit the next button, and it is done. The screenshot looks like this: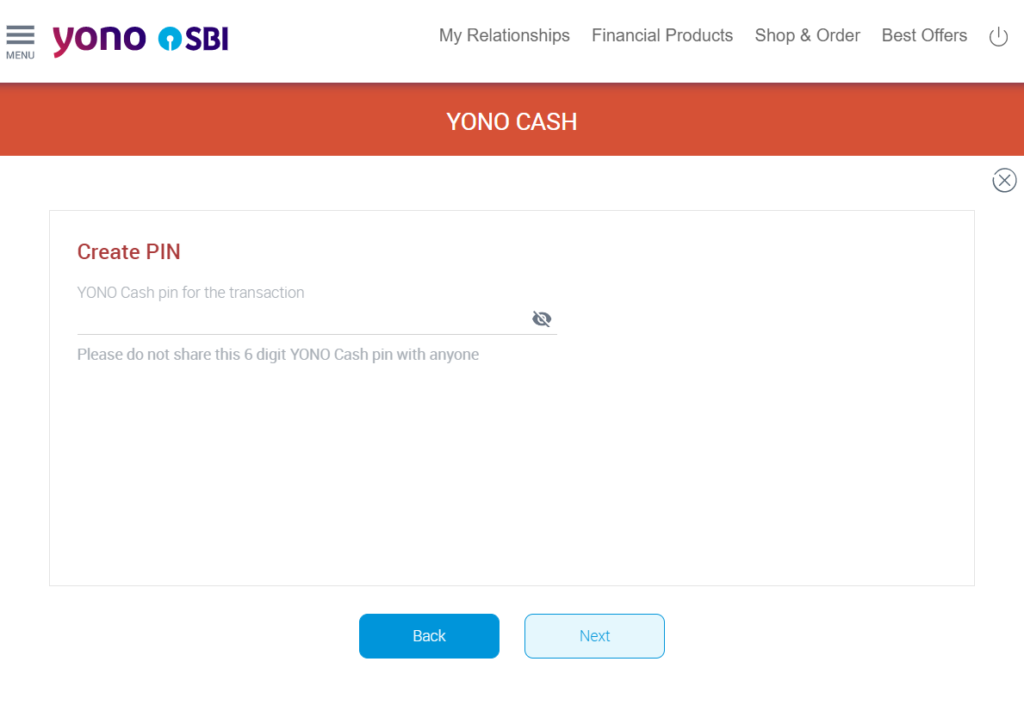 Also, you will get a cash verification number at your registered mobile number. Both these PIN and cash verification numbers are going to be used while withdrawing money.
STEP II
Now withdraw your money at the ATM
The YONO cash withdrawal can be done only through the SBI ATM, so you have to go to that only. To complete your transaction, you will have to click on the YONO Cash button, which is seen on the home screen of the ATM.
When you click on YONO Cash, the next screen is for transaction number verification. Provide the cash transaction number and confirm it.
On the next screen, you are going to enter the amount that you have put in while creating the PIN number. The amount should be tallied; otherwise, your transaction may fail.
After that, click the Press if yes button. If you want to abort your transaction click on Press if no button.
This is the last step to getting your money. After you press yes, you will be guided to the last page where you will have to provide your PIN number which you have created at the SBI YONO site or app. Confirm the transaction and your money will be dispensed.
The YONO cash transaction will be valid for 4 hours after you create your PIN number and generate the YONO cash transaction number.
If you are unable to execute the transaction, you need not worry, as, after 4 hours of your PIN creation, both PIN and cash transaction numbers will be expired and be be be of no use.
But, always be careful not to let anybody know your PIN and YONO cash transaction number before the lapse of these 4 hours. As it can be withdrawn from any SBI ATM. Remember, being careful is the best thing that you can do when it comes to dealing with your money. The rest is good to go.