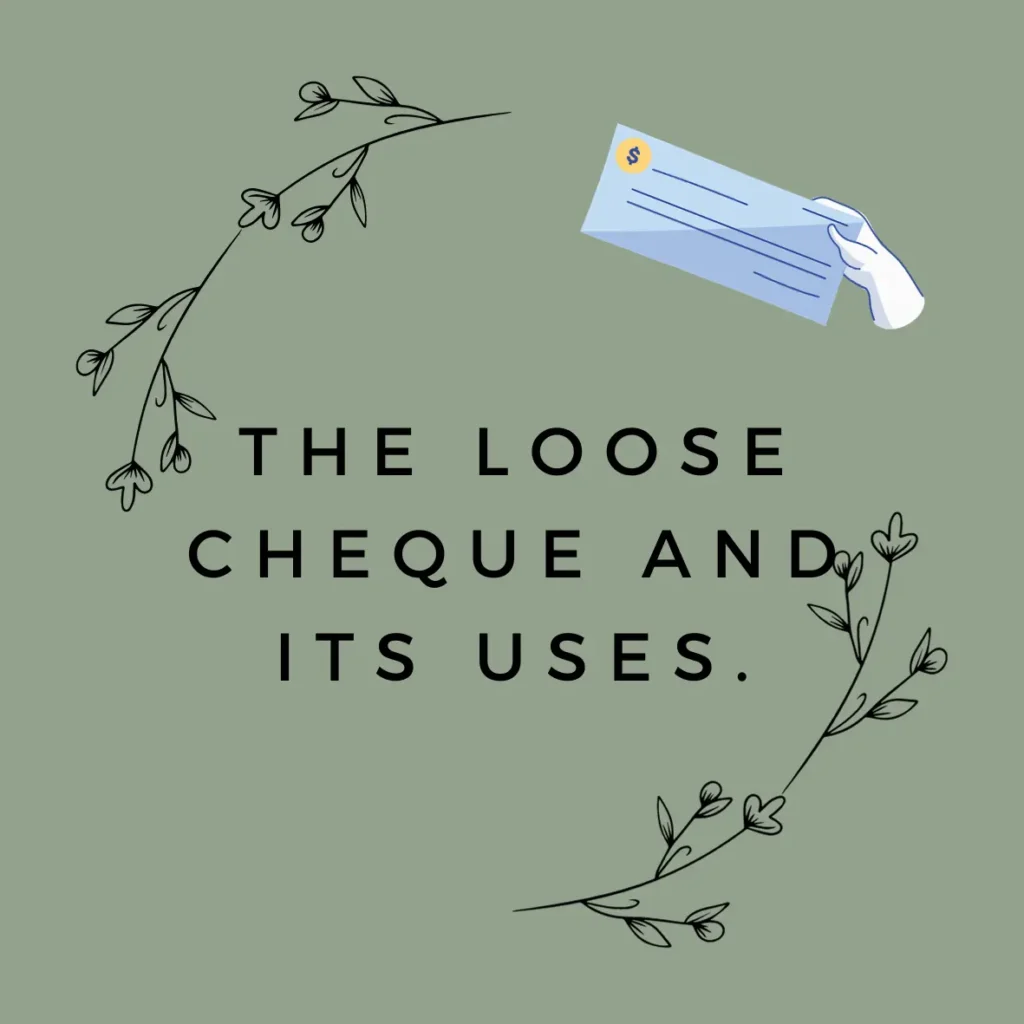 The chequebook is one of the main bank account kits that comes with a new bank account.
It allows you to transact money in many forms.
A cheque enables you to withdraw cash over the counter. It also enables you to give and take money from any person that you are dealing with financially.
In the normal course of time, it's quite common to have your cheque getting rejected for payment.
A loose cheque is one such type of cheque that must be used properly to avoid getting bounced.
That could be the reason you are here on this page in the first place. Let's find out all about a loose cheque.
Cheque Bounce with the reason Loose Cheque?
You have presented a cheque for payment, and it's been declined for the reason loose cheque.
What could it mean? Why does it have certain limitations compared to the normal cheque leaves that we have?
Loose cheques are those cheques that banks provide for emergency use only.
Under normal circumstances, when a user applies for it, the bank provides cheque booklets in the range of 10, 20, 50, 100 leaves, and so on.
You can even go for 1000 cheque leaves if you want.
A loose cheque is a non-personalized cheque given to the user. Personalized cheques are those that are mapped to your account. All your details will be imprinted on the cheque leaves.
Information such as your name, account number, and payment limit is printed on the leaves.
A personalized cheque can be seen either as a bearer or order cheque, whereas a loose cheque is normally seen only as an order cheque. This means a loose cheque can be paid only by order.
What is a loose cheque?
A loose cheque is a type of cheque provided by the bank for emergency use.
The features are the same as the normal cheque but there will be no account number, user name, or payment limit imprinted on the cheque leave as it's a non-personalized cheque.
Any type of account holder can have the facility. It may be a Savings bank account, Current account or CC account. It is meant for home branch transactions only.
These cheques are not accepted at the clearing house due to security reasons. So, if you are thinking of making a third-party payment with a loose cheque, it might get rejected.
That is why your cheque is getting bounced even after having a sufficient balance in the account.
Can I use a Loose Cheque for sending money?
Yes, definitely. You can use a loose cheque to send money. You can withdraw money over the counter, too.
But, there are some features that stand out from the usual personalised cheques. This could literally limit your fund transaction capacity.
To understand this, you have to know certain facts about the loose cheque mentioned above.
| | |
| --- | --- |
| 1 | Loose cheques are usually non-personalized. That means the chequebook is merely linked to your bank account. There are no names, account numbers, or other details of the account holder imprinted on it. |
| 2 | A loose cheque is usually used for local purposes. It may not work in other branches. |
| 3 | It is sometimes referred to as an emergency cheque. |
| 4 | The clearinghouse may reject the payment due to its fewer features. |
Conclusion
Knowing some of the basic features of your bank account is important. When you know what sort of facilities your bank account is giving you, you might be able to enhance your financial dealings.
Certain things are meant for temporary use only. A loose cheque is one such kind of service that you can use for the time being when you have run out of other options.
The situation may arise when you are in a position where you need to pay the money anyway but have run out of cheque leaves.
A loose cheque would help you resolve temporary matters, but it cannot be used as a personalized cheque. If used, you would end up facing a cheque bounce. Moreover, you would end up paying unnecessary cheque bounce charges.