If you maintain a bank account in HDFC Bank and are looking for the best-fixed deposit plan. This page might help you choose the best one. Here, we have the latest HDFC bank interest rates on FD.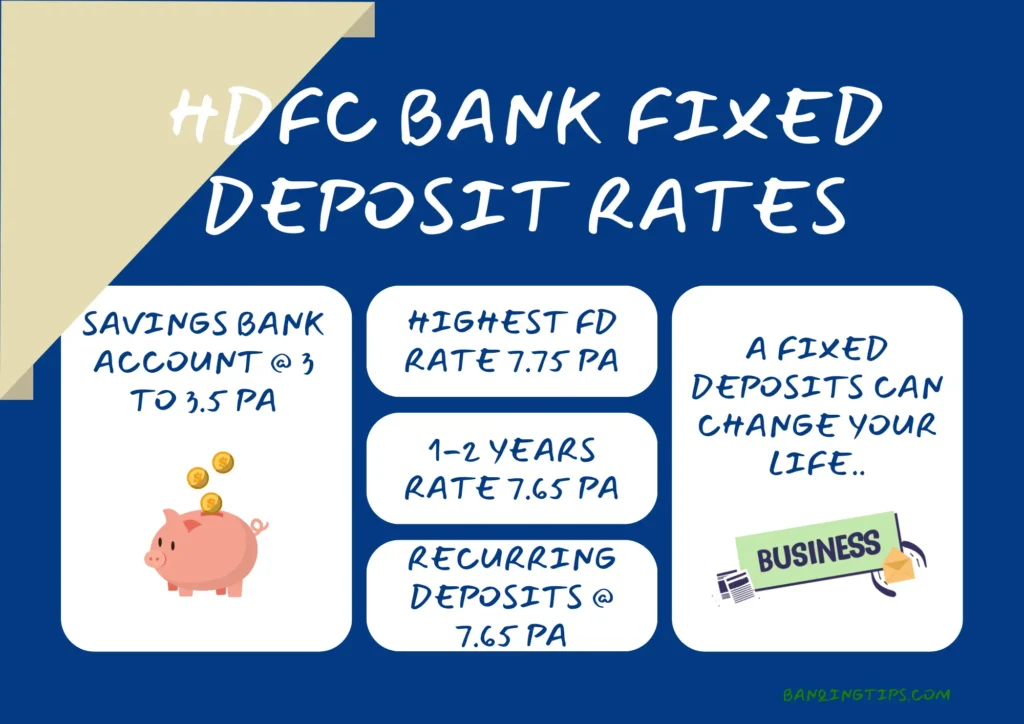 HDFC Bank is one of the leading private banks in India, catering to the public with more than 7,000 branches across the country.
HDFC Bank fixed deposits are quite popular among banks. The bank offers decent FD rates that can go up to 7.25 percent per year.
FD is one of the safest modes of investment in banks, and with 7.25 percent, it's for sure that you can get decent returns when it matures.HDFC Bank fixed deposits are quite popular among banks.
The bank offers decent FD rates that can go up to 7.25 percent per year. FD is one of the safest modes of investment in banks, and with 7.25 percent, it's for sure that you can get decent returns when it matures.
With HDFC Bank, you can open an FD account for just 7 days to 10 years. We would love to see which FD tenure is best suited for you. Refer to the table and find the respective interest rates.
What is a Fixed Deposit Account?

A fixed deposit account is a type of saving account which you maintain in the bank for a certain period of time. It is also known to be time deposit. The maturity period range from 7 days to 10 years. In return you get a fixed interest against the deposited amount when it matures.
HDFC Bank Interest Rates on FD Upto ₹2 Crore Balance
When you do open a fixed deposit account, the first thing that comes to mind is what interest you are getting and for how long your money is going to be stuck.
As an FD account can be opened for a short period of time, it can be for just 7 days too. So, it would be a wise decision to convert your account balance into a fixed deposit if you are not going to use it sooner.
For the general public, the maximum rate of interest is 7.10 percent per year. You can get the highest HDFC bank interest rate if you choose an FD tenure of 15 to 18 months. Ideal period for earning a decent return.
If you are looking for long-term FD, the bank provides decent FD rates of 7 percent. Beyond 18 months to 10 years, you can have FD at 7 percent. For tenure below 15 months, the FD return rate is quite low. Though it's low, it's better than the idle funds that you have in your bank account.
HDFC Bank Interest Rates on FD of ₹2 to ₹5 Crore Balance
If you intend to go beyond ₹2 crore deposit in HDFC FD, you may get the below table rates. The maximum rate that you can get is 7.25 percent and if you are a senior, you can get up to 7.75 percent per year.
As a general public, you would get 7.25 percent for FD above ₹2 to ₹5 Crore with a tenure of 1 to 15 months. And for senior citizens rate of 7.75 percent is available for FDs of above 5 to 10 years.
If you can spend 5 years in HDFC FD, you better choose for 5 years and 1 days or 5 years and 1 month. With only a day difference, you would get 7.75 percent instead of 7.65 percent. It's all about how you maximise your interest income every possible ways.
If you are a senior looking for a short- to medium-term fixed deposit, you can opt for an FD of 6 months to 5 years. Between these ranges, you may get decent interest rates, which can give you satisfactory results. The base rate would be 7 percent and you may get up to 7.65 percent.
The best tenure would be 15 months to 2 years, which gives 7.65 percent. This is the best offer if you cannot go for 10 years.
Benefits of HDFC Bank Fixed Deposit Schemes
There are a number of benefits that you can get from HDFC Bank fixed deposits. These can be in terms of the interest that you are going to get. Or, these FDs can be used as primary securities for availing of personal loans. Here are some of the common benefits of HDFC Bank fixed deposit schemes.
HDFC Bank fixed deposits can be opened by any individual. Domestic, NRO, and NRE account holders can have and maintain FD of the desired amount any day and at any time.
Bank fixed deposits are one of the safest modes of serving funds with guaranteed returns. The risk involved in having an FD account is minimal. Unless the bank fails overall, your fund is intact.
There are FD schemes that can give you tax benefits. You can opt for it if you don't want to invest in other tax-saving schemes.
Usually, bank FDs have high liquidity. This means you can go for premature closure when you have an urgent need for funds for emergency purposes.
When you need an emergency fund and don't want to use your FD. You can go for loans against FD, which is an excellent form of personal loan. As it is backed by your fixed deposit, the interest rates on a loan against your FD are quite low.
HDFC Savings Bank Account Interest Rates
At present, HDFC Bank's savings bank interest rate is 3 percent and 3.50 percent, depending on the account balance that you have. Here's the chart for HDFC savings bank interest rates.
Compared to other prominent banks, HDFC Bank has a decent savings account interest rate. Here's a snippet of the savings account interest rates of some of the prominent banks in India.
| | | | | | | | | | | |
| --- | --- | --- | --- | --- | --- | --- | --- | --- | --- | --- |
| Bank | HDFC | SBI | ICICI | Axis | RBL | Canara | Kotak Mahindra | Bank of Baroda | Indusind Bank | PNB |
| Savings Bank Interest Rate | 3.50 PA | 2.7 PA | 3 PA | 3 PA | 4.25 PA | 2.9 PA | 3.5 PA | 2.75 PA | 6 PA | 2.7 PA |
We have considered only the lowest interest rates of the respective banks. Some of these banks have higher interest rates. To cite an example, an RBL Bank savings bank account can give you up to 7 per cent per year. Likewise, ICICI and Axis Bank rates may go up to 3.5 percent per annum.
HDFC Bank Recurring Deposit Interest Rates
Recurring deposits are those types of savings that let you save funds in a recurring manner. Usually, you can start monthly savings for only 6 months to 10 years at reasonable interest rates.
How to Maximize Your Earnings?
With some analysis, you can actually maximize your fixed deposit returns. You have to be precise in what you decide, and on top of that, you should be able to keep the fund intact till it matures.
Early breaking out of a fixed deposit will attract a penalty, which is usually 1 to 2 percent of the interest that you have earned.
Not only would you incur this penalty, but you would also be losing time, which would be fruitful if you waited for the term to be completed.
Choosing the best tenure for FD is one of the main criteria. HDFC fixed deposit rates are best for 1 to 2 years. Choosing these tenures would definitely yield better results.
Another alternate option is that if you are not going to use the funds, choosing FD tenures of 5 years and above would give you the highest interest rate of 7.75 PA.
How To Maximize Your Earnings on a Small Income
Let's say you have a small income and you want to create a good amount for the future. Worry not, it can be done. Here's how you should go about it.
Open a recurring deposit in the bank for a small tenure, such as 6 months to a year.
Choose the monthly payment at your convenience.
When opening an RD, you would get the payout option, which includes conversion to an FD account.
Every time you do an RD, the system will automatically convert your RD into an FD when it matures.
As the process goes on, if you have selected the tenure of an RD as a year, every year you are creating an FD.
The recurring deposit will keep on earning interest and pushing toward creating FD.
These FDs can be closed and transferred to a new FD with a higher interest rate from the bank.
Conclusion
HDFC Bank offers fixed deposit accounts at competitive rates. Having opened an FD in this bank would give you a satisfactory return. These FDs can be opened for a period between 7 days to 10 years. Each tenure has different interest rates that give you the freedom to choose as per your requirements.
It is seen that, out of all the terms, fixed deposits for 1 to 2 years yield the highest return in terms of a short period of investment. Otherwise, the highest interest rate you can get with HDFC Bank of 7.75 PA is an FD of above 5 years.