Before we start with how to avoid cheque bounce in a simple way, let us see what is a cheque and what are the basics of a cheque.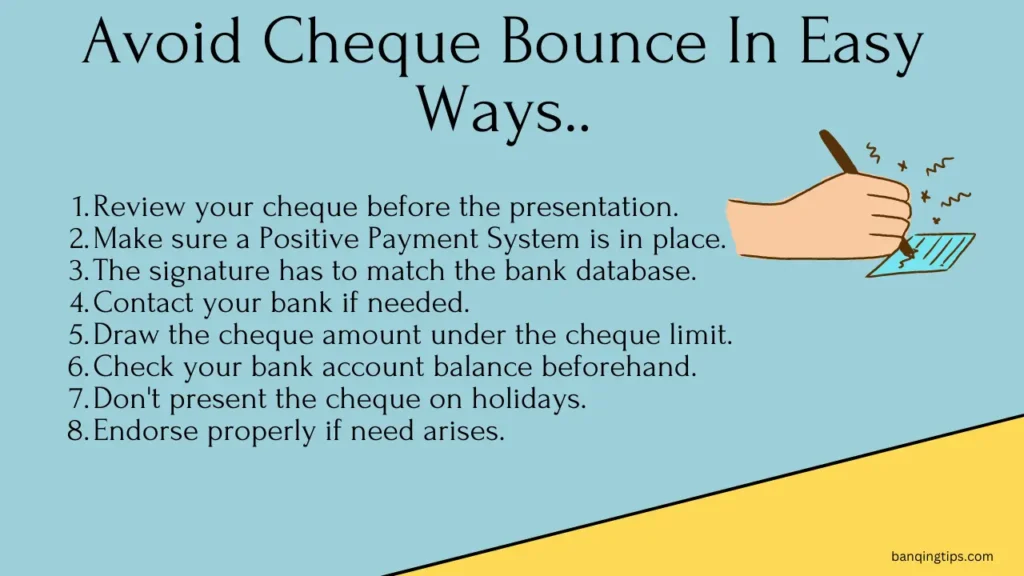 What Is A Cheque?
Cheque is a negotiable instrument used for fund transfers through banks. Irrespective of the type of account, that is, a savings bank or current account chequebook can be used. When you pay somebody by cheque, you are the drawer of the cheque and to whom you are issuing will be the payee.
In India, the rules and regulations of cheque payment are governed by NI Act 1881. Likewise, every country has its own regulatory authority that governs the payment of cheques.
The Meaning Of Bounced Cheque.
There are numerous reasons for cheque bounce. It may be due to post-dated, the amount in words and figures being different, stele cheque, signature mismatch, torn cheque, or insufficient funds. In most of the cases when we talk about cheque bounce, we are talking about cheque bounce due to insufficient funds.
Also from a legal point of view, bouncing a cheque due to insufficient funds is regarded as a criminal office and may get a fine up to double the amount of the cheque or may even get imprisonment.
Let's move on to how to avoid bouncing cheques. There are a few things everyone must know which would greatly lower the chances of getting a cheque bounced.
Stale Cheque
A stale cheque is a cheque where validity has expired. As per the NI Act, a cheque is valid for 3 months. Within this period cheque has to be presented to the banker once it is drawn by the drawer. Otherwise, your cheque will get bounce once the validity expires.
Inchoate Cheque
It means an incomplete cheque. Before you submit it to your banker you should verify whether everything is in order or not. Check the payee's name, whether and amount in words and figures are tallied or not, whether a signature is properly given or not, and whether the endorsement is required or not.
In fact, every detail should be double-checked to avoid bouncing of cheque
Check Account Balance
Verifying account balances is a good way to stay away from cheque bouncing. The majority of the reason behind cheque bounce is usually due to insufficient funds. It would be wise if you could confirm the availability of funds in the account from the banker or from the cheque drawer.
Post Dated Cheques
Some people use to draw cheques post-dated. That means a cheque written for a future date, to be paid on a specific date to a specific person or party. If such a cheque is presented for payment before the due date, your banker will return it with the narration "Since post-dated".
Signature Mismatched
Not frequently but occasionally it happens. You see bank has every right to dishonour the check you presented if they are unable to confirm the genuineness of the signature. 
Torn Cheques
If the cheque is torn, it becomes invalid. Such cheque leave should be marked damaged and destroyed. Never present torn cheque. If you receive one from someone, please ask for a new one instead,
Overwritten
Overwritten cheque is not a valid instrument. Even the drawer can not authenticate with his signature. One should draw the cheque in a neat manner. Should write the payee's name, the amount in words and figures, and the date in neatly legible handwriting.
Inoperative or Dormant Account
This is also another reason for your cheque being bounced. So make sure the account is not inoperative or dormant.
Accounts become inoperative or dormant if there is no transaction induced in the last 2 years. If you could know when was the last transaction done in the account? That would be sufficient for presenting
Cheque Put On Stop Payment By Drawer
Due to unavoidable circumstances, the cheque drawer may request his banker to stop the payment of the cheque. It may be for various reasons, like fraud, lost chequebook, etc.
In this case, usually, the drawer informs the payee about the stoppage of the cheque payment. Normally settles between the drawer and the payee on mutual consensus.
Use Online Payment
The best way to avoid cheque bouncing is to accept online payments. The transaction happens instantly too.
This online payment is done through Internet banking, mobile banking, UPI payment, etc. Moreover, there are so many other applications such as Phonepe, Google Pay, PayTM, etc which can be used by everyone.
Cheque Bounce- A Criminal Offense.
Under section 198 of NI Act 1881, bouncing a cheque due to insufficient funds is a criminal offence. After repeated reminders, if the bouncing of cheques still happens, a person may get fined up to double the amount of cheques or may even get imprisoned for 2 or more years.
You see, it is quite very simple to avoid your cheque getting bounced. Follow these simple rules and your cheque will never get bounced.
Yes, there is a certain case that is not in your hand. Such as, if the drawer's signature is mismatched there is no way you can get your cheque honoured.
Technical problem with the account, account being put on hold due to legal actions against the cheque drawer, account being put on hold due to loan overdue. These are some of the cases where a cheque getting bounced is imminent.
So, try using more online banking transactions rather than using a chequebook. If you want to transfer fund or receive it, start relying on online platforms.
It will save you time as well as money as online transaction is far cheaper than using cheques.