How to avoid being duped by fraudsters? It is a strong question that all of us should ask ourselves. In today's world, where financial frauds are happening rampantly, there's no other way, but to let ourselves acquainted with the latest security updates especially related to financial matters.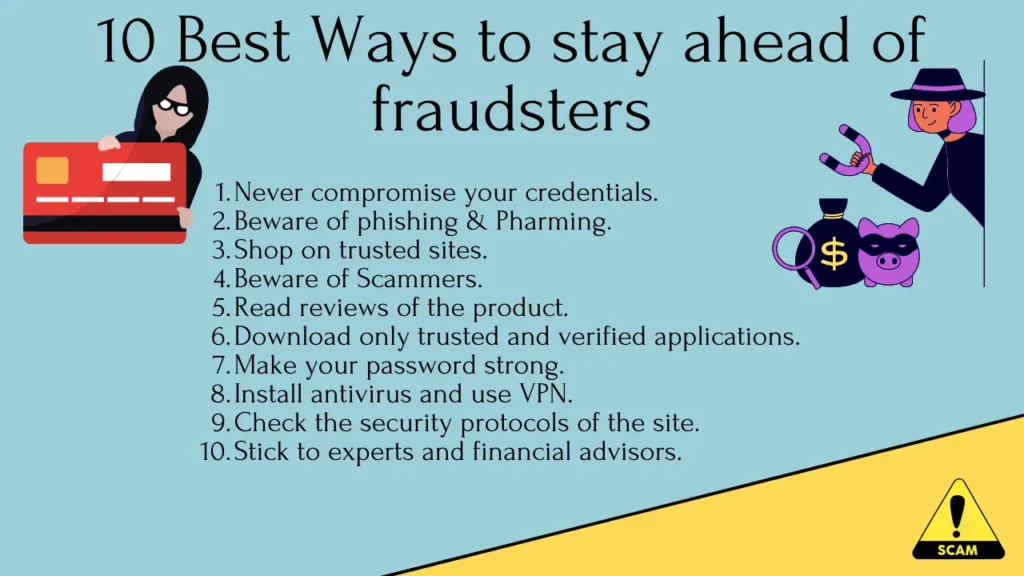 In this article, we will share some of the basic necessities that need to be aware of when having a banking relationship with the bank. It would give you protection and shield you from fraudsters.
Did you ever wonder how many frauds took place in the last couple of years in India? You'll not believe the staggering amount of money it involves.
Last year between March to December 2019, a whopping 228 crores of money was duped by fraudsters from people across the country. The number of cases was even unimaginable 52000. Read the article here.
If we see the report between 2017 to 2020, the number of cases is around 140471 which involves 589 crores of money. The worst-hit state is Maharastra accounting for around 42 percent of the total cases. All these frauds are related to ATM debit cards, credit cards, and Internet banking.
Every year the trend is getting worst. These crafty fraudsters always seem to have a means and ways of doing things that we would not even imagine. Banks and financial institutions are trying their best to keep up with the situation, but ultimately, it is you who would lose the money.
See, the bank has already taken terms and conditions of using ATM debit/credit card or internet banking. The point is they are safe but are you?
When you share an ATM PIN with someone and you end up losing money from the bank account, even if you raise a complaint to your bank. There's less chance of getting back the money.
Bank would say it is your fault and you should not share your PIN with anyone. Ultimately, you will be having no other option to recover the involved amount.
In this article, we'll try to share some tips on how to avoid being duped by fraudsters.
How To Avoid Being Duped by Fraudsters.
Let's see how can we protect ourselves in many simple and logical ways. It may be as simple as keeping your ATM card PIN, Internet Banking Passwords, or any other user credential in a safe and secure manner. Let's dive into it one by one.
1. Never Compromise Your Credentials.
Do not share your ATM PIN, card number, and CVV number with anyone at any cost. Do not write down your credential on any piece of paper always memorized them.
When using an ATM/credit card at the shopping malls or ATM, be vigilant and make sure you get back your card without any compromise.
Do not do transactions in the public domain such as in internet cafes or on public wifi. These sorts of internet connections are not secure at all and there is a high chance that your user credential may get recorded.
2. Beware Of Phishing and Pharming.
Both phishing and pharming are popular ways fraudsters use to defraud people. When you get a call from someone who impersonates to be a reliable source such as- your banker. There is a high probability that you end up sharing your personal details with him.
It is a part of social engineering which involves retrieving personal details with manipulation. They may lead you to believe something in order to get access to your bank account or social media pages which can be used to steal your money or use your identity to commit crimes.
If you received links in the form of email or SMS, that's Pharming/Smishing. Both these are used by the fraudsters in effective ways and fooled people into believing that they are helping them. Instead, once they get what they want, your money will just go away from your account in just a second. You'll not be able to do anything.
The worst thing is even if you get an FIR, it is not guaranteed you would get back your money or not and your bankers will not be able to help you.
Know how to identify these kinds of frauds-
| | |
| --- | --- |
| 1 | Phishing– Getting suspicious links on emails. Do not click on it, better delete it without having a second thought. |
| 2 | Vishing– Getting calls from unsolicited numbers yet declaring himself to be a reliable source. Hang up the phone right away. |
| 3 | Smishing– Getting suspicious SMS. Just delete it without having a second thought. |
3. Always Shop Online on Trusted Sites.
Purchase and shop online from reputable stores. Giving out your card details is a matter of concern. Every time you purchase something online, you are giving out your card number, CVV number, and PIn number.
So, shopping wisely makes sense else you might end up compromising your personal detail. Every day, we see new online vendors either through advertisements or from friends and family.
Shopping rampantly without giving much attention is not a good thing. Some online platforms are prone to get hacked even if the site is genuine. Mainly because of poor security protocols.
Be aware of these small things which can save you from getting into a bad situation.
4. Beware of Scammers & Spammers.
These are the most common things fraudsters use to do by scamming and spamming. Do not believe in everything you see.
There are things that seem good and tempting but indeed they are not. They are there to dupe you. Do not get fooled by 'Easy to get Offer'.
5. Do Recheck On the Search Engine.
Before buying anything or if you have any doubts do search in your favorite search engine by adding the word scam or reviews. you will know instantly why you hesitate.
When you are unsure of it, it's kind of better if you double-check it on a reliable source. For example, you want to buy something online. You have got the site where you could place your order. It's better if you dig a little deeper into the specific websites or suppliers. Accordingly, decide the course of action you intend to do.
6. Check For Security Protocols.
Always check the security protocols of the websites you are visiting. It will protect you from fraudsters and safeguard your personal details.
Check for HTTPS and SSL security features. Here's how to verify it- In the address bar if a lock sign is visible then you are safe to browse the site. Also, see the certificate of the site. It would give you a much better idea.
Websites without S that are HTTP are better to ignore them. The site may be genuine but it is not secure to browse.
7. Download Trusted Applications & Software.
Do not keep on downloading any third-party software or applications you see. Only download and use software that is trusted and known to you. If you have any doubts go for reviews in your favourite search engine.
Download applications and software from trusted sites only. Pirated software normally comes with bugs and malware which can be detrimental to your system. Not to mention the data breach that it can lead to.
This is one of the most important things to safeguard you from hackers. A simple password such as Abc@123 or p@ssword can be easily hacked.
Using personal details related to passwords such as your Date of Birth, the places you like, or name password- are a Big No-No.
Strengthen your passwords with at least 8 characters case sensitive including numbers and special characters.
9. Stick To Financial Advisor.
It's quite common to look for solutions when we have issues. It's when we are vulnerable to fraud. Asking things to the wrong person and relying on unsolicited sources could compromise your personal finance.
You have to be a bit cautious when asking things about your financial management issues. It is advisable to stick to your financial advisor.
Getting help from the bank where you maintain a bank account is the best way. It makes sense after all it's better to be safe than regret it later on.
10. Install Anti-virus and VPN.
The last thing is to make sure your device is protected with anti-virus and malware. Other than the firewall that your PC has, it's better if you have a good anti-virus package.
A regular update of this software might save you from harmful links. A few bucks spent on these might end up saving you from fraudsters and hackers.
Bonus Tips
In case you have compromised your ATM PIN or OTP, the best way to stop the fraudster to transact is by blocking your ATM card, UPIs, and Internet banking. These can be done instantly by calling customer care of the bank or through Internet banking.
All banks always have the facilities to do it in multiple ways. Be it online or offline-
| | |
| --- | --- |
| 1 | SMS blocking of the ATM card. |
| 2 | Tele-calling the customer helpline is another way. |
| 3 | Blocking of an ATM card, UPI, and net banking through Internet banking. |
| 4 | Visiting a bank is another option to do. |
If you doubt someone hacked your laptop, change your password as soon as possible.
For credit cards opt for credit insurance which is available on every credit card. Premiums are nominal and it will help you in case unauthorized transactions take place on your card.