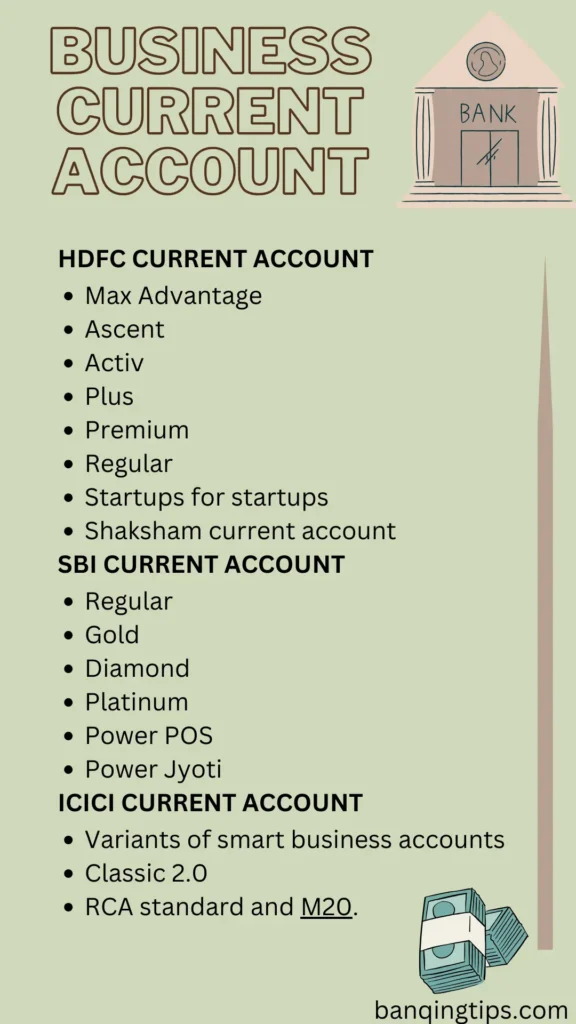 What is a business current account? We have seen savings bank accounts and their related products that we use for personal transactions.
We cannot use these savings bank accounts for business transactions.
When you start running a business of any sort, having a business current account is one of the main necessities.
This would enable you to streamline your financial dealings with your business. So, how does a current account differ from a savings bank account?
Let's also try to explore more about a business current account.
How do you open a business Current Account? What are the things that you need to be aware of? In this article, we have got you covered. Read on! 
A current account is meant for business transactions. It is not an interest-bearing account.
So, you would not get any interest on your deposit. The transaction amount and number are unlimited. That's the beauty of a current account.
Whereas Savings Bank Accounts generate returns through interest. Here are some of the requirements for having a Current Account:
With a business current account, you have to maintain a specific balance in the account. Banks term this MAB (Monthly average balance) or QAB (Quarterly average balance).
For current accounts, it's commonly MAB, and it's different for every variant of a current account. Also, it varies between banks.
MAB is normally classified and linked to the area of your business establishment. For a normal current account, the required monthly average balance needs to be maintained as follows:
| | | |
| --- | --- | --- |
| Rural: MAB is ₹ 2500 | Semi-urban: MAB is ₹ 5000 | Urban: MAB is ₹ 10000 |
The above-mentioned figures are not the same for all banks. It keeps changing as per the bank.
If you want to find out, click below the links

This MAB can be as low as ₹ 2500 in rural areas, and it can go up to ₹ 10 lakhs for high-end current account products.
Classification of current accounts
Current accounts are classified according to the type and business model of the applicant. Mentioned below are some of the applicants and their business models.
| | |
| --- | --- |
| 1 | Proprietorship |
| 2 | Partnership |
| 3 | Societies |
| 4 | Companies |
| 5 | Trust |
| 6 | Hindu Undivided Family and other non-personal firms. |
Most of the applicants fall under the above list of classifications, and as per their requirements, the bank normally provides a specific current account to the applicant.

Types of current accounts
In our country, banks have given various names to current account products, but the underlying facilities are more or less the same. Popular banks such as ICICI Bank, HDFC Bank, and the State Bank of India offer various business accounts, which can be referred to below.
HDFC Business Current Account
Max Advantage
Ascent
Activ
Plus
Premium
Regular
Startups for startups
Shaksham current account, etc., to know more click here
SBI Business Current Account
Regular
Gold
Diamond
Platinum
Power POS
Power Jyoti: to know more, click here

ICICI Business Current Account
Variants of smart business accounts
Classic 2.0
RCA standard and M20.
Required Documents To Open A Current Account

The documents required for opening a current account at the bank are as follows:
For Proprietorship Concern
Registration certificate
License/certificate issued by the municipal authority
Sales and tax returns
GST registration certificate, in addition to the proprietor's valid KYC documents.
For Partnership Concern
The main documents required are partnership deeds
Power of attorney granted to partners
Registration certificates
Certificate/license issued by the municipal authority
GST registration, in addition to KYC documents for all the partners.
Societies Concern
The main documents required are a registration certificate if registered under the society act
Resolutions of board members in addition to KYC of the account operators identified in board resolutions.
Company (Private limited, public limited companies) concern
Here, documents such as articles of association and memorandum of associations are mandatory, plus certificates to commence the business.
Trust Accounts
The main documents are trust deeds
Power of attorney and KYC documents of the trustee and beneficiary.
Hindu Undivided Family (HUF)
The main documents required are a Joint Hindu family letter (COS 38)
A declaration by Karta
KYC of Karta and identification documents of all the co-parceners.
For further clarification, please click here
Who can open a Current Account?
A current account can be opened by an individual who has a business establishment. A current account is not for personal use and it does not bear any interest on your account balance.

The facility is available at all the nationalized banks, such as the State Bank of India, Punjab and Sind Bank, Bank of Baroda, and Vijaya Bank. Private banks such as ICICI Bank, HDFC Bank Ltd, Axis Bank, and State Cooperative banks have current account facilities as well.

You can open your current account offline or online.
Any business entity or any non-personal organization, such as NGOs, Societies, Trusts and government organizations, can open a current account at any bank. A current account can also be opened in your name when you have a business running in your name only.
Benefits of a Current Account
You can make any amount of transaction at any time if you use online banking. However, bank branch business hours are time-bound.
Here are some of the benefits of a Business Current account:
| | |
| --- | --- |
| 1 | It allows you to maintain a proper record of your business transactions. |
| 2 | It secures your money with deposit insurance. |
| 3 | It enables you to pay anyone as you please. |
| 4 | Proper accounting of business entries can be easily archived. |
| 5 | Add-on benefits such as Internet Banking, ATM, Mobile Banking, and telebanking with the latest technology can be availed of with free registration. |
| 6 | It allows you to avail yourself of business loans. |
| 7 | If a POS machine is installed at your business unit, the handling of hard cash and the risk of handling it will be nil. |
| 8 | With a POS machine, your business's sales would likely increase. |
| 9 | With current account variants other than normal current accounts, you may get freebies and offers from time to time. |
| 10 | High-end accounts get lots of discounted rates on services like the charges of chequebook, ATMs, deposit limits, withdrawal limits, cash handling charges etc. |
The facilities that You Get on a Current Account
A number of facilities are given to the account owners, such as chequebook, NEFT and RTGS transactions, SMS facilities, Internet banking, Mobile banking, variants of ATM cards, and Insta card for cash deposits at the bank or at the CDM (Cash deposit machine).
A special feature of current accounts is their unlimited transactions. You can do various non-home transactions too.
For business purposes, a current account is a must
You heard right. When you have a business establishment where you need to do lots of transactions with many vendors. It's advisable to have a current account. You can maintain multiple current accounts at different banks.
Having a current account will help you keep track of your expenses and income in a much better way.
There will always be proof of the transaction, too. Plus, it is easier to check current account transactions than to verify transactions through an account book or a ledger.
Though, as a successful businessman, one should keep a good quality ledger and accounting system.
If your business deals with frequent payments of small amounts daily, opt for a POS (Point of sale) machine. It will save lots of time and energy.
As business is all about time management, POS would definitely help.
To open or maintain a current account of your firm, please visit the bank of your choice and follow your bank's instructions. Always ask to clear up any doubts.
Online Banking on Business Current Account
A business's current account with online payment and receiving facilities will ensure the proper functioning of financial transactions. It would ease your cash-handling issues.
There are a number of ways that you can implement them into your business model to streamline your financial dealings. These can be, such as;
Installation of a POS machine over the counter. For receiving sales, proceed directly into your bank account.
Online banking, or you may say, Internet banking for business purposes. This facility will enable you to pay funds to any person or party. It really simplifies payments such as staff salaries, payments or orders, and payments to any organisation or government body such as tax payments, etc.
The QR code can be displayed in a convenient position to collect sales proceeds into your bank account.
Back to the topic, if you have a business current account under your business name, You can apply for net banking to enable yourself to have 24/7 access to your bank account.
When you approach the bank, you may find the following options:
Do you want to go for the standard net banking, which has a transaction limit of ₹10 lakhs daily? This is just the same as personal Internet banking. Single user, the daily transaction limit is ₹10 lakhs, and other specific transactions, such as tax payments, might get a higher limit.
The second option is that you might get the view rights only. These features are used by companies with multiple bank accounts and several branches of offices. Sometimes, the users only need view rights; hence, the product is only for enquiries.
Third, you may get Internet banking with medium-transaction rights. Business establishments that are not too small or not too big use such types of Internet banking, where the daily transaction limit may be around ₹50 lakhs. There will be multiple users to operate the net banking. Some of the users are Maker, Authorizer, and Admin.
The last one would be Internet banking for large enterprises. This form of net banking usually has a high daily transaction limit that goes up to ₹1000 crore. The complexity of it is quite prominent as it involves several users, including one set of auditors and several authorizers.
Conclusion
It's good to have a business current account at the bank of your choice. The popular banks in India are SBI, ICICI, HDFC and Axis Bank Ltd. When you have your own business establishment, performing the financial transaction in a current account makes more sense than doing it in your personal savings bank account.
If you are transacting on your personal bank account, you will end up caught in a financial mess. The bank may charge you more commission fees that can be avoided with a current account. You will face huge tax payment issues later on.
Open a current account and streamline your business's finances in a much better way. You may even get financial assistance when you have a solid business bank account with good creditworthy.
Our suggestions for opening a business current account in a bank would be:
1. State Bank of India.
2. ICICI Bank Ltd.
3. HDFC Bank Ltd.
4. Axis Bank Ltd.
5. Canara Bank.
This is as per the bank branch availability, minimum balance requirements, and account maintenance charge, where SBI seems to be at the top.