What is SBI FASTag?
SBI FASTag is a 10×5 cm multilayered rectangle shape piece of good quality paper with a chip and antenna inside its layers. SBI FASTag uses Radia Frequency Identification technology for making toll payments directly from the prepaid account or linked savings bank account. It is posted on the vehicle windscreen and enables the automatic deduction of toll charges while driving through toll plazas.
It gives convenience and ease during transit through toll plazas across the country.
How does SBI FASTag work?
SBI FASTag is linked to your prepaid account or savings bank account. The tag has a chip and antenna inside it. The tag reader at toll plazas uses RFID technology to read users' details and initiate auto payment while passing through all toll plazas.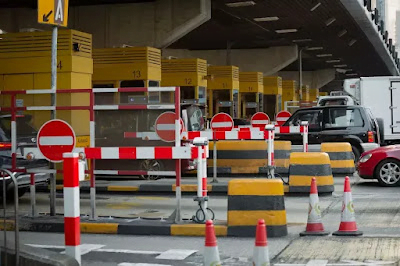 Applicable charges will automatically debit from your prepaid account or linked savings bank account.
SBI FASTag comes in two categories
State Bank of India offers FASTag in two categories. Either way, you can opt and have one.
Limited KYC holders account where at any point of time you cannot have more than ₹10000 at your FASTag account and monthly limit is also capped at ₹10000.
Full KYC holder's account where at any given point in time you cannot have more than ₹1 lakh at your FASTag account. There is no monthly reload cap.
Facilities of SBI FASTag
SBI FASTag really makes things way simpler and better when you are on a road trip. Here's what its features are
| | |
| --- | --- |
| 1 | HASSLE-FREE PAYMENTS As you pass by toll plazas, auto-debit of toll fees through the SBI fASTag account makes smooth and faster transit and saves time.  |
| 2 | CONVENIENCE Users need not worry about carrying hard cash as SBI FASTag is totally cashless transaction. |
| 3 | EASY RECHARGE Reloading of SBI FASTag is easy. It can be done online through credit card, debit card, internet banking, IMPS, Google Pay, and Paytm. It's all there for you.  |
| 4 | SMS NOTIFICATION Whatever transaction your FASTag does, there will always be an instant notification delivered to your registered mobile number.  |
How to get SBI FASTag?
Getting SBI FASTag is way simple and the services given by the agent are also quite satisfactory.
If you need to install and open an SBI FASTag account, follow these few steps below
| | |
| --- | --- |
| 1 | Call the SBI FASTag helpline at 1800110018 or check the bank's website for the list of Point of Sale(PoS)/agents. Location wise list of agents has been provided on their official website. |
| 2 | When you get the location of your nearest PoS/Agent, visit the same with the required documents. |
| 3 | Fill out the application form and submit it along with your KYC documents and vehicle registration number. |
| 4 | After your account is successfully created, the SBI FASTag agent will affix the FASTag on your vehicle windscreen. |
| 5 | You will also receive an SMS with the credential details of your SBI FASTag account which will help you log in to the SBI FASTag website to manage your account. |
Required documents for SBI FASTag account creation.
| | |
| --- | --- |
| 1 | KYC documents, your identification card can be an Aadhaar card, Driver's licence, Voter card, Passport and PAN card. KYC will be as per Reserve Bank's guidelines. |
| 2 | Passport-size photographs of the vehicle owner. |
| 3 | Registration Certificate of the vehicle. |
| 4 | A duly filled up SBI FASTag application form. |
How to check the balance of SBI FASTag?
You may check your SBI FASTag account in many ways. We will discuss them one by one.
Checking your SBI FASTag account balance using the SBI FASTag web portal.
Open the internet browser and log on to the FASTag website. View the FASTag balance. You can also download the FASTag application available at Google Playstore to view the balance and other facilities.
Checking SBI FASTag account balance using SMS.
Balances are normally notified to the registered mobile number of the end users whenever there is a transaction.
Checking SBI FASTag account balance through Customer Care Helpline.
You can call the SBI Customer Care helpline on 1800110018 to know your current account balance.
Charges of using SBI FASTag
State Bank of India will charge you an issuance fee of SBI FASTag which is ₹100 for all categories of vehicles. Other than this, there will be a minimum security deposit which varies as per vehicle type.
You may refer to the table below to find out what would be your minimum security deposit. This security deposit will be refunded to you by the time when you close your SBI FASTag account.