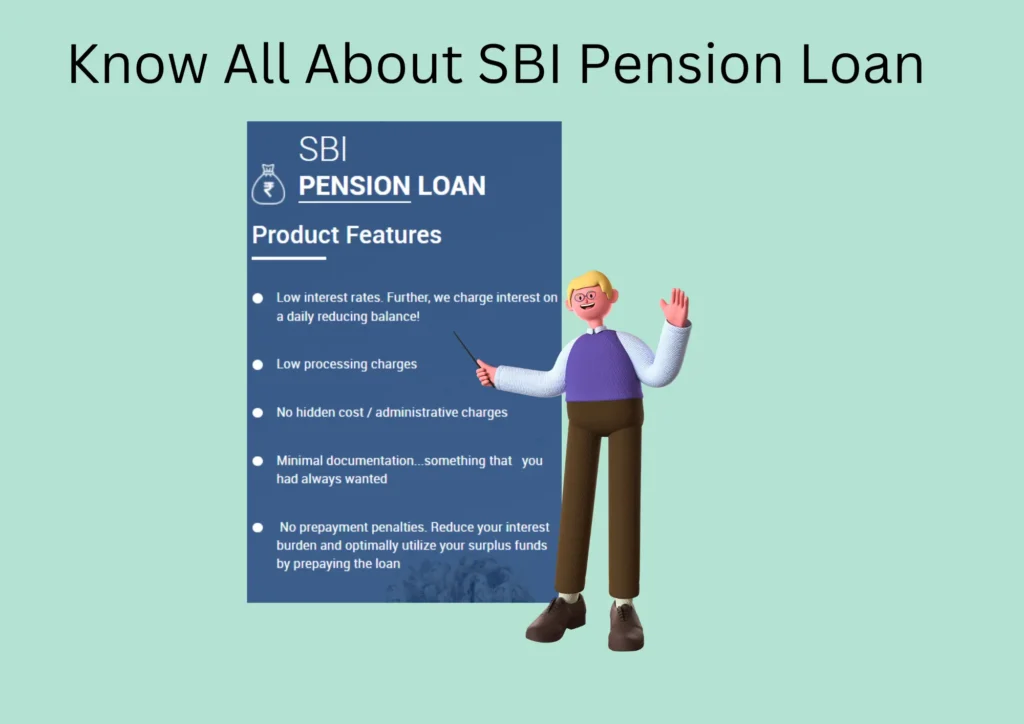 Are you looking forward to getting a pension loan? Then read this article to know more about the same.
The State Bank of India offers a pension loan scheme for those who wish to avail of loans against their retirement fund. This scheme allows individuals to borrow money at low-interest rates and repay over a period of 6 years.
What Is SBI Pension Loan?
A pension loan is an unsecured personal loan offered by the State Bank of India (SBI) to its customers. It is a type of personal loan where the borrower does not need to pledge any asset as security.
A pension loan is sanctioned against the monthly pension.
Eligibility Criteria For Pension Loans
You must be a pensioner to avail of SBI Pension Loans. Irrespective of the pension where you draw, you will be eligible for it. But, by the time of your application, your age should be below 76 years.
A person who draws a pension through treasury and bank is eligible for the same. How much are you eligible for is another thing.
In order to calculate the eligible loan amount, the bank considers your monthly pension, your present age and your pension type (Self Or Family Pension).
At normal age, a pensioner is eligible for 18 times the Net Pension he draws with a repayment period of 72 months. The condition is that EMI/NMI ratio should not go beyond 50 percent.
Defence personnel usually gets higher loan amount as their eligible amount is 36 times NMI.
Furthermore, a family pension holder gets a lesser loan amount as banks fix the EMI/NMI ratio not to go beyond 33 percent.
Altogether, SBI Pension Loan maximum amount can go up to ₹20 lakhs if the pensioner's EMI/NMI ratio permits which are fixed at 50 percent for self-pension and 33 percent for family pension. The minimum amount a pensioner can apply is ₹25000.
How To Apply for SBI Pension Loan?
Pension Loans are usually sanctioned by the bank as Demand loans. As such documentation for processing it at minimal.
Here's what you need to do.
You need to produce your account where you get your monthly pension. Under normal circumstances, your pension-paying branch will process the request.
Make sure you have validated proper KYC in your account. If not submit your documents to the bank.
Carry a revenue stamp when applying for it. Instead of a loan agreement, you may have to execute a DP note. (Demand Promissory Note). Stamping is not required but execution over revenue stamp is a must.
You can enquire about your Pension Loan eligible amount, EMI, terms of loan etc. Find it out before committing to it.
And see for any offer if your pension account is eligible or not.
When you are sure about the points mentioned above you may proceed and visit the bank.
Desk Officer will accept your proposal and they will evaluate your account. Such as background checking of past credit history, confirmation of pension account etc.
When they are satisfied you will be given a simple biodata format. You have to fill it up.
Finally, your loan will be processed in no time.
The entire process from appraising your loan application to loan disbursement will take around 15 to 30 minutes top. That means, with proper documents you can complete the task within 30 minutes.
SBI has the largest share of pension business. There are around 44 lakhs pensioners enjoying their pension services and to cater these pensioners, SBI has 18 Centrel Pension Processing Centres across the country. SBI Pension Seva Portal is one of the best online portal of pensioners which can give certain services such as submission of V-Life Certificate and accessing to pension details.
Pre-Approval Process For Pension Loans
It's called SBI PAPL which stands for Pre-Approved Personal Loan. If you are eligible for it, you will be notified over SMS or email. You may even get calls for the offers.
You may also get offers on Internet banking. This can be seen on the SBI YONO landing page. With a few clicks, you might be able to avail pension loan instantly.
SBI Insta Pension Loans
Insta Pension Loans are paperless digital loans that you can get via the SBI YONO platform. For availing of the service, you need to fulfil the eligibility criteria of the bank. When we enquire about this with the bank official, what they say is- all those pensioners who are having pension accounts in SBI are mostly eligible for SBI Insta Pension but here's the thing.
Not all the pensioners are getting the offer. The offer will be available on the SBI YONO landing page. If you are eligible for the same, you might see the offer link on your YONO page. It goes something like this- You are eligible for an Insta loan for ₹200000, to avail Click the link below.
How To Apply PAPL for Pension Loan?
It's quite simple to process a Pre-Approved Pension loan online. Here's what you have to do.
Login to SBI YONO mobile app.
See for offer links available on the main landing page.
Click on it and see the loan criteria. Provide your PAN number and Date of Birth and proceed.
Check loan eligible amount, EMI, tenure of loan and interest rate.
After checking it, click to process it. Accept the terms and conditions.
There you go, your pre-approved pension loan is sanctioned and disbursed instantly.
Some of the main reasons why you are not eligible for SBI Insta Pension loans can be-
A past bad credit history makes your CIBIL score very low. In such a case, you would not get the offer link. Though you might be able to apply physically with certain terms and conditions depending upon the severity of your score.
Existing pension loan account that has EMI default for a few days to months. In order to be eligible for the online scheme, your existing pension loan EMI should not have any late payment.
Incomplete KYC details in your account. If your date of birth is not proper, you might not get the offer as well.
Otherwise, SBI Insta Pension Loans
Are demand loans payable in EMI within a period of 3 years. The offer will be available on SBI YONO. You may also get the details about it on your registered mobile number.
The process of availing of this loan is quite simple and less time-consuming. Needless to mention the important fact that you would not have to produce any kind of document for completing the task.
All you need is to login to SBI YONO, click the offer link, provide the amount that you need and confirm. With OTP verification, your SBI Insta Pension loan will be appraised, sanctioned and disbursed to your pension account instantly.