Need to track your UTR number for a certain payment? Look no further than this comprehensive guide, which covers everything from a UTR number to how to find it online.
UTR stands for Unique Transaction Reference Number. It is a unique reference number assigned to NEFT and RTGS transactions. The reference number enables us to track the status of a particular transaction.
As you know, when we do intra-bank transactions where both debit and credit accounts are with the same bank. We have a reference number called a journal number or a trace number. These reference numbers are nothing but unique reference numbers that enable one to pinpoint a particular transaction digitally.
Likewise, when we do an inter-bank transaction that includes different banks. Either we use NEFT or RTGS, which are governed by the Reserve Bank. Today, you can send inter-bank fund transfers via IMPS or UPI. That's another issue, we will concentrate on UTR tracking.
What is a UTR number?
A UTR number is a Unique Transaction Reference number assigned to inter-bank fund transfers using NEFT (National Electronic Fund Transfer) or RTGS (Real Time Gross Settlement).
Just like any other reference number, such as a journal number, the trace number of the UPI reference number. The UTR number is for RBI governed transactions such as RTGS and NEFT. This means the reference number can be used to trace a particular transaction on a specific date.
A UTR number is a 22-digit alpha numeral for RTGS and a 16-digit alpha numeral for NEFT. When we look into its structure, there's a slight difference in UTR numbers of RTGS and NEFT.
For example, if you do RTGS at SBI, the UTR number structure is SBINRCYYYYMMDD@@@@@@@@ where
| | |
| --- | --- |
| 1 | SBIN is the bank code. Since it's SBI therefore the bank code is SBIN. |
| 2 | R is for RTGS transactions. |
| 3 | C represents the transaction channel. |
| 4 | MMDD is for the month and date of the transaction. |
| 5 | The last 8-digit numeric is the transaction sequence number. |
Whereas, the UTR number of an NEFT transaction is SBINYYMMDD@@@@@@ where
| | |
| --- | --- |
| 1 | SBIN is the bank code of SBI. |
| 2 | YYMMDD is the year, month, and date of the transaction. |
| 3 | The last 6-digit numeric is the transaction sequence number. |
Why do you need a UTR number?
Why do we need a reference number? It's a basic necessity to have a reference number. After all, any sort of manual or digital financial transaction with a reference number is easy to trace. Not only for the service provider but also for the end user of the service.
There are times when we do not get an email or SMS alert. Getting us confused and unaware of the status of the payments. Especially if it's a time-bound payment, you might get a bit worried. That's where these reference numbers come into play.
If you have it, you can check the status of the transaction online, or you can visit the bank to find out the present status.
Therefore, it is important to obtain and keep your UTR number safe and secure to ensure that you can refer to it when you need it most.
A UTR number is a Unique Transaction Reference number generated when doing fund transfers in India using NEFT and RTGS. It's 22-digit alphanumeric characters for RTGS and 16-digit alphanumeric characters for NEFT. Both NEFT and RTGS are inter-bank payment tools supervised by the reserve bank.
Tracking SBI UTR number online.
Finding and tracking the UTR number for a particular transaction does not have to be difficult. We will tell you why. But, when you want to inquire about the status of a particular transaction, you have to have some basic online account operations.
Finding a UTR number does not have to be difficult because the UTR number is delivered to you in multiple mediums. You may get over your mobile number. The bank sends another alert to your email too. If you have not gotten into both mediums, you always have the third option-Your Bank.
Your bank will provide it to you at the end of the transaction, or you may request them to hand over the UTR number when it's done. Now, let us see how to find and track the payment status of a particular UTR number.
Go to the bank's online banking website and login with the username and password. Some banks have a login ID as a customer ID. Literally, customer ID and username are just the same.
Let's see the example of an SBI account holder.
Open the internet browser and go to the SBI online banking website.
Login with your username and password.
When you access the landing page, under the menu bar, you will find the Request & Enquiry menu.

Click on more and open it. Under the sub-menu, you will find the Status Enquiry option.
Click the status inquiry button and feed details on the next screen. Providing a date range will populate the transaction details.
Within the date range you have chosen, the system will display all the transactions you have done during the selected time period.
To check the transaction status, click on the button for that particular transaction.
The next page will reveal all the transaction details, including the UTR number, amount, debit account, and present payment status.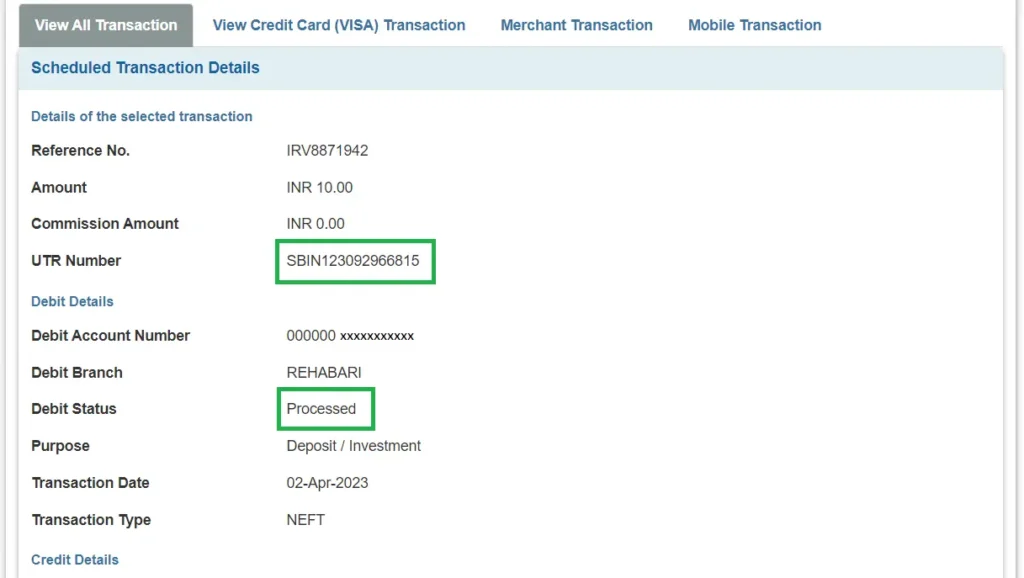 How to track your SBI UTR number– Other Means.
Online tracking of UTR payment status is satisfying as it does not cost you anything. Time is saved, money is saved, and you don't have to input extra energy. Just open online banking and follow the above-mentioned steps.
In no time, you will know the payment status. On the other hand, if you are not comfortable using the online service. You have to rely on the bank employees.
Anytime during the working day, you may visit the bank and inquire about a particular transaction. If you want to get the UTR number, you may do so. Or if you want to see the status of the transaction, they may be able to provide you with the same.
If you happen to have the UTR number and want to know the payment status. That can also be done with the bank's customer helpline. Before, SBI used to provide customer helpline numbers such as 1800112211/18004253800.
Recently, the bank simplified the helpline contact details, which are pretty easy to remember. And that is 18001234/18002100 with the tagline Banking As Easy As 1234 where you can do a whole lot of Tele-calling banking services.
Checking SBI UTR Number on Account Statement.
There is a possibility of knowing the UTR number from your bank account statement. When you don't receive mail or SMS of a particular UTR number, if you are unable to reach out to the bank, checking it on the account statement would be your last option.
The above screenshot depicts how the UTR number is reflected on your bank account statement. As you can see, it is clearly written as UTR No. SBIN123092967238. You can have the UTR number and reference number only. Though your account has been debited, the debit confirmation may occur later on.
Though RTGS transaction settlement is instant, NEFT may take a few minutes to an hour to successfully complete the transaction in both the lags-Debit account and credit account.
This means you can only know the UTR number from the bank statement. The status inquiry has to be made either online or through the bank.