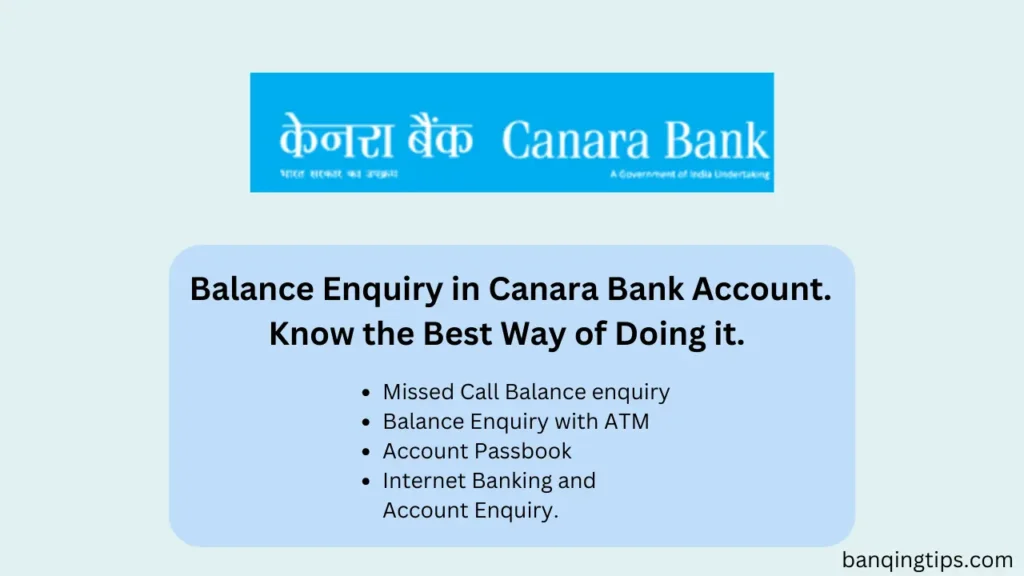 Canara Bank offers various kinds of banking services to its customers. When we speak of personal banking, the bank offers a range of personal banking products.
You will find services such as savings bank account opening, internet banking, UPI-enabled mobile banking, and investment in both fixed deposits and money market instruments.
You may also find banks serving many government-sponsored deposit and loan schemes. 
To name a few, we have the Senior Citizen Savings Scheme, PPF account, and insurance schemes such as PMSBY and PMJJBY. The bank also provides government pension schemes such as APY and NPS.
Besides deposit schemes, you may also find various personal loan schemes. Ranging from loans against salary accounts to loans against security such as fixed deposits and other securities. 
Canara Bank is one of the popular PSU banks in India. The bank was founded by Ammembal Subbarao Pai in 1906. A bank that has withstood a century must have had a remarkable journey to reach here. Headquartered in Bangalore, today there are over 9700 branches across the country with over 87,000 employees.
The Bank Account That We Have
Bank accounts can be of many types. It can be a normal savings bank account or a business current account.
You can also have other specified bank accounts, such as a salary account, a checking account, or an overdraft account; the list just goes on.
Let's see about the maintenance of accounts. The main concern of having these accounts is how we operate them. What are the basics that we need to know?
In its simplest form, a bank account enables you to receive and pay money to anyone. So, all you have to understand is how to accept funds and how to pay funds.
To accept funds, either a cash deposit or an electronic fund transfer is allowed. And to send money, you have a chequebook, online banking, mobile banking etc.
Besides knowing the basics of cash deposits and fund transfers, if you can make enquiries of any kind instantly without having any hurdles is all that matters.
And when you know well enough about them, you will be at the peak of understanding any kind of banking transaction.
Canara Bank Account Check Balance
When you have a bank account, there's always a need to check the account balance. We have compiled some of the best ways to check account balances.
Balance enquiry in Canara Bank can be done with any of these services:
Internet Banking,
Mobile Banking,
Missed call service,
ATM card,
Passbook,
Account statements and visiting banks. 
This means bank account maintenance is like never before. Literally, it's operable at your convenience. All you need is a smartphone with good internet connectivity. The rest is at your fingertips.
When you prefer visiting a bank, that's another thing. But, if you have a tight schedule, this post might be useful. 
Canara Bank Balance enquiry by Missed Call
If you are an NRI customer maintaining a bank account in Canara Bank, you can use the Missed call facility specially designed for NRI customers.
Make a call on this number 919015483483 from your registered mobile number. The call will be auto terminated and as soon as the call disconnects an SMS containing your account balance will be delivered to your RMN.
Moreover, you can get the service across the globe.
To simply enquire about bank account balance call 919015483483, for an account balance of 3 accounts in Hindi, call 919015613613 and for the last 5 transactions call 919015734734.
| | |
| --- | --- |
| Canara Bank balance enquiry number | Make a missed call to 09015483483 (in English) 09015613613 (in Hindi) |
| Canara Bank balance check SMS mode | 560760 send SMS in the format CANBAL<space>USERID<space>MPIN For eample CANBAL xxxxxx 1234 |
| Canara Bank balance enquiry number-Mini Statement | Make a missed call to 09015734734 |
| Canara Bank balance check-Missed call number | 09015483483 |
| Canara Bank enquiry Toll-Free number | 18001030/1800 425 0018/1800 103 0018/1800 208 3333/1800 3011 3333 |
| Canara Bank balance enquiry number-Mini Statement-NRI | Make a missed call to 0919015734734 |
| Canara Bank balance enquiry number- NRI | Make a missed call to 0919015483483 |
Canara Bank balance Enquiry using SMS banking.
Whether you use the missed call or the SMS banking service, the end result will be the same. It means you get the account balance on your bank-registered mobile number only.
In order to execute it successfully, you have to send a message to 5607060 in the following format: CANBAL<Space>USERID<Space>MPIN from the registered mobile number.
Canara Bank Balance Enquiry with ATM Card
ATM cards are one of the most preferred financial tools used across the country. It is such a handy plastic card that handles almost all of your daily financial needs.
The balance enquiry service can be used at any ATM. Be it a Canara Bank ATM or another bank ATM, you can use your ATM to check your account balance. Here's how you do-
| | |
| --- | --- |
| 1 | Insert your ATM card into the card panel. |
| 2 | Enter the PIN and select the Balance Enquiry option. |
| 3 | The system will process your request and display the account balance to you. |
| 4 | If required, you have the option to print a receipt. |
Canara Bank Balance Check With Account Passbook
As you know, a passbook is an integral part of owning a savings bank account. It records all your financial dealings in the form of debits and credits.
Whatever funds you have transacted on your bank account will be recorded and when you update the account passbook, you will get the running balance printed on it.
Canara Bank Balance Check With Internet Banking
Internet banking is a digital way of banking that can give you access to your bank account anytime from anywhere. All you need is a working terminal with internet connectivity.
You can activate the internet banking service in your bank account quite easily. Either you can visit the bank to do it or you may register online banking from home if you have an ATM card.
With net banking, you can always access to your bank account and enquire about any transaction including the latest bank balance enquiry.
Here's the process of Canara bank balance enquiry with net banking:
| | |
| --- | --- |
| 1 | Open the browser and access Canara Bank's Internet Banking page.  |
| 2 | Login using your net banking credential User ID and login password. |
| 3 | When you land on the main page, the bank details menu will be shown on the page. |
| 4 | Click on it and you will be able to see your current bank account balance. You may get the option to download the account statement too. |
Canara Bank Balance Enquiry on Mobile Banking
Canara Bank has a mobile banking app by the name of Canara ai1-Mobile Banking App. Earlier the mobile banking app was known to be Candi.
A mobile banking service is a kind of service that enables you to access your bank account on your smartphone. The user has to activate the service by installing the mobile banking application of the bank. Canara Bank has the following mobile bank apps.
| | |
| --- | --- |
| 1 | Canara ai1-Mobile Banking App.- It allows you to access your bank account with a user ID and a password. A number of banking facilities are available with the service. You can transfer funds within the same bank or with other banks. |
| 2 | You may also get other non-financial facilities such as cheque requests, transaction and balance enquiry, open FD account etc. |
| 3 | Canara e-Passbook- The e-Passbook is a digital passbook that allows you to download and archive your statement just like a physical passbook you have. Though, here you have to have login credentials. |
| 4 | Canara OTP- Whenever you are having an issue of not getting an OTP for a particular transaction, you may generate OTP with the Canara OTP app and complete the transaction. |
Canara Bank Account Balance Check on UPI application
There are a number of UPI-enabled mobile applications. You may find these apps on Google Playstore. Some of the popular UPI apps are Cred, Amazon Pay, Google Pay, Paytm, and Phonepe.
You can link your Canara Bank Account with these applications and activate the UPI services. The activation process is not difficult at all. It happens in minutes and most of them are well-guided self-explanatory types of registration.
An ATM card may be needed to complete the registration process. When you are done registration, you may be able to check your Canara bank account balance as and when required.
Conclusion
For other banking transactions, you may have to visit the bank but enquiry visiting the bank is not a good idea. What's the point of going to the bank when you can do it from home or a workstation?
For making an enquiry about your account balance and status, you don't have to waste your valuable time. Instead, use the Canara bank services such as missed calls, SMS banking, mobile banking or internet banking.
These facilities will enable you to access to your bank account anytime from anywhere. And make visiting branch as the last option.