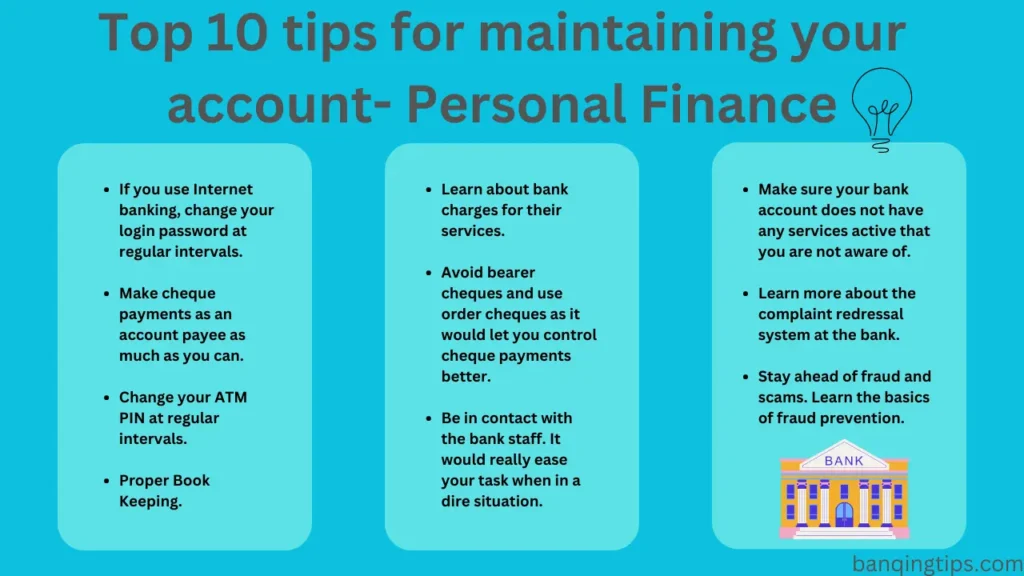 In today's world, everyone maintains a bank account. It may be a normal savings bank account or a business current account.
There are a variety of accounts you can have, but do you maintain them properly?
When you see your statement of account, you must have stumbled upon some charges and fees that are sometimes confusing and not easy to understand, right?
In fact, most of us have no time to go through our transactions meticulously, as we are already consumed with our hectic work and lifestyle.
But is it worthwhile going through them once in a while? After all, it's your hard-earned money.
Whatever you do, ultimately, you do it for money, otherwise, how would you run a family?
So, we are going to break it down and let's understand the charges and fees banks normally levy and other simple things that we need to be aware of.
You can even avoid some of them.
Top 10 tips for maintaining your account
| | |
| --- | --- |
| 1 | If you use Internet banking, change your login password at regular intervals. |
| 2 | Make cheque payments as an account payee as much as you can. |
| 3 | Change your ATM PIN at regular intervals. |
| 4 | Learn about bank charges for their services. |
| 5 | Avoid bearer cheques and use order cheques as it would let you control cheque payments better. |
| 6 | Be in contact with the bank staff. It would really ease your task when in a dire situation. |
| 7 | Make sure your bank account does not have any services active that you are not aware of. |
| 8 | Keep a proper archive of all your bank account papers, including your chequebook and other agreement papers. |
| 9 | Learn as much as possible about the complaint redressal system at the bank. |
| 10 | Stay ahead of fraud and scams. Learn the basics of fraud prevention. |
Basic Fees That Banks Levy On You
Minimum balance maintenance charge (mainly in the current account)
AMC for ATM cards (Both savings and Current Account)
SMS alert charge (Both Savings and Current Account)
Cheque issue charge (Both Savings and Current Account)
Other charges of transactions such as cash deposits, NEFT/RTGS, fund transfers, etc.
Cash Handling charge (mainly in the current account)
Some banks may even levy service charges on their customers.
Duplicate passbook issue charge, duplicate statement issue charge, etc.
The point is, there are certain kinds of charges that come with a penalty.
Those can be avoided to save a few bucks. For example, you can avoid charges for not maintaining a minimum balance in your account.
NEFT/RTGS commission can be avoided if you do it through Internet banking, and it's available 24/7 on online platforms.
Right! You can avoid those duplicate passbook and statement charges too.
Few of the Additional Tips on Account Maintenance
Always remember your password, and never scribble it on a piece of paper.
Keep a lesser amount in your savings/current account. Invest the maximum portion of your fund where you feel comfortable.
Keep track of your account, after all, it's your hard-earned money. So it makes sense to spend a few hours observing your past transactions every now and then.
Learn how to make a formal complaint.
Make sure you opt for the nomination facility. Always appoint a nominee, it helps a lot when it comes to funding settlements.
And be aware of fraudsters. Keep your bank account details safe and protected, no matter what.
These simple things are easy to follow, and they certainly will protect your account from any unwanted access by fraudsters.