Need to access your Union Bank of India statement PDF but it's password protected? This guide will show you how to retrieve it in no time!
Today most of the services that provide are technology driven. From the process of online account opening to using various other inbuilt account features. Things are like never before and we have to have informed knowledge about it so that we can access and operate our bank accounts smoothly without any hurdles.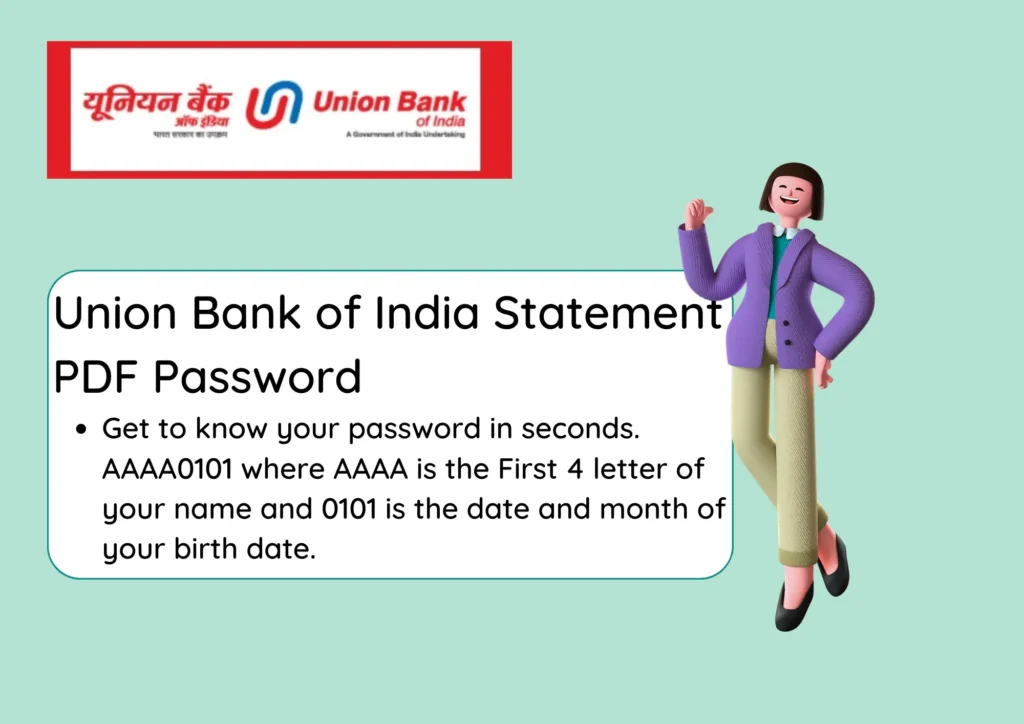 The Union Bank of India is one such bank that provides all sorts of financial services to the common people. While maintaining a bank account is another thing but checking your account balance and auditing details of past transactions is also pretty much important.
When we get the printout of a statement of account from the branch, it's clean and clear. You can see all your transaction details instantly as you get them, but when you download the Union Bank statement which is password protected. You may need to punch in the password.
For security reasons, bank has kept in place this password protocol. At least, it would avoid unwanted access by any other party unless they know your name and date of birth which is unlikely.
Union Bank of India Statement PDF Password.
Any guess? What would be your password if in case you happen to get the e-statement? Here's what you need to know. The Union Bank statement password format is an alphanumeric 8-digit code. For example, let's assume that your name is Rahul Dev as per your bank account and your Date of Birth is 1st June 1990, then your Union bank statement PDF open password would be RAHU0106. That's it, punch this password on the dialogue box and there you go, your E-statement will be opened.
Follow These Steps To Open Union Bank Statement PDF Password.
To be able to access a PDF file, you have to have a PDF reader installed on your device. You can download adobe acrobat reader both on your Android/iOS devices as well as on your computer.
Locate the PDF file on your terminal. If it was sent to you over email, you can directly open it from the mail inbox.
If you have set PDF reader as a default application then with a double-click the PDF file of the Union Bank statement will be open. If not, you have to bring the cursor to the file, hover it, right-click and select the PDF reader to open.
Union Bank Account Statement is password protected, you have to provide it when the system prompts. As soon as you hit the OK button after providing the password, it will be opened.
Understand why your statement PDF is password protected.
A few years back, not only Union Bank of India, banks use to provide account statements to customers which are not password protected. Banks start implementing this feature in 2020. Prior to this, there were just PDF files that could be opened by anyone.
To curb unauthorized access to a person's financial information all sorts of digital documents are now password protected. these passwords are alphanumeric usually the combination of your name and date of birth. Some banks use an account number or customer number as a password to access files.
Union Bank Statement Download Instantly.
There are two ways of getting them- one is through Union Bank of India Internet Banking and the other is getting them over email.
To get it done, you will have to log on to the bank's Internet banking and follow these steps.
| | |
| --- | --- |
| 1 | Login to the bank's internet banking site with your credentials. Or you may use the mobile banking app- VYOM to do the same. |
| 2 | Under the account section, you may find the menu for downloading the account statement. |
| 3 | Provide the date range you want to download and click the download button. |
| 4 | It will be saved on your local disk and when you double-click on it, the system will prompt for a password. |
| 5 | Hit the password and access it. |
You can also request the bank to send you over email. Advise your bank whether you would want to get the statements weekly, monthly or quarterly.
Your bank will link up your email with the account and the system will keep on sending at regular intervals. This is one good way of doing it. Every week or month, you take a few minutes to read them and you won't have to devote time later.
Advantages of PDF Statement Over Printout.
There are a number of advantages to using digital documents over printouts. You may see it casually but when we look at closure, this sort of thing is quite secure.
Let's see how it can ease your financial management and what value will it add to your overall personal finance.
| | |
| --- | --- |
| 1 | Unlike the printout statement, PDF file is password protected. That means it can't be accessed by anyone but you. So, it adds financial security and does not letting your financial information public. |
| 2 | The file is encrypted which basically means you need to decrypt the file with a password to access it. Again it adds security value. |
| 3 | You can download it anytime you like. This tells us about its availability and accessibility which ultimately adds value to convenience and ease of use. |
| 4 | You can archive it on your local disk or cloud. Management of printouts would be a difficult task when the amount of work is getting more. Instead, download them in PDF and archive and label them as per the date of transaction. |
Conclusion
Getting a bank account statement from The Union Bank of India is quite easy. You may find multiple options to do that. One of the best ways of getting them is through online banking. You can login and access your bank account and save it on your device.
Once you do that, keep a separate folder and archive them in a datewise manner. Whenever you need to verify certain transactions, you can easily find the exact file and access it.
Opening the password-protected PDF file is another thing that we have mentioned about how you can get your password. To sum up, understand this- First 4 letters of your name plus the date and month of your date of birth. For example, the password for Mr Rahul Dev whose DOB is 1st June 1990 would be RAHU0106.