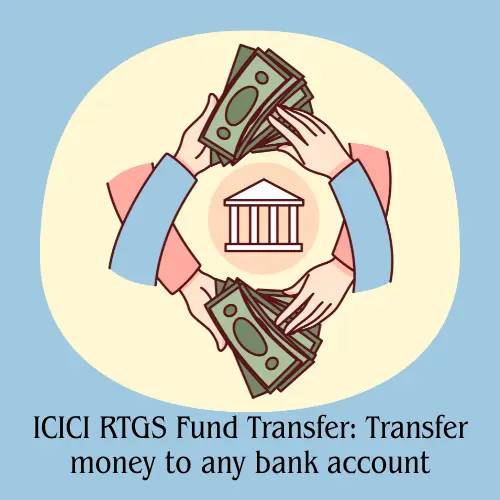 If you do ICICI RTGS transactions frequently, this post may be useful.
We have covered the process of how to send money with RTGS, how to fill up the ICICI RTGS form, and the things that you need to know.
RTGS, NEFT, and IMPS are different kinds of financial tools that allow you to send or receive money, irrespective of which bank you maintain your bank account with.
That means you can literally use these services to send money across the country, 24/7, throughout the year. But there are certain requirements that you need to meet to avail of the service. Let's find out in detail.
ICICI bank RTGS form 2023 pdf download
How to Use ICICI RTGS and NEFT Services
ICICI Bank provides the service through various modes. You can visit the bank and perform RTGS or NEFT transactions manually with a cheque and a filled-up RTGS form.
Another way of performing it would be with ICICI net banking, ICICI iMobile, CIB, or Instabiz.
So, it only means that you can either perform RTGS offline by visiting the bank or do it online with internet banking and mobile banking. Now, let's understand the basics of offline RTGS transactions.
RTGS Transactions Done at ICICI Branch
To execute the process, you may need a chequebook and an RTGS form. If you don't have a cheque facility bank account, the bank may reject your fund transfer request. So, here is what you need to have beforehand:
A cheque facility bank account.
An RTGS form.
Beneficiary details.
Contact number and email address.
We have seen in most of the banks that for this sort of transaction, if done offline, the home branch usually does the fund transfer. You may not be able to do it from any nearby branches.
Get the ICICI RTGS Form and Fill it Up
Filling up the ICICI RTGS form is easy. All you have to do is provide specific details about the sender and the receiver of the money.
To make it a successful transaction without any problems, make sure you provide these details accurately:
Sender's or Remitter's details
Name of the applicant
Account number of the applicant
Cheque number, address, and mobile number of the applicant.
Make sure you have provided the fund transfer amount
Beneficiary or Receiver's details
Name of the beneficiary
Account number of the beneficiary
IFSC code, address and contact details of the beneficiary
You Can Do RTGS with ICICI Net Banking
Users love to have online banking. ICICI Internet banking and mobile banking are some of the best online banking services in the banking industry.
You can enjoy multiple services online. Be it an account opening or availing of various banking services,
RTGS fund transfer as well as NEFT fund transfer are among the services that you can perform. In addition to this, you can also use the IMPS services.
Here's the online RTGS payment process:
Adding Beneficiaries for RTGS Fund Transfers
Yes, you have to add a beneficiary to execute the RTGS fund transfer online. Though you can perform NEFT and IMPS fund transfers without adding beneficiaries with ICICI online banking quick services, but you cannot perform RTGS transactions.
Here's how to add a beneficiary to ICICI Net Banking:

1. Login to ICICI online banking and look for Add New Payee in the main dashboard.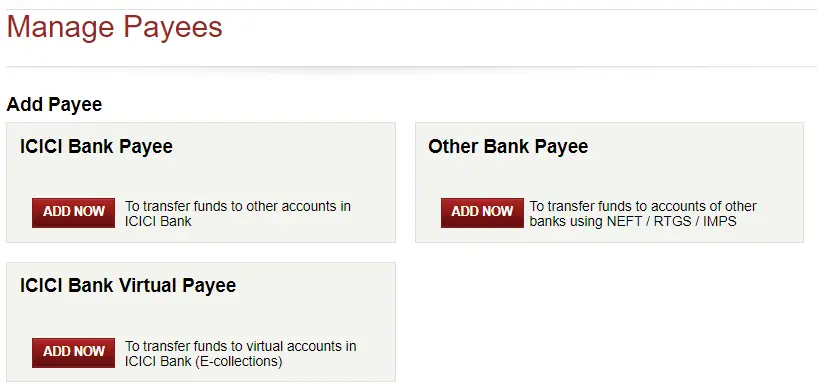 2. On the next page, click on the Add Now button, which is under Other Bank Payee.
When you click on it, the next page will ask you to provide beneficiary account details.
The system will prompt you to provide the beneficiary's name, account number, IFSC code, and transaction limit. Provide accordingly and confirm.
An OTP will be sent to your registered mobile number. This OTP, along with the code written on the back side of your ICICI ATM card, will confirm the transaction.
Once it's added successfully, after an hour, you can start performing RTGS fund transfers to that particular bank account.
RTGS Fund Transfers Online

On the dashboard, click on Initiate Fund Transfer, which is under the left side of the menu.
Now, search for the payee by name, account number, or mobile number of the beneficiary.
The next is the main page for actual data input. You are going to provide a fund transfer amount, remarks, and confirmation of the transaction with the OTP that you received on your registered mobile number.
ICICI RTGS Charges and Fees
In regards to ICICI RTGS charges, it will be beneficial if you transfer funds online. RTGS, NEFT, and IMPS done online are free of charge.
Whereas, if you do the same transaction by visiting the bank, it is chargeable.
Here are the ICICI RTGS charges for 2023:
| Transaction Amount | NEFT Charge | RTGS Charge | IMPS Charge |
| --- | --- | --- | --- |
| Upto ₹10000 | ₹2.25 plus GST | | ₹3.5 plus GST |
| Above ₹10000 to ₹1 Lakh | ₹4.75 plus GST | | ₹5 plus GST |
| Above ₹1 Lakh to ₹2 Lakhs | ₹14.75 plus GST | | ₹15 plus GST |
| Above ₹2 Lakhs to ₹5 Lakhs | ₹24.75 plus GST | ₹20 plus GST | ₹15 plus GST |
| Above ₹5 Lakhs to ₹10 Lakhs | ₹24.75 plus GST | ₹45 plus GST | |
Download ICICI RTGS Form
You can get the form over the counter at any branch. You can also access the ICICI Bank official website to download it.
But since you are here, click the link and get it printed.
Unable to do RTGS, Read On
Yes, it's painful when your request is rejected. It's universal: when you want to do something and it's rejected, you may feel awkward.
The same goes for ICICI RTGS fund transfers. You can follow certain healthy practices so that your request is not rejected or declined.
Here are some of the scenarios for RTGS fund transfer rejection.
Non-Cheque Facility Account
Most banks usually operate NEFT and RTGS transactions as account payees. If your bank account is a non-cheque facility account, you have to convert it into a cheque facility bank account.
After conversion, apply for a chequebook and keep it for yourself. It will come in handy when transferring funds with RTGS and NEFT.
Incorrect RTGS Form Fill-Up
The basic requirements to wire money through RTGS are as follows:
Beneficiary name and address
Beneficiary bank account with IFSC code
Address of the beneficiary bank, sender's contact details, and make sure the RTGS form is filled up correctly in all manners.
Incorrect details when executing an RTGS transaction may result in a failed transaction. Before submitting it to the concerned staff, go through it once and confirm.
Overdrawn Cheque
Since you are drawing a cheque in favour of a payee. A payee is the person or entity who is going to get money. Also known to be a beneficiary.
We occasionally write an invalid cheque as a result of a bad habit or a mistake. But you have to ascertain before handing out the cheque.
This will avoid the rejection of the RTGS fund transfer request.
Conclusion
RTGS and NEFT fund transfers are financial tools that allow the transfer of money between banks and between persons or entities. When you do transactions offline by visiting the bank, you may need to have a chequebook and an RTGS form.
ICICI Bank offers online services too. You can login to your ICICI internet banking and perform NEFT, RTGS, or IMPS fund transfers instantly.