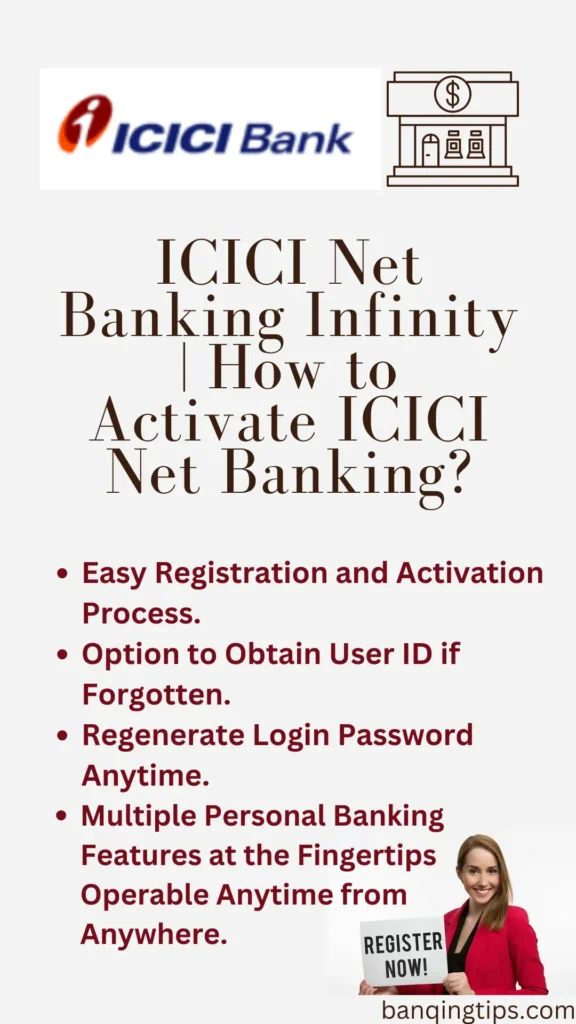 ICICI Net Banking Infinity is an internet banking service of the bank.
ICICI Online Banking allows you to operate your bank account without the bank's intervention.
You can perform a range of financial transactions with ICICI Net Banking.
You don't have to stand in a long line to get your work done.
You can access your bank account anytime, from anywhere.
All you need is a smartphone or a laptop with an internet connection.
Without further adieu, let's find out how to activate ICICI Net Banking in a simple way.
How to Activate ICICI Net Banking Infinity?
ICICI Net Banking activation process is easy.
One can activate ICICI online banking in multiple ways.
If you are new to the bank, you can register for ICICI Internet Banking while opening a bank account.
When you open an online account on the ICICI website, you have to select the Internet banking facility. The system provides the user ID, and later on, you have to create the login password.
A User ID is an ulphanumeric identification code found in the iKIT which was provided to you when you open a bank account at ICICI bank. You can also obtain user ID online with simple prompts on bank's website.
How to Register ICICI Netbanking on the ICICI Infinity Web Portal?
When you already have a bank account with ICICI Bank, You can activate ICICI Net Banking online with the following steps:
| | |
| --- | --- |
| 1 | Open the ICICI net banking portal in your browser. |
| 2 | You can see the login page, where a user ID and Password are required to access. |
| 3 | Click the Get User ID link to initiate the registration process. |
| 4 | On the next page, you will see the options for getting a User ID. For instance, you can get it with an account number, debit card, credit card, or loan account. You can select anyone. |
| 5 | Let's choose your account number to get the user ID. |
| 6 | You can complete this in 2 steps. First, provide the account and then the registered mobile number. Submit it and proceed. |
| 7 | The system will display your user ID on the screen. |
| 8 | To create the login password, go back to the login page. Click on the Generate Password link just below the password button. |
| 9 | The next screen will guide you to creating the password. First, you provide the user ID and the mobile number. |
| 10 | Provide the OPT and authenticate. Use the Grid Card Authentication, which is on the reverse side of the card, and complete the password creation. |
| 11 | Once, you obtain the user ID and create a login password, you can access ICICI Net Banking and start exploring the service uninterruptedly. |
How to Register ICICI Netbanking through Phone Banking?
Registering for ICICI Netbanking Infinity would be the same as online registration. In the initial part, when you obtain the user ID, you call customer care and get your user name.
The rest is the same.
You have to complete the remaining task on the bank's online banking website.
Here's how you do it after getting your User ID:
| | |
| --- | --- |
| 1 | Open ICICI Net Banking portal in your browser. Click on Personal Banking and then choose the New User option. |
| 2 | Click on the I want my Password link, and then select Click Here to Proceed. |
| 3 | Punch in your User ID and mobile number. Enter the OTP received on your mobile number and authenticate the process. |
| 4 | Now, set your password. |
| 5 | With this, the registration process is complete. You can now login and explore the features of ICICI Net Banking Infinity |
How to change my ICICI Net Banking password?
In the case of a forgotten password, you can always reset it using the password reset menu available on the bank website. When you can access your net banking and you have a doubt about your login credentials, you have to change the login password by any means.
If that's the case, here's how to change your ICICI Net Banking login password:
| | |
| --- | --- |
| 1 | Open the ICICI internet banking portal and access your account with the user ID and password. |
| 2 | Then, click on the Customer Service menu and select the My Profile link. |
| 3 | Under the My Profile section, you may find the option to Change Password. |
| 4 | The next screen will allow you to enter the old password as well as the new password you intend to change. |
| 5 | Re-enter the new password and hit the submit button. |
| 6 | OTP authentication will be required. Authenticate it, and your ICICI login password will be changed permanently. You can repeat the process every time there is a need for concern. |
How to get an ICICI Netbanking user ID?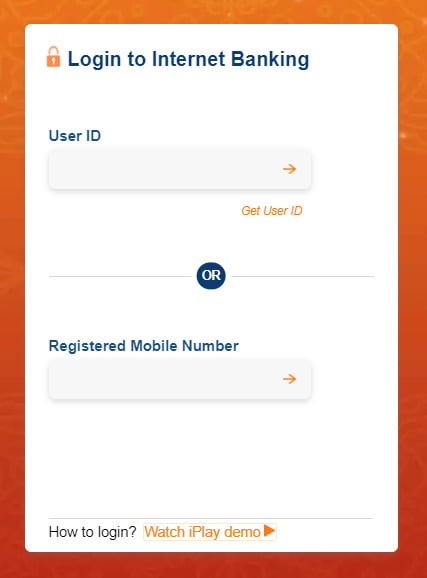 To know your ICICI Netbanking user ID, there are several ways you can explore. One of them is to refer to the iKIT delivered to you when you opened a bank account. iKIT contains your personal information related to the bank account, including the user ID.
Apart from this, you can explore online to get your user ID. The link can be found on the ICICI Net Banking dashboard or on its login page.
You can see on the login page, just below the User ID button, the link for Get User ID.
Click on it, provide your bank account number, and proceed next.
You have to enter your mobile number, which is registered to your bank account.
An OTP will be sent to your mobile device. Authenticate it and proceed.
The system will display your User ID.
Some of the Common Issues You May Encounter
It's a fact that when using any service online, there will always be issues related to either password troubles or accessibility issues.
Likewise, when you use the ICICI Net Banking login page, you may anticipate some of the common issues that can arise.
This may include an expired password or a locked user ID. Let's see in detail, why it happens and how to address the issues one by one:
Incorrect User ID or Password
One of the most common issues that can be understood easily. All you have to do is to check once again the user credential. Sometimes we give the wrong details out of urgency.
But you have to know that even after punching the right combinations, if the system does not allow you access to your bank account, you have to reset the password.
Or, call ICICI Customer Care to reset the login password. If you are an NRI customer, you must call them to get support.
Online password resets happen instantly with OTP authentication. When you get help from the customer care team, your default password will be sent to you at the end of the working hour.
When You Hit the Wrong Password Multiple Times
This is something everyone should know. When you have forgotten the login password, you should not try to login. It will only block your Internet Banking service.
Here's the thing. In most banks, you may find this happening. All banks have the same regulations as per the Reserve Bank guidelines. To avoid unauthorized access to your Net banking, the system of disabling user ID is in place.
Particularly, when you have attempted 3 times with the wrong password, your ICICI Net Banking will be disabled for 24 hours.
To regain access, you can check the user credentials once again and try to login the next day.
Or you can go forward and reset the password. Resetting your password will reactivate your Internet Banking service.
When You Exceed the Maximum Number of Login Attempts
Usually, the user has 3 login attempts to access their bank account. When it fails and goes beyond 3, your ICICI Net Banking will be disabled.
To address the issue, you can reset your login password. This would revive your Internet banking user ID.
Disabled User ID and its Troubleshoot
The good thing is that you can enable your ICICI user ID by generating a new password. But, let's understand why your user credential is disabled.
There could be several reasons. One of them is the regulation advised by the Reserve Bank. As per the regulatory authority, banks have to disable those consumers' user ID where no alert system is active on the bank account.
It includes both the SMS and email alert systems. You have to request that the bank activate the alert system and then gain access to your net banking.
You may want to read about the most common issues of using online banking services. Here's the link.
How to Register Mobile Number in ICICI Bank Account
If you are facing this issue with mobile number registration. You have two options to choose from.
You can visit the bank and update your KYC along with your mobile number registration. It can be done in a single day. Make sure, you have your identity card with you. The bank may ask for it.
You can register your mobile number at any ICICI ATM by following these simple steps.
Register your Mobile Number at ICICI ATM
| | |
| --- | --- |
| 1 | Swipe your ATM card at ICICI ATM. |
| 2 | Select the menu More Option. |
| 3 | Press the Register your Mobile option. |
| 4 | Enter your mobile number and get it registered |
Expired User ID
When your ICICI Net Banking user ID expires, you can revive it by generating a new login password.
Generally, when your ID is expired, you get to know it when you try to access the Internet banking service. The system will throw you an error message about your Net Banking ID being expired.
To resolve the ICICI expired user ID issue, you can follow the following tips:
Find out and confirm that your user ID is disabled or expired. You get to know it by logging in to the ICICI Netbanking login page.
Now get the user ID if you have doubts about it; otherwise, go for password generation directly.
Provide your bank account number and registered mobile number.
Click the submit button and authenticate with the OTP.
Finally, set the new login password.
You can generate ICICI login password anytime when you have forgotten it, your user ID is expired, your user ID is disabled/locked, and exceed multple attempts. With this, your ICICI Net Banking will be revived.
Final Thoughts
Though it's easy to register for ICICI Net Banking Infinity, we sometimes face problems due to a lack of product knowledge.
When you are enjoying banking services at ICICI Bank Ltd., you should explore the online banking services of this reputed bank.
The activation process for ICICI Netbanking can be done in multiple ways. One of them is through the ICICI Online Banking website.
You will get the option to get your user ID and then create a login password.
Once these steps are completed, you can access your bank account instantly.
Another way of activating your ICICI Internet Banking is with the help of ICICI Customer Care. You can call them up and get your user ID.
Later on, create your login password on the web portal and finish the task on the spot.