Yes, you can activate SBI netbanking (YONO) without using an ATM card.It sure definitely makes it easier if you have an active ATM card for the activation process. But it is not mandatory for doing it. 
With an ATM card, you can activate your SBI internet banking without visiting your branch. Your ATM PIN number will authenticate your registration without branch intervention.
Without it, you have to visit your SBI home branch to complete your netbanking registration process.  The so-called SBI net banking is known as YONO or SBI internet banking. 
So, let's find out more about it and see the process of registration right away. 
How to initiate SBI netbanking registration on its website
Go to the official website and click the login button.
You can go directly to "new user registration". Or hit the login menu and on the next screen you can select "new user registration". 
The system will verify whether you have obtained a pre-printed kit for internet banking earlier or not. Confirm accordingly. 
If you already have, you have to visit your home branch and reactivate it. That includes recovering your user ID and resetting the login password. Can be done on your own on the login page. You can see the option Forgot Password link. Else, meet your banker.
If not, proceed.
The system will guide you to the page for new user registration.  Click the next button. 
Next screen is for filling out your account number, CIF number (please refer to passbook), branch code, registered mobile number and facility required. 
After filling up all the details please submit.
OTP verification will be required. Also, the system will prompt you to create a temporary login password. 
After setting everything right, confirm it by selecting approve through the bank. 
A reference number will be generated as well as a pdf printable form will be available. 
Download and print out the form and submit it to the branch. 
As and when your bank approves it, you will get a temporary login ID too.
How to log in after getting approval from your bank.
It's simple but if you are new it would be a bit tricky how to login for the first time. 
Both user ID and login password are temporary, so you need to login into a specific menu to set your permanent ID and password. 
Follow the steps mention below for ease of use.
Go to the official website. 
Select forget password link.
On the next page select reset login password (For request approved by the branch) 
Put the reference number provided by the bank. (You will receive it along with your temporary user ID over SMS). 
Punch in your temporary user ID and password.
And you will be able to reset your login ID and password along with your profile password which is very important to set it right.
Once you are done you will be able to login to the main login menu.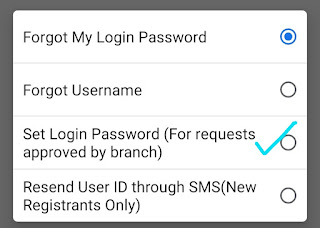 Another way of doing it! Its called YONO
This one is the application-based registration process. Here's how to go forward. 
Download SBI YONO and install in your smartphone.
Open the app, you will see three options

New to SBI
Existing customer
I have an activation code. 

Select the second option "Existing customer".
On the next screen, you will see another three options

Login using internet banking ID.
Register with my ATM card.
Register with account details.

Select the last one and proceed.
Next page you have to provide your account number and date of birth. Hit the next button.
You will be able to set your temporary ID and password. When you submit a reference number will be generated.
Submit the reference number to your bank.
When your bank approves it you will get a confirmation SMS along with an activation code on your registered mobile number.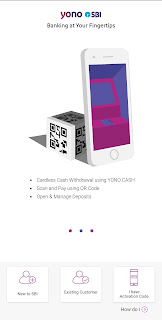 Now how to login on YONO app?
Just as in the above process, here in the YONO app too you need to choose a specific menu to login for the first time. 
Here's what you need to do once you get the activation code.
Open the YONO app. 
You will see three options as mentioned earlier.
Select "I have activation code" and proceed.
On the next screen provide a temporary login ID and password. Put the activation code too. The referral code is optional. 
Set your new permanent login ID, password and MPIN and that's the end of it. 
Also, read how to register SBI YONO internet banking.
Both ways you can try to activate SBI netbanking. It is a simple yet powerful tool for your financial dealings. 
While registering you will get an option for choosing transaction right. There will be three options.
Viewing Right: The user will be able to see transactions and can download statements of accounts, and interest certificates. No transaction can be done at this point.
Limited Transaction Right: In addition to viewing rights, the user will be able to transact a few limited transactions such as transfer to own account and opening of e-TDR/STDR.
Full Transaction Right: This is the full fledge internet banking of SBI where you can literally perform all sorts of transactions.
So, select carefully as per your requirement. Note that you can change the transaction right later on. If you choose for only viewing right, that's perfectly fine.
Get used to it and when you are comfortable enough, change to full transaction right. Just in case you are very new to online banking.
Stay safe and safe banking. Have a great day!