Standing instruction in a bank account is the instruction you give to the bank to debit a certain amount of money toward the payment of another deposit account or loan account. The SI is a common tool used in normal banking transactions.
The Standing Instruction is quite good in handling your payment obligations. When you want it to execute auto-debit every month from your account, SI would be the best choice.
In this article, we will see how Standing Instruction works and if you want to execute it, we will discuss that too. Stay tuned and find out!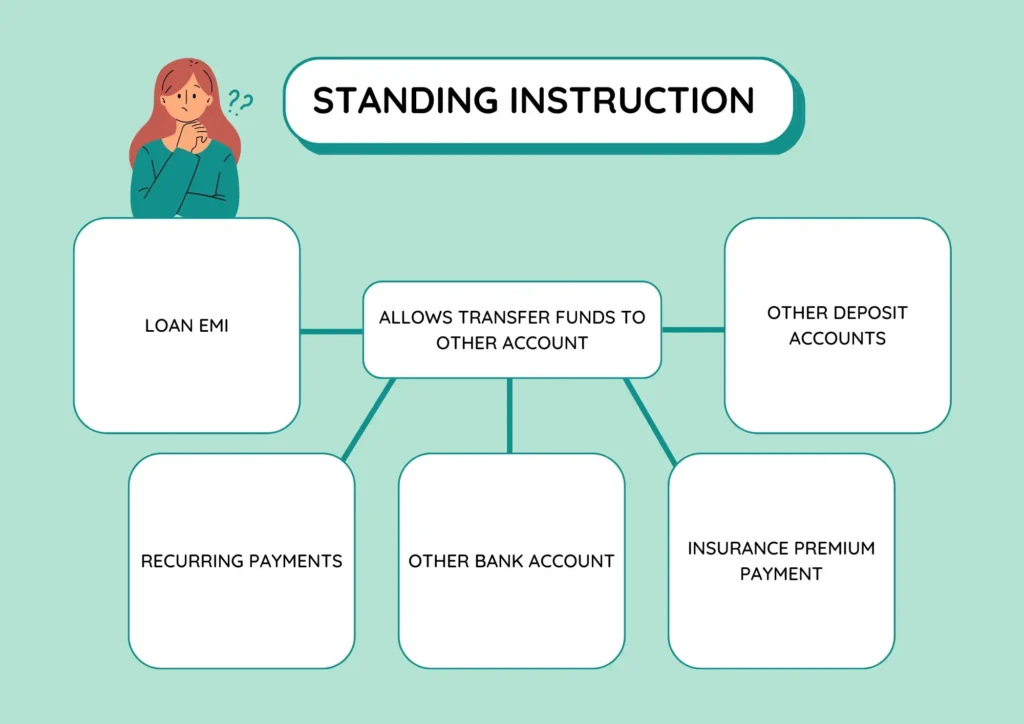 What Is a Standing Instruction?
A standing instruction is an instruction to debit your account toward certain payments such as loan EMIs Or to any other internal accounts.
It's quite convenient to use when you have payment obligations. If you are sending money to your kid every month, sometime you may have forgotten. Your son has to remind you, but with SI these sort of things goes away.
Even for having a recurring deposit, SIP-Systematic Investment Plans, or insurance premiums. All can be done with an SI. It could save you time which can be devoted to other useful stuff.
How To Set Standing Instruction in Bank Account?
Setting a standing instruction on your bank account is quite simple. You have two ways to do this.
| | |
| --- | --- |
| 1 | Visit your bank and submit the fill-up standard application form for setting up an SI. You have to provide the required details such as your account number, beneficiary account number, amount to be transferred, and date of transaction. |
| 2 | Another way of doing it- is with online internet banking. Usually, it is under the service request section. Most banks have it and you could do so. |
Failed SI and Its Consequences.
Never let the SI fail. It's one of the areas where you can check income leakage. Banks normally charge penalties on failed standing instructions.
To avoid this, you have to check your balance before the due date. For example, if tomorrow is going to execute a payment from your account, you have got to make sure you have sufficient balance.
Over time, if SI failure is happening on multiple occasions, the cumulative amount that you are going to pay would be in thousands. Losing money this way does not make sense. It could be saved and you can do it quite easily.
At a certain time, the SI is set for loan repayment. That would be your monthly EMI. If it fails multiple times, it would consider just the same as a cheque bounce. Which is usually used by the bank to sue the defaulters.
Legal Point of View.
Legally, standing instruction is as good as a cheque payment. The only difference is while cheque payment, a physical cheque involves whereas SI is an electronic form of payment.
Both are covered under the NI Act and the payment & settlement act. Bank can use failed SI as a tool against the borrower if they want to go for settlement. It comes under Section 138 of NI Act 1881 and the bank has the right to execute against the defaulter.
Under section 25 of the Payment and Settlement Act, 2007. Failure of payment set as Standing Instruction is an offence. The defaulter may get imprisoned for a period of up to 2 years Or he may end up paying a huge amount as a penalty. These penalties may go up to double the amount of the disputed amount.
Though, banks serve notices before going into any legal matters. When you have EMI obligations, do not let your SI fail. It may complicate things.
SI on Loans and Deposits.
Standing instructions and loans and advances go hand in hand. One cannot be without another. When a bank lends you money, they recover it from your bank account.
It could be a manual transaction every month. You visit your bank and make a payment toward your loan outstanding as EMI. The downside of manual repayment is that every month you have to make time for it.
You could also provide your bank with the post-dated cheques for future EMI payments. That is also quite not user-friendly. Moreover, there is a chance of misusing your cheques.
The best one comes down to using the auto-debit facility. That could be standing instructions. You can set it within the same bank account or you could set it within different banks too. Today, banks execute almost all sorts of loans through SI only. Few occasions they may take post-dated cheques as security measures.
How To Change Standing Instruction?
Changing the standing instruction is quite simple. It usually occurs when you change or shift your bank account.
The online facility is not available. You have to visit the bank and make changes to the mandate you have given before.
Within the same bank, changing of SI account does not take time and it can be done within a few minutes. When your SI involves one account from one bank and the other beneficiary account of another bank, it becomes quite complex. Such as- You have a salary account at the State Bank of India, and you have availed loan from HDFC Bank.
Though the first-time setting happens in a go changing the debit account takes time. Certain terms and conditions have to meet with.
Changing SI for internal accounts such as monthly payments of recurring deposits, and SIPs are simple. You could do so without taking much heed.
To change the Standing Instruction, follow these steps.
| | |
| --- | --- |
| 1 | Visit the bank where your SI is set. |
| 2 | Obtain the standard format, fill it up, and submit it to the concerned bank official. |
| 3 | You may want to carry your valid ID cards. Produce it if ask. |
| 4 | Provide your bank account, beneficiary bank account, SI amount, and date of SI clearly. Choose the frequency of payment, that is, weekly, monthly, etc. |
| 5 | Your bank may proceed further after verifying the details and making changes to your SI settings. |
| 6 | If it involves different banks, that too, the process is the same. |
Which Payment is Eligible For SI?
There is an endless number of monthly recurring transactions that you do. A few of the commonly used services could be;
| | |
| --- | --- |
| 1 | Entertainment services such as Netflix, Amazon Prime, Zulu, etc. |
| 2 | Utility bills and grocery bills. |
| 3 | Loans and advances. |
| 4 | SIP- Systematic Investment Plans. |
| 5 | Insurance Premiums. |
| 6 | Credit card and Debit card EMIs. |
| 7 | Consumer loans from non-financial outlets. |
All sorts of transactions cannot set a standing instruction. Recently RBI released new guidelines which hit badly non-financial bodies.
Non-availability of SI on credit cards and debit cards was also mentioned. Though bank account-related SI is intact and applicable for payment of other loan and deposit accounts.
Conclusion.
Standing Instruction is a very useful tool that lets you stay tension-free by allowing auto-debit in your bank account at regular intervals.
Be it a loan repayment of principal payment of RDs, SIPs- it is all handled efficiently. Moreover, if you are sending money to friends and family regularly. You can set SI with your bank account.
The downside of the SI is that there are penalties for failed SI. Though it is a nominal amount happening multiple times may lead to a large amount of income leakage.
The legal implication is that it is as good as a cheque payment. So, you have to be a bit careful when you have EMI on loans.