Yes, you heard right? Getting your account activated for SBI YONO is quite an easy task but sometimes problems do come along the way. Such as the SBI YONO activation code is expired and the system is not allowing us to proceed further. Here's a tip for you!
The main reason for the expired code is that you have taken enough time to complete the YONO registration process. Sometimes it is just a technical glitch that happens for no reason. But the real deal is frequent interruption of the registration process.
For instance, when everything has been done from your end. Your bank has approved your application. You have even got the activation code. Everything was going well until you got the notification "Your YONO activation code is expired"
It can be fixed but let us see why it happen in the first place.
Expired SBI YONO Activation Code?
For security purposes, Bank has made any kind of code valid for a certain period of time only. Even for online payment authentication, the OTP (One time password) is valid for a few seconds only. You would not be able to reuse it but repeat the whole process from the beginning.
This mechanism will keep away hackers and unauthorized transactions of various kinds.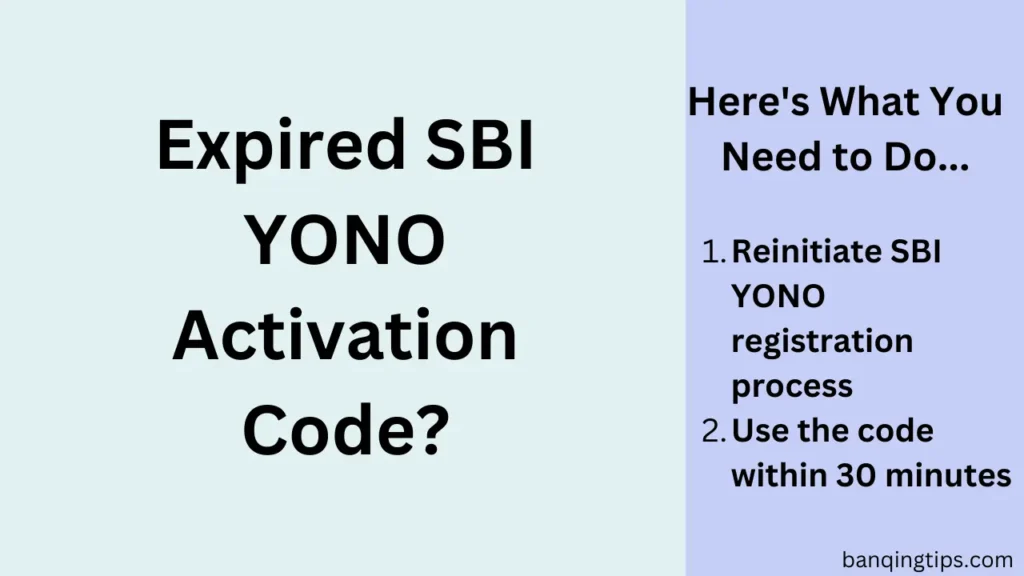 What do You need To Do?
The Activation Code will be expired if not used within 30 minutes. So, be ready and create a permanent password as soon as possible.
Another thing is the time period between your application and processing by your bank does also count.
Your banker knows it, for example, you have requested in the morning say 8 AM and submitted it to your bank at 11 AM. Your application will not work.
The dealing staff may ask you to reapply and submit again on the spot. So, if it occurs to you, just reapply again and get it approved at the earliest without taking much time. And it will solve your issue.
Things That You Need To Understand
There are a few things that you need to be aware of. This may lead you to smoothly enable the SBI YONO registration process. When the initial registration part is done from your end, you get the bank to approve it considering you do not have an ATM card.
Post bank approval, when you access SBI YONO, you have to enter the created username, password, activation code, referral code and the captcha before hitting the submit button. When you have all these details then only you may be able to complete the task.
What is SBI YONO Activation Code?
The activation code is a numeric code sent to your registered mobile number when the bank approves your YONO registration request. This code is required when you go for activation of the username that you have created to access your bank account.
Once the user credential is activated, you may access your bank account either through the SBI YONO app or through the bank's Internet banking portal. The user credentials are the same for both.
What is the Referral Code of SBI YONO?
The referral code is an additional code that you can provide while activating your user credentials. But, this code is optional. It means you can complete the task even without providing the SBI YONO referral code.
Else, the referral code of SBI YONO is either the contact number of the bank employee or the specialised code allotted to the branch. If to put the YONO referral code when registering, ask the concerned staff to provide the code.
Codes Validity Period.
YONO cash is valid for 2 hours after that it will get expired.
YONO activation code has to use within 30 minutes of post approval from the bank, or else it will get expired.
Various YONO OTPs are valid for only a few seconds, the link gets expired when it is kept for too long.
The Use of YONO Activation Code?
YONO activation code is a system-generated code delivered to your registered mobile number once your application is processed by your Bank. It is the process of SBI Internet banking activation without an ATM card.
You will get these only when you choose to get your YONO activated by your bank. You can avoid using this code if you have other arrangements.
When using an ATM card for YONO activation, there is no need for an activation code, instead, you will be asked to provide card details and ATM PIN for validation and approval. It is much better as you do not have to visit the bank and it happens instantly.
Though certain times, you have done mistakes and the system is not allowing you to use your ATM card. You might want to use the Activation Code.
How to Use It?
For the first time when you have received it, you have to open the YONO app. Follow these steps to complete the task.
| | |
| --- | --- |
| 1 | Open the YONO application on your mobile phone. |
| 2 | On the main screen choose the option I Have Activation Code. |
| 3 | Put your User ID and Temporary Password along with the activation code. |
| 4 | The referral Code can be left as blank. If you want to add, ask the concerned staff. The referral code is the contact number of the employee. |
| 5 | Hit the next button. You will get the confirmation message immediately on the screen. Guiding you to different menus. |
| 6 | Now, Set your MPIN too. Create any 6 digits as your MPIN, accept the terms and conditions of using YONO and there you go. Your YONO activation process is completed. |
The YONO MPIN…
YONO MPIN is an alternate route to access YONO. Instead of providing a username and password, you will provide MPIN to gain access to your bank account.
It simplifies the login process where you do not have to punch complex passwords again and again. The 6 digits MPIN is easy to remember and it actually makes faster access to your bank account.
Do not stop using a username and password. It makes you forget when you do not use it for a longer period. Whenever you require accessing your bank account on a computer or laptop. This is the only credential that would work. MPIN is only a mobile-based application.
On top of that, when you need to reset your password. You have to login to SBI Internet banking with a username and password.
MPIN stop functioning when you switch phones. Other times, the system needs you to change MPIN for security reasons. Your existing MPIN may not work. You will have to create a new MPIN again which requires logging in with a username.
Useful Tips For Successful SBI YONO Registration.
| | |
| --- | --- |
| 1 | Make sure your mobile can send messages. |
| 2 | Internet connectivity should be good. |
| 3 | Check whether your bank account is mapped properly with the mobile number. Bank may assist you with this. |
| 4 | Avoid calls during the activation. Interruption during the process may lead to failure registration. |
| 5 | Make sure your phone is running on the latest software version. Android 9 and below are not compatible with SBI YONO. |
| 6 | If your phone hangs and is slow. Make it better to avoid complications. |
So, as you have seen, It is pretty easy to troubleshoot the issue of an expired YONO activation code. You can see a few of the tips mentioned above to pinpoint the real issue of failed YONO registration.
Another issue is when you do not get the activation code at all. In that case, all you have got to do is to ask your bank to resend it. If a mobile number is not mapped properly, you may not get the code.
It should work the next day. It is always advisable to meet your banker if there is any doubt related to your account or Internet banking issues. Hope this article helps you troubleshoot your issues.