Get anything you want with the ICICI iWish Goal-Based Savings account. Fundraising for celebrating special occasions, family parties or for planning vacations.
You can plan your strategies to get to your goal without much effort.
You can even use the product to create funds for educational purposes, purchasing your favorite car, gadgets, and whatnot.
You can easily plan your future expected expenses with the ICICI iWish account without putting you under financial strain.
Let's see how this account will benefit you and explore its features along with its drawbacks.
What is an ICICI Goal-Based Savings Account?
The ICICI goal-based savings account is a tailored deposit product offered by ICICI Bank that allows you to save funds with the goal of achieving your wishes under a specified tenure.
With this deposit account, you can make variable contributions as and when you require. You can deposit any amount at any point in time.
This means the product is quite flexible, and it gives you the opportunity to save more money when you have excess funds in your bank account.
ICICI iWish savings can be considered as an upgraded version of traditional recurring deposits. You may see additional features such as flexible in deposit amount and no penalty on failed transaction in iWish account.
The bank offers this product at decent rates corresponding to its current FD rates. You will get higher interest rates than savings bank rates. At present, the iWish bank account offers 4.75% to 7.10% for normal citizens. For senior citizens, these rates will be between 5.25% and 7.60% per year.
How to Open ICICI iWish Goal-Based Savings Account?
You will say that opening an ICICI iWish account is a piece of cake. That's what we believe. And it is very easy to do so. Here's how:
You have two options: either you can visit the bank and open an ICICI iWish account manually. Or, you can open an account with ICICI Net Banking.
First Case: Visiting Bank to Open ICICI iWish Savings Account
If you already have a savings bank account or a current account, things might be a little bit easier for you. The reason is that, when you already have a customer ID, your new account can be opened easily.
Otherwise, you will have to submit your identification details and PAN to open the account. For this, you may refer to the bank's KYC guidelines.
Obtain the iWish account opening form. Fill it out and sign wherever it needs to be.
Attach your KYC documents if asked.
Let the bank official verify your details.
Once it's done, your new iWish savings account will be opened and the account details will be delivered to you.
The whole process hardly takes a few minutes. Meaning you can get it done in the same sitting.
Second Case: Online Opening of ICICI iWish Savings Account

When you login to ICICI Net Banking, you can easily find the option to choose.
Click on the link Open iWish to Fulfill Your Dreams.
The system will direct you to a page where you will have to agree to the terms and conditions of the iWish account.
Once you complete this task, your iWish request will be successfully registered with an account number.
Now, click on the Now Fund radio button and complete funding either with an ATM, UPI, or auto debit.
We prefer auto debit because it's simpler. With this, your ICICI iWish Savings account opening is completed.
Here are some of the screenshots. Refer to them to understand better.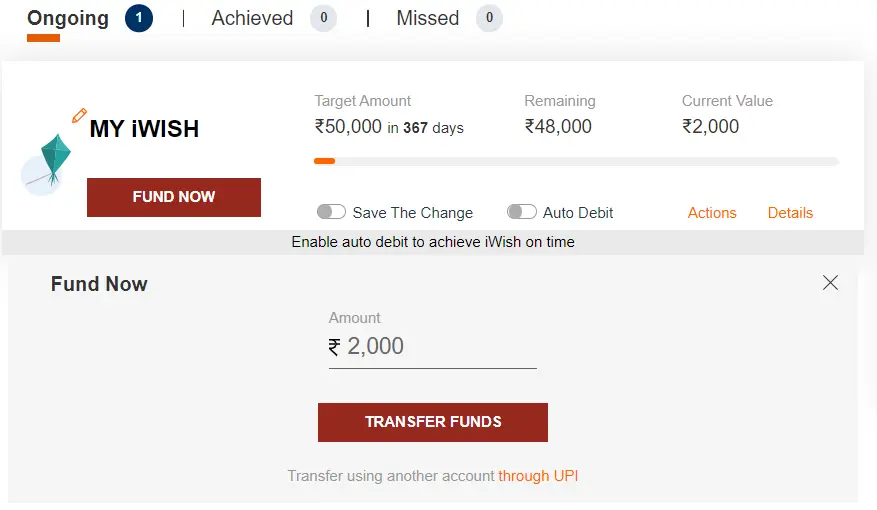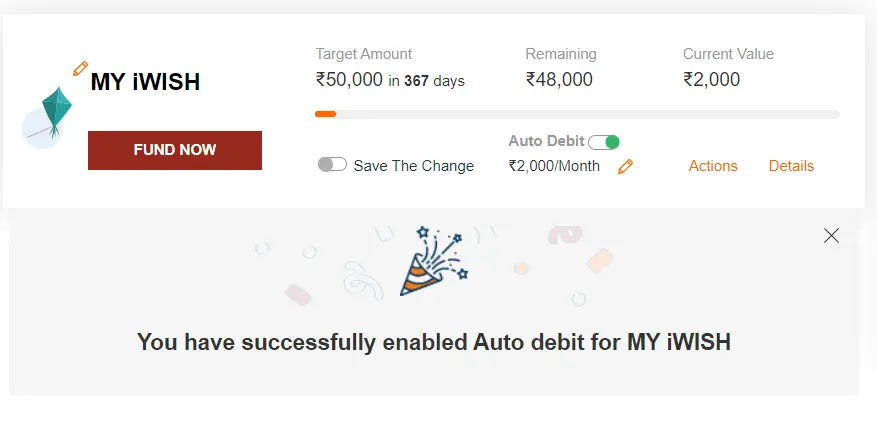 Adding Funds to iWish Account
There are several ways to add funds to the account. You can transfer funds from other bank accounts, such as your savings bank account or current account.
For convenience, you will get both the online payment mode and the offline mode.
Let's see how you can add money to an ICICI iWish account online:
Scenario 1: Funding with ICICI Net Banking
| Steps | Process |
| --- | --- |
| 1 | Login to ICICI Net Banking. |
| 2 | Click on the Exclusive Offering tab. |
| 3 | You will find your iWish dashboard. |
| 4 | Click on the Fund Now option and select the iWish account you want to fund. |
| 5 | Provide the amount and get it approved with the OTP received on your registered mobile number. |
| 6 | Confirm the transaction, and your iWish account will be funded instantly. |
Scenario 2: Funding with the Mobile Banking App.
| Steps | Process |
| --- | --- |
| 1 | Open mobile app and login with your user credentials. |
| 2 | Under Account and Deposits, select the iWish goal based savings. |
| 3 | Click on the iWish account you want to deposit. |
| 4 | Under Account and Deposits, select the iWish goal-based savings. |
Paying online from your bank account is very convenient. It will save you time and energy. However, if you are unable to do it online, you may opt for offline payment.
Here's how you can add funds to your iWish account offline:
| Steps | Process |
| --- | --- |
| 1 | Visit any nearby ICICI Bank. |
| 2 | Draw a cheque favoring yourself along with a fund transfer slip, which is generally a cash deposit slip. You have to fill in your iWish account number on the deposit slip. |
| 3 | Submit it to the concerned staff and request to get it funded into your iWish bank account. |
| 4 | Your transaction will be completed within a few minutes. |
Benefits of ICICI iWish Goal Based Savings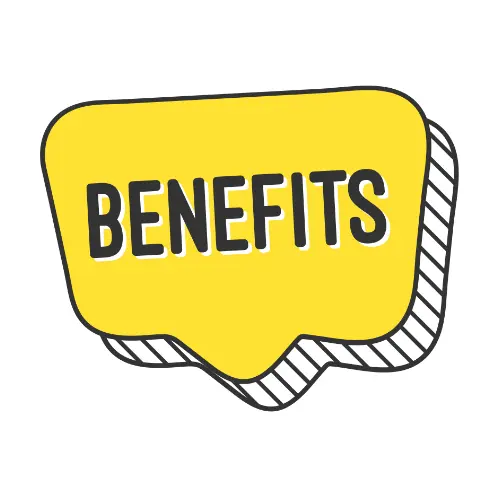 There are several benefits to opening an ICICI iWish goal-based bank account.
If you are planning to accumulate a certain amount of funds for purchasing goods in the near future, this deposit scheme might be the solution.
For instance, let's say you are looking to buy an iPhone, which will cost you around ₹70000. Opening an ICICI iWish account will ease your planning right from the beginning.
You can choose and save money as per your comfort zone. Here's a glimpse of saving ₹72000.
| | | | | | |
| --- | --- | --- | --- | --- | --- |
| Goal | Period | Monthly investment | Interest rate | Invested amount | interest earned |
| ₹72000 | 1 Yr | ₹5786 | 6.7 pa | ₹69432 | ₹2586 |
This means you save ₹5786 every month for a year to achieve your goal of getting an iPhone.
Likewise, you can plan to purchase other things required in our daily lives.

It's easy and simple, and you earn decent returns. Moreover, if you get a discount on the product that you purchase, that's even better.
Here are some of the benefits of ICICI iWish Savings:
| Serial No. | Benefits |
| --- | --- |
| 1 | It makes you financially disciplined with a goal-based financial strategy. |
| 2 | Anyone can avail the service, as the subscription amount can be as low as ₹50 |
| 3 | Unlike recurring deposits, there is no penalty for missing monthly payments. |
| 4 | Flexible deposits, you can deposit anytime you want. |
| 5 | Auto payment from the primary account is possible. |
| 6 | You can deposit multiple times if you have excess funds. |
| 7 | You can enjoy the service for a short period of 6 months to 5 years. Perfect for allocating funds for consumer goods in 6 months. |
| 8 | With a decent interest rate, senior citizens may even get an extra 0.5%. |
| 9 | You can open the account online as well as offline by visiting the bank. |
| 10 | Premature closure is allowed. You can close the account anytime you want, even before maturing it. |
Conclusion
The ICICI iWish savings scheme is good for those who are unable to produce a lumpsum amount immediately. We all have gone through this. We want to own things but we don't have to money to cover it. That's when ICICI iWish bank account comes in.
With this goal-based savings strategy, you can set your own goal to achieve certain things that you want to have. It can be fundraising for family celebrations, buying gadgets such as phones or laptops, buying a new card and whatnot.
You can literally plan everything out and achieve what you intend to. The drawback of the scheme is that, too much spending on buying things is sometimes not worth it.
The interest rate is decent but it's not that attractive comparing to other investment avenues such as mutual funds and the like.
In short, the ICICI iWish savings is good to achieve short term goals that are basically materialistic. Yes, you can use the feature just for saving funds for future use. A better option is systematic investment plans of mutual funds.
If you are looking for longer terms, its better if we go to other alternatives. If you plan for short terms ICICI iWish is a decent product that can meet your requirements.